This day doesn't need much explanation.
It was shared with a blog-friend who became a dear-friend in a few short days.
It was enjoyed at a relaxed pace.
It was enjoyed under the sun with a cool breeze.
It was photographed.
It was investigated.
It was cherished.
Pepples Organic [vegan] Donuts, sent my taste buds into a frenzy!  Emily chomped on the Candy Cap, while I feasted on the salted caramel.
I'm not a big donut fan, unless they're done right.  Thick + cakey.  Which is exactly what these were.  Top that with sweet caramel glaze and a sprinkle of sea salt??  It was hard to pick with other flavors like pumpkin pie + blueberry, but I'm a sucker for caramel and a sweet + salty contrast.  It exceeded my expectations.  You might be thinking candy cap sounds like it must just be a sugar coated donut, however you are mistaken.  Candy Cap is actually a type of mushroom, that when cooked, brings out a rich maple flavor.  It tasted maple glazed with a hint of earthiness.  Very unique and extremely delicious!
We hopped on a ferry to the little town of Sausalito.
Gorgeous lady.
Peaking out from behind the hills, we spotted the Golden Gate Bridge.
Architectural gems were tucked in every corner.
We hit another foodie jackpot with this stuffed veggie sandwich from a local bakery. 
The sandwich was packed with marinated veggies + swiss cheese and enjoyed on the best sourdough I've ever eaten!  This blew Boudin's famous sourdough out of the water.  It didn't even compare.
[favorite shot of the day]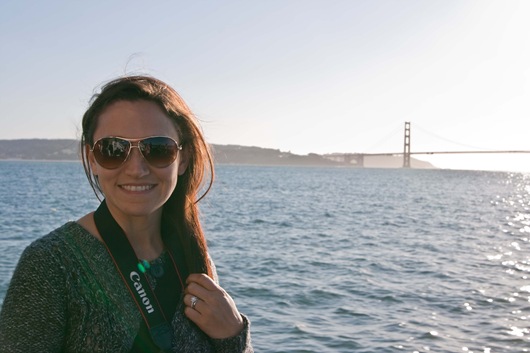 Alcatraz.
The day passed by but didn't seem to go too quickly.  It was one of the first times being on vacation where time seemed to actually slow down.  So many things will be remembered about this trip.  You might think food would be top on the list, but I would definitely say people beat out the food.  I feel so lucky.
Night!
Ashley