Have you eaten a graham cracker today?
I have.
At least 6 of them.  Basically every time I go in the kitchen, I eat one.  They're crunchy, not too sweet, and totally addicting.
After a hard swim, this was the perfect snack! 
100m warm up
500m freestyle
250m aqua jogging
500m breaststroke
250 aqua jogging
500m freestyle
50m cool down
= 1.36 miles in 1hr 3min
To round out my hat trick from yesterday, here is goal #3.
It may not look like anything spectacular.  It really doesn't look like much more than a glob of orange muck.
However it is the most delicious muck you will ever eat and it couldn't be easier to make.
Coconut Curry Mashed Sweet Potatoes [serves 1]
1 medium sweet potato [~3/4lb]
1t curry powder
~1/8t salt
ground black pepper
1/2-1T coconut oil [unrefined]
1/4c milk of choice
Pre-heat oven to 400*
Wash the sweet tater + prick with a fork multiple times.
Bake for 45min – 1hr, until soft throughout.
In a bowl, toss in potato + all ingredients.  With an immersion blender, hand mixer, in a Vita Mix or food processor, process until creamy + smooth.  Add more milk if needed.
When I took the first spoonful, my eyes opened wide with excitement.  A definite winner.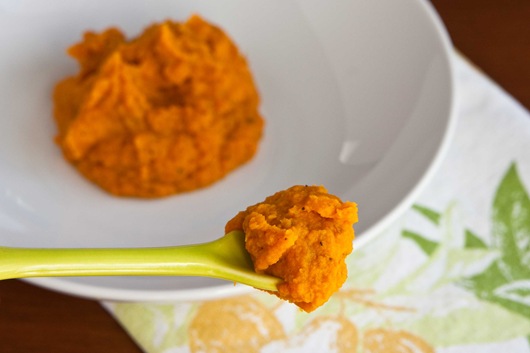 And then today….there were brussel sprouts.
The best brussel sprouts ever!  I've perfected my pan sautéing method for these little green balls of deliciousness.  I even prefer this method to oven roasted!  You might think I'm crazy when I tell you what these were flavored with, but just trust me.  Do I ever lead you astray?
My Favorite Brussel Sprouts [serves 1]
~10 sprouts, washed + halved
1T coconut oil [unrefined]
pinch of salt
splash of balsamic vinegar [optional]
Over medium-low heat, add coconut oil to a sauté pan.
Once hot, add sprouts, cut side down.
Let sit for ~8min, until nice + crispy.
Flip once and let brown for another ~8min.
Toss a few times and let cook for another minute. 
Add splash of balsamic [~1/2T], for a little sweetness, if desired.
I love how my stainless steel pots + pans brown things like this.  They're really not as hard to clean as you'd think, either! 
But back to the sprouts….coconut oil + sprouts? 
The coconut flavor mellowed out and ended up pairing extremely well with the sprouts.  My favorite part are the little layers that fall off and get super crispy.  Cooking the sprouts over med-low heat, allows them to reach a delicious soft, but slightly crunchy, texture.  I'm not sure I will ever cook these any other way.
Amidst a slew of errands today, I decided to pop in JoAnn Fabrics.  I wanted to see if they had some cheap fabric, as an alternative to buying new kitchen towels to use in photos.
Ashley had the same idea a few weeks ago and it proved to be SO much cheaper!!  I bought 5 different patterns, 1/2yd in size, for $8.50 TOTAL.  Typically you can barely get 1 towel or placemat for that price.
Score!
For some reason I've been extremely exhausted all day.  I slept a peaceful 7hrs last night, so I'm not sure what it is.  During my swim I felt okay but also a bit tired.  In the late afternoon/early evening I started to get dizzy out of nowhere too.  I was definitely hydrated, had enough to eat, and made sure to eat another 2 graham crackers to make sure I wasn't low on sugar.  Nothing helped!  Hopefully tomorrow I'll be back to normal. 
Night!
<3 Ashley