Loved hearing all the comments on whether you prefer chocolate or vanilla.  Just when I thought the chocolate oats couldn't be beat, vanilla stole the show.  Barely.
The ground farro for breakfast is back.  I missed it's delicious flavor and texture.  One thing I found when cooking farro, is that I do not like it how I cook my oats.  ie: with the banana sliced and mixed in, tons of cinnamon, etc.  Something about the mixed in banana + cinnamon just doesn't work with farro.  Flavor + texture wise.
Farro is complimented by simpler flavors but still delicious when
topped
with banana.  I always put vanilla extract in my oats.  A huge splash of it.  I'm sure it makes a difference in the overall flavor, but I have never thought, "this tastes like vanilla."
Well, this bowl of farro
definitely
tasted like vanilla.  Do you see the vanilla bean flecks??  You can actually see them in the nut butter as well.
Vanilla Bean Broken Farro


1/3c rounded ground farro


3/4c milk [any will do]


1/2c water


1t vanilla bean paste


2t sucanat [or pure cane sugar]




Grind farro until powdery, with small pieces mixed in.


Put 1/3 rounded cup in a small pot, with the milk, water and sucanat.


Bring to a boil, over medium heat and reduce to simmer.


Stir/whisk occasionally for about 7-10min, until desired thickness is reached.


Stir in the vanilla in the last 1-2min of cook time.  Add extra liquid if you let it get too thick.


I also love farro with about 1/4c of currants or raisins mixed in at the very end.


Topped with: raw almonds, half banana,
vanilla maple almond flax butter
The creaminess was unbelievable and the vanilla flavor was outstanding.  It wasn't overpowering at all and paired perfectly with the hint of vanilla almond butter.  Wow.
For lunch, I was THIS close to making vanilla farro again.  But instead the following happened.
I call this,
"indecisiveness on a plate."
I love eggs.  I love Ezekiel English muffins.  I love this random lunch but not as much as vanilla farro…
I wasn't going to photograph dinner, but decided I would try it out with the daylight bulbs in the kitchen and then with the light box for the final plate.
We've been eating tempeh or tofu about once a week lately.  Tonight, Chris chose tofu and I chose the recipe.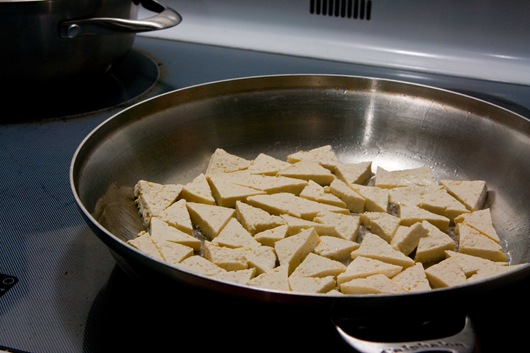 Orange Pan Glazed Tempeh [or tofu]
from
101 cookbooks
.
The only change I made was using coconut oil to cook the tofu in, instead of olive oil.  It worked perfectly!  There really is no need to alter this recipe, as the flavors are delicious.  It's sweet + savory all at the same time.  It reminds me of Chinese take out
but
much healthier without sacrificing flavor.
I would definitely say this is one of my favorite meals ever.  Chris loves it as well.  It's a FABulous recipe if you're cooking tempeh or tofu for the first time.  It's hard not to like this!
Pouring in the orange glaze.  buBbLy!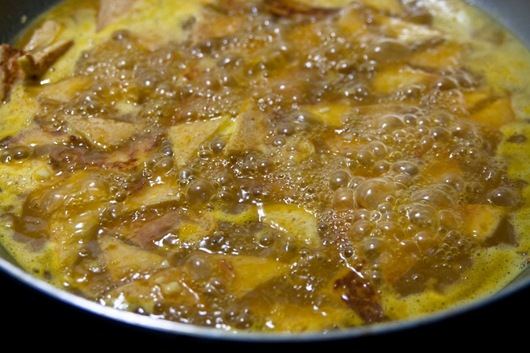 Dinners around here typically involve 3 pots.  Tofu in one, farro in one, broccoli in the other.
The sauce reduced down and became a delicious glaze and the tofu kept it's awesome crispy texture.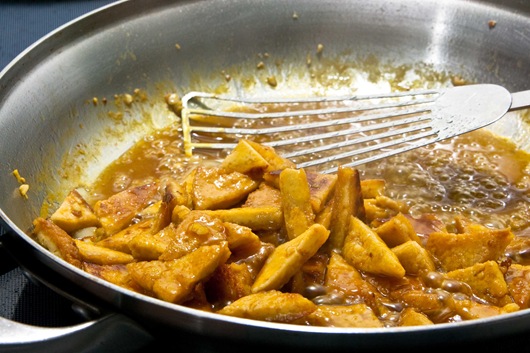 Chris has declared farro his grain of choice.  He said he even likes it better than millet and definitely better than quinoa.  I would have to agree about the quinoa, but it's a neck + neck race between farro and millet for me.
Dinner was done in no time and then it was time to play with
the light box
.
The dark plate with white bowl worked really well.  I'm still only using 1 light and again enjoyed playing
The Sun
!!  I think a few of these photos actually turned out quite nice for artificial light coming from only 1 side.
Do you have a favorite?  I keep going back and forth…
1. Light coming from the right side at the height of the plate.
2. Light coming from above and slightly to the right.
3. Light coming from the right and slightly behind the middle of the plate.
4. Light from above.
Still, nothing beats daylight, but at least I feel like I can photograph in the night hours now!
Photography is all about experimenting and bad photos are just as useful as good photos.  With the bad photos you learn what doesn't work so well.
-- The light on the broccoli is way too harsh and the rest of the photo looks hazy because it's in shadow.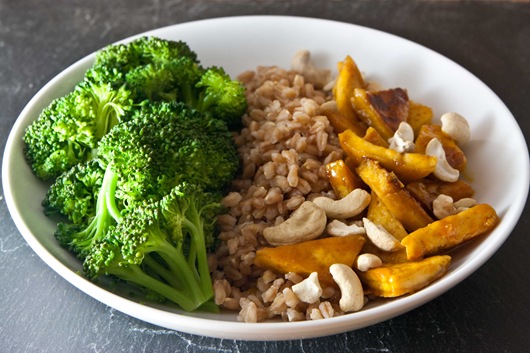 -- Again the light is too harsh on the broccoli.  Because the broccoli stands above the farro and tofu, it's not letting much light pass through.  What is in focus [focal point was on the front piece of tofu], is not being complimented by the light.  The light on the broccoli is distracting.  Not to mention the steam coming from the broccoli does not look good in this instance.
I've learned more in the past 2 months about photography than the whole year prior.  This is SO MUCH FUN. :)
Happy weekend!!!
Ashley