I meant to have a very chilled + relaxed Saturday, but that did not happen.  It was a very good day, just not as lazy as I hoped. :)
I've had a few new peanut butter ideas lately, like this one above.  It's loaded with cinnamon, coconut oil, salt, maple syrup, vanilla and maple syrup.
Peanut butter seriously is the easiest nut butter to make.  It came together in about 5 minutes!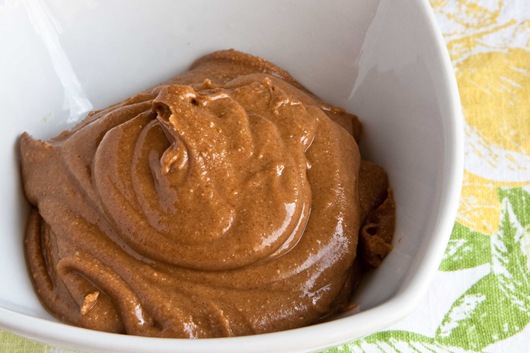 My new idea was to make a fruit infused PB! 
Cinnamon Raisin Peanut Butter anyone??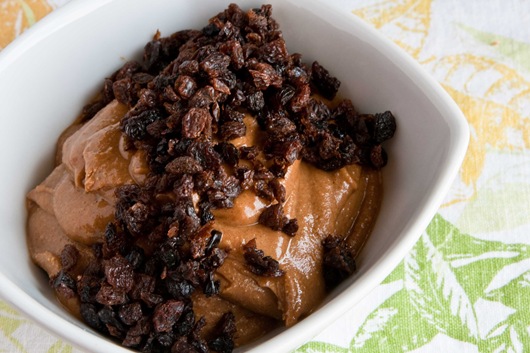 Spiked with a little coconut?  Yes please!  There are so many fun mix in options, I can't believe I'm just trying it out now. 
Try folding in:
seeds
chopped nuts
dried fruit
chocolate covered raisins?? :)
Cinnamon Raisin Peanut Butter
1.5c dry roasted, unsalted organic peanuts
1t cinnamon
1/2T coconut oil
1/8t salt
2t maple syrup
1/4c chopped raisins
1.5T unsweetened coconut [optional]
Process nuts until it becomes buttery and smooth.  About 5-10min.  Scrape the bowl as necessary.
Add in cinnamon, coconut oil, salt, and maple syrup. 
Process again, until it is creamy and spreadable.  About another 3-5min.  Scrape as necessary.
Empty nut butter into a bowl and fold in mix-ins of choice.
Store in an airtight container.
Such a fun twist on plain ol' PB!
After nut butter making, I walked the dogs + then rode on my bike trainer inside.  I did a quick weight session and then got to making a new vegan cornbread recipe.  Our friends Peter, Michelle, + Devon were headed over for dinner. 
I was in charge of cornbread + salad!  I used my go-to cornbread recipe, but made some changes to veganize it.  Turned out extremely well!  I need to make it again before giving you the recipe, because I think I mis-measured a few things..hehee.  That's what hurrying in the kitchen will do to you!  I was using the 1/3c measurer and thought I had the 1/2c.  Doh!  Still turned out great though.  Extremely moist, thick and flavorful.
*The rest of the photos are shot with the light box.
Peter + Michelle brought some outstanding tortilla soup.  They made 2 versions, one with tofu + one with chicken.  Chris + I ate the tofu soup and loved it.  They also brought over some freshly fried tortilla strips [so irresistible!!!], queso fresco, and avocado.  I've never had avocado in soup before, but it was delicious.  Super creamy.
Definitely need to re-create this soup!
After dinner, I got busy in the kitchen…again!  I wanted to make more chocolate graham crackers for a few holiday gifts.  I served some in a bowl with a side of PB to our friends for munching. :)  They were well received!
So crunchy.  So chocolately.  So delicious.  Make them!
Early Christmas gift made with love :) Freshly butterized Maple Cinnamon Almond Butter with chocolate grahams! 
Need to do a few more things, then hop into bed.  Early wakeup call for the mountains tomorrow.  5:30am!  Eek! 
<3 Ashley