I didn't have any failed snacks [or meals] like yesterday…thank goodness.  Today was filled with deliciousness.  Starting with Coconut Kefir.  It was on sale and seemed like something fun to try.  Perfect for smoothies, pouring over cereal, etc.  The nutritional facts are impressive, and the ingredient label is about a 7/10 in my book.  I'll probably buy this once in awhile, but not on a regular basis.
I made the same smoothie mix that I made last night with my rye flakes. 
Purple Fluff
~3/4c coconut kefir
~8 frozen strawberries
1/2c frozen blueberries
Blend until smooth + creamy.
I also made Oats and topped the purple fluff…In the mix:
1/3c BRM 5 grain cereal
1c almond milk/water
~1/2t cinnamon
1/2T chia seeds
vanilla splash
1/3c applesauce stirred in at the end
Topped with: 2T BRM granola + 1/2T PB with ~1t cacao bliss [melted]
Mmmm melty goo on top!  I really love this whole combo.  You get the cold smoothie with warm oats and the granola crunch.  I love how the smoothie part gets a little soupy.  I'm a big fan of letting my ice cream partially melt into soup..hehe
pretty purple
For lunch I had the crazy tempeh leftovers from yesterday + a little pasta I made this past weekend..I topped it all off with a huge scoop of the yeshi nacho "cheese."  WHOA, soooo good…that sauce is Ahmazing!!
I had a great workout today!!  Bike + weights = shaky + tired! 
I was having a hard time holding the camera while photographing my snack.
Orange + 1/2 ginger snap LB.  This was a new flavor for me.  I've realized maybe I need to try out the more wild flavors of LB because what I don't like is that kind of "blah" date taste all the bars have. 
This bar had GREAT texture.  Some LB's have better texture than others for some reason…different nuts I guess.  Anyway, this was good…really good if you love ginger.  It wasn't too overpowering but ginger is not a favorite flavor of mine.  I like it in stir fries and whatnot but I'm not ginger crazed like some.  This had a lot of cinnamon + clove flavor too.  If you like ginger, I DEFinitely recommend it.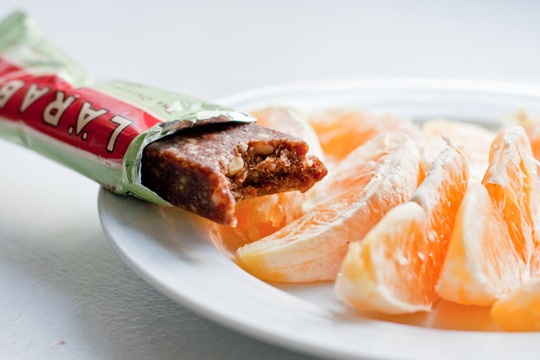 Stuffed pepper niiight!!  One of my favorite meals to eat.  Organic yellow peppers were the cheapest..how fun! So pretty!
I used millet tonight.  I usually use quinoa or rice but wanted to try something new.  Chris chose mexi style so I threw in a lot of flavor like: cumin, chili powder, cajun seasoning, tomato paste, garlic, onion, cayenne.
Off to the oven for some roasting.
Soft + toasty!
Allll done!  Such bad kitchen lighting…blegh!
I meant to stir in the black beans and diced tomatoes into the millet mixture but forgot.  It worked well on the side though too :)
The peppers were OF COURSE topped with the "cheese" sauce.  I won't tell you again how good it is.  Topped with avocado and with a side of salt + vinegar kale chips.  SO YUM.
I'm getting really excited about homemade week next week.  Keep the ideas flowing..you guys have some great one so far!!  I have to be a little careful with spending $ but I want to make as much as I can.  It might extend into the next week as well because I'm going to have a hard time narrowing down the list. 
Here are some reader ideas so far:
Kombucha [whoa hard, not sure I want to mess with fermenting..but I'll research it!]
a sugar free/gluten free/soy free savory snack
yogurt [fun!!]
hummus, starting with dried chickpeas
granola
larabars
There might have been a few others..but you get the idea.  Can't wait to hear more!
Do you want the millet pepper recipe?  Oooookay…I suppose!
Millet stuFFed Peppers [vegan]
1c millet, rinsed
2.5c liquid [water/broth]
1 small onion, chopped
1 large garlic clove, minced
1t cumin
1t chili powder
1/2t cajun seasoning blend
few shakes of cayenne pepper
~1T olive oil
1c black beans
1/2c diced tomatoes [I used organic canned]
3T tomato paste
Heat a pan with olive oil on medium heat. 
Cook onion + garlic until soft ~5min.
Add millet + seasonings + tomato paste.  Stir well and let the millet brown for a few minutes.
Add liquid and give a few stirs.
Bring to a boil.  Cover, turn down heat + simmer until all liquid is absorbed. [I uncovered and let it cook at the end for 5min to make sure all the liquid was absorbed]
Fluff with fork.
Pepper action:
Pre-heat oven to 400*
Wash + cut peppers in half lengthwise.
De-stem + de-seed.
Line a pan with foil and lightly coat with olive oil.
Place peppers cut side down and cook for about 20min.
Turn oven down to 350*
Stir in black beans and diced tomatoes to the millet mixture [or serve on the side like I did]
Take out and stuff peppers with millet mixture. 
Bake for ~15min.  The millet gets nice and crispy on top.
Take out and top with real cheese or delicious fake nacho cheese and bake for another 5min
ENJOY!!!
~Ashley