I don't know what happens some morning….but today my oatmeal was PERfection. It's always good. But this was beyond good. Sometimes I think it's weird how much I talk about oatmeal…but come over and I'll make you a bowl + then you'll get it.
Peanut Butter + Coconut Butter melted lava flow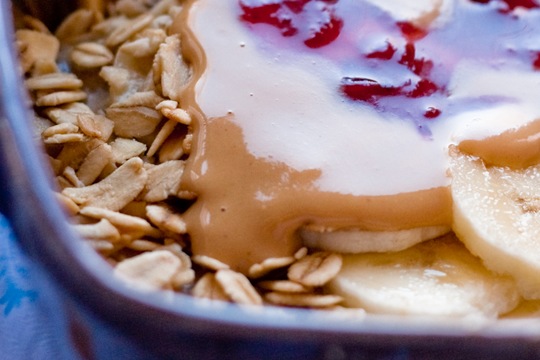 OH MY OATS:
1/3 cup oats
1 cup almond milk
1/2 tablespoons chia seeds
1/2 banana
1/2 teaspoon cinnamon
vanilla splash
Topped with:
1 tablespoon pnut butter + 1 teaspoon coconut butter, melted
1 teaspoon Heather's jam
other 1/2 of the banana
about 2T Bob's Red Mill coconut granola
It filled me up…but was so good I considered making another bowl. I think I really liked the banana on top. I also liked melting the pnut butter over top with the coconut butter. I usually use 1/2 water 1/2 almond milk but today I used all almond milk.
Romaine + ~1/2 avocado + leftover steamed broccoli + 2 mini sweet peppers + herb roasted garlic + homemade balsamic vin.
Chocolate Coconut Monster!!!! This was SO delicious…probably one of my favorite ever!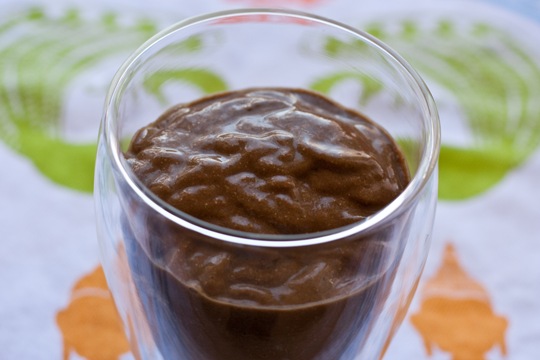 Chocolate Coconut Monster:
handful of ice
~1/2c coconut kefir
1 scoop chocolate Amazing Grass
1/2T unsweetened cocoa powder
1t coconut butter
1-2T unsweetened coconut flakes
2T avocado
The avocado made this insanely thick and creamy and you couldn't taste it at all. Love love love.
I was feeling a bit sluggish…a little cloudy in my head. This smoothie really helped perk me up..for real!! I went to the gym, awhile after lunch, and rode the stationary bike for 45min. I had the new issue of Real Simple, which kept me busy and I read another 20 pages in the book Born To Run.
Tomorrow morning I'm meeting with my friend Lauren and going to the farmer's market. Super excited about that!! More tomorrow :)
~Ashley