Morning! Speaking of morning, yesterday morning I couldn't decide if I wanted a Green Monster or oatmeal…so I made both, duh! I downsized both and was left completely satisfied. YUM!
I got a lot of random things done today which was nice. I was up early and nonstop all day long. I have a new tab "Vibram 5 Fingers" with a tab underneath for a photo page. If any of you are sporting the VFF's send me photos! I wanted to start a separate page to organize information/questions/links/etc. Also, I haven't noticed many females reviewing and/or blogging about them, so I thought I should start! [I'm sure there are some, I just haven't found many]
I also created 2 new headers with probably another 1 or 2 on the way. I like to change them up every now + again with new photos I have taken. I might be trying out a few other things..so keep your eye out!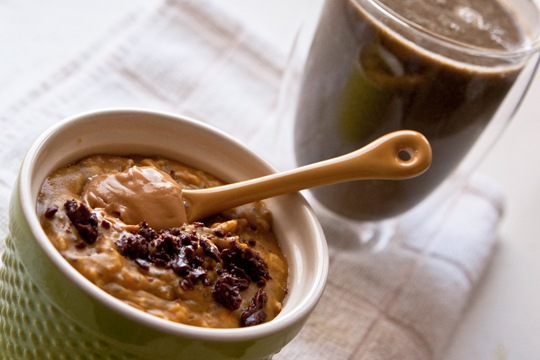 Not really green, but oh so tasty! Wait..what did I put in it? Ummmm..let me recall…
1 scoop chocolate amazing grass
ice
almond milk
plain yogurt
1/2 banana
Which left me with 12oz of delicious, energizing, Friday slurpee goodness.
Oats? I made a mini bowl of Pumpkin Oats:
1/4c oats
1/2c almond milk, 1/4c water
vanilla splash
~1/2t cinnamon
1/2T chia seeds
dash ginger/nutmeg
1/3c pumpkin
topped with: 1/2T pnut butter + 1t cacao bliss
Whoooops…almost forgot some crunch! ~2T Bob's Red Mill apple + blueberry granola [sounds like a weird combo with pumpkin, but you can't taste the fruit]
This breakfast was super tasty and I got the best of both worlds, with about the same caloric intake as a big bowl of oats or a big green monster.
I was on a roll getting things done, and I wanted to run before lunch…It was already noon, so I had a snack. I ate 1/2 of the PranaBar and drank 1/2 of the Kombucha. I really love PranaBars. The texture is awesome and so are the ingredients. Although this wasn't my favorite because it was full of cashews. I like cashews but not really in bars. The texture is a little chewier than a Larabar and the flavor is much much better. I get a little tired of that same lingering date taste that LB's always have.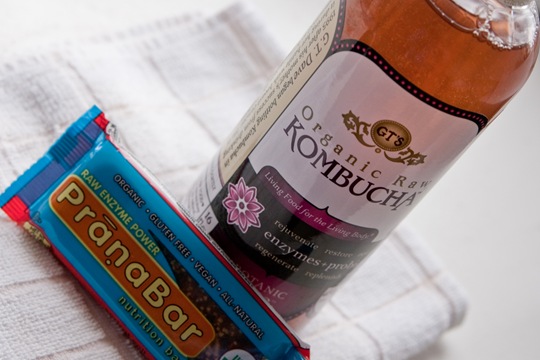 When I opened the Kombucha it did this :) Gross? Oh well..it was DEElicious! Love this flavor!
Has anyone ever used this type of Kale? I've seen in for awhile but never bought it until the other day. The bunches were bigger than the typical green kale [and the same price] so I thought I'd give it a shot. A tad different texture wise [softer], but the flavor was the same.
But in between the Kombucha and the kale I went for a FOUR mile run in the VFF's. Yippee a new distance PR in them! More on my workout here! After running I also did the 30min hip opening yoga from yogadownload, which was fabulous! Just what my hamstrings + hips needed. Again, I highly recommend this! [note: it's an audio only download]
Sea Salt + Vinegar Kale Chips
Cottage Cheese with s+p
Amazing Grilled Cheese

sauteed sweet peppers
1/2 avocado
2 mini fresh mozzarella balls, sliced
I inhaled this lunch.
Chris + I were super cool and went to the gym to climb on fake rocks for a super exciting Friday night :) It was really fun though and then we swung by Pat + Nat's for a bit too. We grabbed dinner at Chipotle, where I had a veggie burrito bowl. I love their guacamole! Now, I'm pondering dinner #2. I would say I earned it from a 4 mile run + 30min yoga + 1hr of bouldering…at least some kind of snack! I hear greek yogurt calling my name.
I forgot to post these the other day. I took my camera when I went walking at the park this week. The weather has been amazing this past week. Full of sunshine and temps in the 50's. The snow is gone and the pond is starting to thaw. I'm sure we'll still get more snow though!
The walk I take to go to my gym :)
The mountains were really visible this day…you can kind of see them in the distance.
Mom!! Are you getting excited for your visit yet? Weeeeeee My mom's coming to visit + play in less than ONE month. I'm excited!
Off to bed…or snack then bed. We'll be up and at 'em early to pick up our friends [visiting from NC] from the airport. Excited!!
Night!
~Ashley