1 photo I forgot from Easter…Kenna always attacks when pictures are being taken.  Another nick name we have for her is The Destroyer, for obvious reasons ;)
I've read a lot about these instant oatmeal cookies but have yet to try one.  They haven't looked that good to me and I like my creamy fluffy oats SO much.  I guess the cookie is a good "to go" option…or a good option if you don't like the consistency of goopy oatmeal like my mom!
She says she doesn't know what to do with it in her mouth…chew…swallow…mush around..I think it is quite hilarious.  She has tried many times but just doesn't like it.  However, she was more than willing to give this oatmeal cookie a shot.  I think it originated from Tina first…but I'm not sure.  
Pre-microwave
I prefer stovetop to microwave any day…but I'll give it a shot at some point…it smelled pretty fabulous!  It's also a little easier to eat in the car than a bowl of oats, if you're in a rush in the AM :)  My mom picked out all the add-ins she wanted and I "cooked" it up for her.
Mom's 3-Minute Oatmeal Cookie [original recipe]
1/4c instant oats
1 egg white [or 1/8c]
1/4t cinnamon
1/4t baking powder
splash of vanilla ~1/2t
1T dark chocolate chunks
~1T+ chopped walnuts
~1T+ chopped dried cranberries
1.5t pure cane sugar
2t flour
Mash everything together until combined.
Pat down with the back of a spoon in a bowl.
Microwave for 45sec on high. 
Let cool for ~30sec and slide out of the bowl.
EAT!
I thought it came out looking pretty delicious.  My mom really enjoyed it and said it was WAY better than she was expecting. She said the texture was very cookie-like and is excited to make them before she leaves for work in the AM.
Chris wants to try it out too.  He's not a huge fan of creamy oats either…what the heck people!? ;)
I had a general check up at the Doc today and had blood work done.  I'm excited to find out how all of my levels are…especially since [besides yesterday] I haven't eaten meat in about 2-3 months.  I had to fast for about 13hrs and I thought I might pass out.  I was CHUGGING water to try and trick my stomach..it only worked so much.  I got pretty grumpy for the last 2hrs before leaving the for appt.  SO so so hungry.
I stashed this in my purse and then smashed it in my face as SOON as I walked out of the office :)
When I got home we decided to go out for a late lunch to Watercourse.  It was my third time there and I was impressed again.  This was probably the best meal.  It's a vegetarian/vegan restaurant with a HUGE menu [much larger than what they show online].  My mom and Chris both raved about their meals.  I had a big egg scramble with smoked portabellas, artichokes and broccoli with a side of fruit + sweet potato home fries.  YUM.
It was SO sunny out..my eyes literally would not open!
SQuint!
We wanted to show my mom the rock climbing gym.  She always likes seeing the things we do in person.  It was nice to get a good climbing workout in too.  My mom brought her camera…here are a few of the pics!
:)
I had my 2nd flavor of Siggi's.  It was quite tart!!  I finished it but not my favorite in the flavor department.  
I added some [hiding] almonds + kamut puff cereal.  Kamut puffs are really tasty..they are pretty bland but kind of have a nutty flavor with a good crunch.  They are super cheap 1c is a serving with only 50 cals..it's fun to snack on at night instead of popcorn.
Dinner tiiiime!  Crunchy salad – baby romaine + carrots + cucumbers + avocado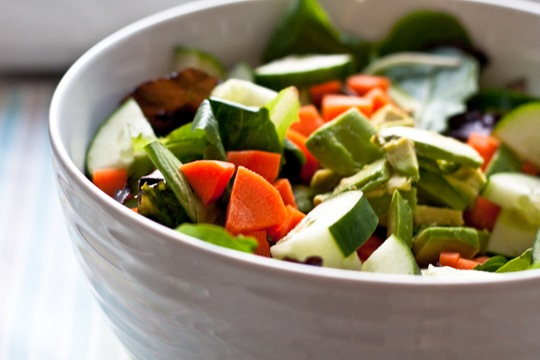 Homemade quick + easy dressing. 
Olive oil + apple cider vinegar + balsamic vinegar [appx. equal parts]
oregano + salt + pepper + garlic powder [few shakes of each]
Whisk or use a hand blender to combine.  Taste and make changes accordingly.
Garlic bread.
Amaaaazing pasta from my Clean Food cookbook.  It came from the SPRING section on page 83.
Medditerranean Pasta with Greens
This took about 20-30min from start to finish and was just perfect.  The flavors worked perfectly and it had such a fresh taste to it.
whole wheat pasta + garbanzo beans + kale onion + garlic
with a sauce made from whole peeled tomatoes with their juices + tomato paste
There are a TON of leftovers and I can't wait to DIG in.  My mom + Chris both loved it!
Since EVERYONE asked or commented about the tea steeper I thought I would send you a link of where to get it.  It's from the Avon catalog and only costs $4.  There is also a strawberry version that is super cute as well!
   You can find it HERE!
Not sure what's on tabs for tomorrow..the weather is going to be chilly the next 2 days…lame!  So many things I want to show my mom are outside here!
Also, Mama Pea figured out the mystery as to why the Key Lime Pie [from yesterday] didn't "set" like hers did.  So apparently "agar agar" [a natural gelatin] comes in powdered AND flaked.  I used flaked and MamaP used powdered.  The powdered is much more potent, so I didn't use nearly enough of the flakes.  hehe  I'm so glad she figured it out!
She emailed me a conversion chart when using agar agar.  Thanks MP!!!  I was WAY off, haha.  I gobbled down more of the pie tonight and realllly love the flavor, especially with the coconut cool whip.  Chris tried it and thought it was awesome as well.  Can't wait to make it again with the right ratios ;)
AGAR-AGAR TABLESPOON FLAKES TO POWDER RATIO LIST
1 TABLESPOON AGAR-AGAR FLAKES = 1/2 TEASPOON AGAR-AGAR POWDER
2 TABLESPOONS FLAKES = 1 TEASPOON POWDER
3 TABLESPOONS FLAKES = 1 1/2 TEASPOON POWDER
4 TABLESPOONS (1/4 CUP) FLAKES = 2 TEASPOONS POWDER
5 TABLESPOONS FLAKES = 2 1/2 TEASPOONS POWDER
1/3 CUP FLAKES = 2 3/4 TEASPOONS POWDER
7 TABLESPOONS FLAKES = 3 1/2 TEASPOONS POWDER
8 TABLESPOONS (1/2 CUP) FLAKES = 4 TEASPOONS POWDER
Niiight!
~Ashley