I'm back!  Ahhh, sleep is so fabulous :)  I'm off to the pool when I'm done with this post, so let's get started!
Pancake time people.  Coconut flour pancakes to be exact.  I've made these once before and they were delicious.  I originally found the recipe from HEAB.  I was skeptical because the recipe only calls for 2T of coconut flour.  How can 1 serving of pancakes be made with only 2T of flour? Well, it really works!  Although I do add 2T of flax meal as well.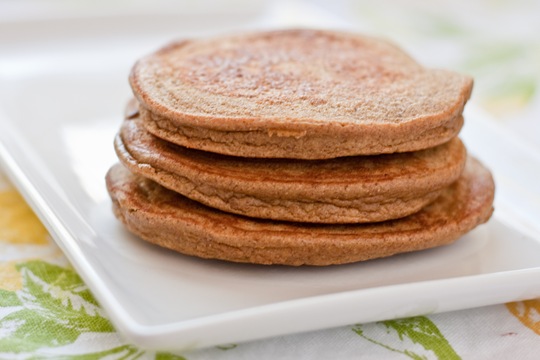 These super healthy + DEElicious, soft + light pancakes kept me full for FOUR hours.  That is UNheard of.  Seriously.  I am curious what the nutritional stats are on these and how they compare to my oats.  I'm sure my toppings helped as well.
To the right…
To the left…
Front + center!
Coconut Flour Flax Pancakes [serves 1]
2T coconut flour [full of protein + fiber!]
2T ground flax meal [I use Bob's Red Mill]
3T milk of choice
1/2t baking powder
3T POM juice [from samples they sent!!]
pinch of salt
1/2-3/4t cinnamon [depending on your cinnamon obsession]
1t vanilla
2 egg whites, 1 egg
In a blender, blend eggs on high for about 30sec.
Heat + grease a large pan on medium/low heat.  It takes longer, but will give you evenly browned, well cooked cakes!
Add other ingredients to blender and blend on medium speed for about 30sec.
Let sit for a few minutes and then pour into the pan.
Cook for a few minutes on each side until evenly browned.
This makes about 3, 3-4" thick + creamy pancakes.  If you want a thinner pancake just add 1-2T more liquid.
Toppings?
Breakfast Yogurt Sauce
1/2c plain Greek yogurt
1T POM juice
1/4t cinnamon
Mix well, top on anything!
Plus 1/2 banana + a few strawberries [organic, of course ;)]
These had an awesome soft texture!!  Super moist [haate that word!]
The yogurt sauce was a nice fresh topping!  I like being creative with pancake toppings.  Maple syrup is obviously delicious, but that was just too boring for me today [well, yesterday].
Chris requested, ever so sweetly, a fruity smoothie.  It was the prettiest pink/purple color! 
At least it was in a manly mug.  ;)  I didn't measure anything but here is what was inside..it was delicious!  I obviously tasted it!
cherries
berry mix
strawberries
banana
POM juice
milk
almonds
YUM.
After cleaning the vita-mix twice I decided to dirty up the food processor.  And this is why my hands look like shriveled prunes.  I never stop with the dishes!
I roasted the pecans for about 8min.  They roast fast!  They started to butterize within 2min but then took some coaxing to finally finish.
I am SO super excited about this new nut butter.  It's similar to the maple cinnamon almond butter but not sweetened with maple.
Salt Kissed Cinnamon Pecan Butter
1c pecans
1 1/2t vanilla
1/2t cinnamon
~1/8t salt
1/2t safflower oil [or any light oil]
Roast pecans at 325* for 8-10min.  Watch them closely!
Let cool.
Add 1/4t cinnamon, vanilla, oil, and half of the salt.
Process for 10-15min, scraping down the bowl as necessary.
Taste along the way.  If you want more cinnamon and salt add it in about half way through. 
Process until creamy.
Mine took awhile because I was adding things as I went along.  This recipe would be easier to make if doubled.  The processor does better with a little fuller bowl of ingredients.  For my liking the 1/2t cinnamon and 1/8t salt were spot on.  This is definitely a more savory butter.  If you need a little sweetness add 1-2t maple syrup.  I didn't add the safflower oil until the last few minutes.  It just really wasn't coming together and getting as creamy as I liked.  However, the 1/2t was all it needed!  Not bad! 
The Abate pear, tasted like a normal pear.  nothing crazy, however gorgeous!  I had these sitting out for a few days and they didn't seem to soften up at all.  It was a nice crunchy pear.
pear-butt
Yummaaaay.
After my 15m bike ride + abs + pushups I had to SCARF lunch down before work.  It was delicious and left me FULL from eating so quickly…something I hate having to do!
Carrot obsession right now. 
2 carrot sticks
cucumber
pepitas
arugula
hemp oil/balsamic/apple cider vin dressing
Pecan butter!!!!  So freaking delicious!  Very creamy, very rich in flavor.
Delicious bagels + very healthy.  This bag was only $2.99!
Great ingredient list!  10g protein, 3g fiber, 2g sugar, 250 cals…rock on!  Great when you're in a hurry!
Snacked on this at work.  It was my first time trying this flavor.  It tasted like a brownie with cherries in it.  Pretty tasty, but I'm not a huge fan of the Jocalat bars.  However, what I do really like about them is that they are not too sweet!
Off to the pool!!  I'll be announcing more details for the CO Blogger MeetUP on tomorrow's post, plus a reader appreciation giveaway :)  Happy Monday!
~Ashley