The last one was a mini-post, but hey, I hit "publish" it still counts!
Tuesday morning started off with some yummy cream top yogurt for the Jakester along with 1/2 of a chopped up banana.  I also gave him a few spoonfuls of oats :)
As I said on Tuesday's post, I am loving this new nut butter sauce to use as a topping.  It not only seems like you're eating more delicious nut butter, buuut it spreads a lot easier too!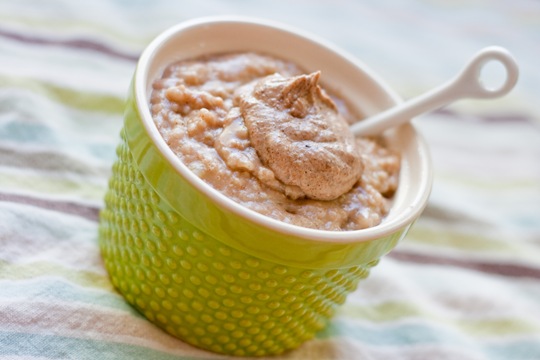 This version was Pecan Butter Sauce and it went like this –> 1T pecan butta' + 1-2T coconut milk –> microwave –> stir –> creamy deliciousness!!!!  I think I might be torn between the Salt Kissed Cinnamon Pecan Butter and the Maple Cinnamon Almond Butter!!  I need to make more of both, asap.
Finished off with mixed berry jam and hemp seeds. 
Jake was excited to go shopping!
We hit up Natural Grocers, where he helped me find some awesome deals!  He was perfect at the store, per usual.  After the store we went to Great Harvest.  I was looking for rye bread, but they don't make it…however, we got a HUGE slice of the Kansas Crunch bread to snack on.  It was delicious.  We both enjoyed it :)
During Jake Nap #1, I made 2 things.
1 – Sunflower Butter!!!  I've actually never had it!  The flavor was quite strong to me.  I was making it so I could use it in the cookie recipe below.  It came together after about 15min with no oil necessary.  After I scooped out what I needed for the cookies, I went ahead and added: cinnamon, vanilla, vanilla beans, and a tiny bit of oil + maple syrup and processed a little more. The result is growing on me.  I think I just need to get used to sunflower butter.  Also, next time I will roast the seeds and I think I might prefer this as a roasted + salted nut butter instead of sweet.  We'll see next time!
2 – Reworked Supercharge Me Cookies! 
Dry.
Wet. 
Pre-baking.
In the raw.  Recipe at the end!
Finished Sunflower Butter with Cinnamon + Vanilla.  Adding a little oil was necessary because the cinnamon really thickened it up.  I only needed 1t for about 3/4c of the butter.
Jakes lunch: squash, watermelon, jelly whole wheat tortilla
The tortilla was super soft, but not soft enough I guess.  I swapped it out for his last little slice of pizza from CPK.
Shopping helper!!  What a deal on those bananas…all for $2!!
We went on another 3m walk in the park.  It was gorgeous outside.
I love bulldogs!!  They are hilarious.
Sweet thing.
His shirt is definitely on backwards.  Oops!
He obviously said "Hi Dirk" [his dog's name] when he met this little guy.
Take my stick!!!
Ashley snack – greek yogurt underneath
$.89/bar Beat that!
Oh yes, these were deeeelicious :)
Fabulous texture.  I love oatmeal cookie texture.
They are soft, not crunchy.
And filled with goodness.
I can't wait to play around with other add-ins next time!
They were super easy too..promise!
Vegan Oatmeal Choco Banana Cookies [yields ~32 cookies – adapted from Dreena]
2c rolled oats
1c + 1/3c spelt flour
1/2t salt
1t cinnamon
1/4c unsweetened coconut
2t baking powder
1/3-1/2c dark chocolate chips
1 medium chopped banana
2/3c ground flaxseed meal
2/3c brown rice syrup
1/4c + 2T nut butter [I used the homemade plain sunflower butter]
3t vanilla
4T safflower [or other light oil]
Preheat oven to 350*
Combine oats, flour, salt, cinnamon, coconut, banana, chocolate and baking powder.  Stir well.
In another bowl combine the flax meal, brown rice syrup, sunflower butter and vanilla.  Stir until fully combined.
Stir the oil into the wet mixture.
Gently stir in the banana with the wet mixture, then add the wet to dry.
Stir until just combined.  I stirred a few times but then used my hands to finish.  [do not over-mix]
Line cookie sheets with parchment [or lightly grease your pans]. 
Scoop out 1-2T worth of batter and slightly flatten the cookies.  They do not spread much at all when baking.  Refer to my "pre-baking" photos to see how much I flattened them.
Cook for 12-14min, until JUST starting to brown.  Do not overcook these!  Cool for 1min on the pan and transfer to a cooling rack right away to prevent further cooking.
Ahhh so delicious!!  The nutritional info is on this morning's post if you're curious.  The banana helps sweeten the cookies since I reduced the actual sweetener a bit.  I also switched it from maple to brown rice syrup [less expensive, little to no effect on glycemic index level].  I think when I made them I only used 2T of oil and they were still great. 
Next time I'll definitely experiment with chia seeds, hemp seeds and a few other things.  I loved the banana chunks instead of mashing up the banana.  Enjoy!
~Ashley
p.s. I'm all out of Jake photos…don't kill me!