3 things happened today.  Well, I actually had quite the busy day, but 3 things were worth mentioning.
Thing #1
I'm in love with the color of this smoothie.  Refreshing it was. 
Peanut Butter Banana Green Monster
handful of ice
2c spinach
~1c So Delicious coconut milk
1 medium banana
1-2T peanut butter
Blend awaaaaaay.
I was craving greens + smoothie this morning.  This exceeded my expectations.  Consistency was spot on as was the taste. 
Breakfast perfection.  Trust me!
I was also craving an oatmeal banana cookie.  Duh.  Had to get my oats in too!
I'm so glad Kath taught me it's okay to eat the kiwi skin.  I actually really like it and it's so much easier to eat than digging the kiwi out with a spoon.  I wash it really well and munch away. 
Munched on lunch.  Looks like cheese but it's just 2 farm fresh eggies loaded with veg.  The yolks in farm fresh eggs are really vibrant.
Tomato paste underneath.
I sauteed the veggies for about 5-7min and then poured 2 whisked eggs on top.  I covered the pan with foil and cooked until done on top.  Then I slid it onto the tortilla.  YUM.
New coco water flavuh.  Loved it!!! Went 1/2 water + 1/2 coco water of course.  Then I headed out for a 16 mile bike ride at the park.  The wind was craZZy.  Colorado had some intense storms today…tornados and baseball sized hail..yikes!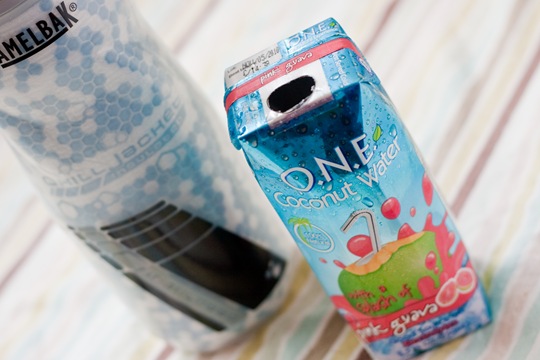 Noteworthy thing #2  Delivery!!!
Alliebars!!!!
I have loved seeing Allie develop her granola bars the past few months.  It has totally reminded me of when I started my ota.bar business last year, right around this time. 
We have been talking quite a bit recently and decided to do a granola bar exchange.  I will be sending Allie ota.bars early next week.  I was super excited to receive these.  We've compared ingredient lists a bit and our bars have a lot of similarities.
They were soooo delicious.  Tons of flavor and a lot of crunch and chew.  It definitely reminded me of ota.bars.  Very similar in flavor and texture.  They were packed with cinnamon, which I love.  This bar contained cranberries, pecans, sunflower seeds, oats, and other delicious things. 
Seriously loved it!  I can't wait for Allie to try ota.bars…wish I could still have that business going…maybe one day!?
Noteworthy thing #3
Remember last week I was talking about how softball made me feel like I was 80 years old the next day?  I was so so sore, despite how active I am.  My quads were especially bad from sprinting the bases a few times.  Whatever muscles that are used for sprinting are definitely not used in swimming, biking, or climbing. 
Well, my right quad was still pretty sore, even with all the stretching I've done.  The first time I ran the bases today I felt it pull more and I couldn't run fast at all.  It was hurting a lot.  I took it slow and tried to stretch it out.  I jogged a bit in + out from the field.  I thought my bike ride + stretching a few hours prior would have helped loosen it up.  False.
My third time running to first I literally felt a POP.  Not a soda-pop but a muscle-pop.  OUCH.  I stopped dead in my tracks and started crying.  I feel like I have a decent tolerance for pain.  I don't cry unless it really hurts and this was beyond that!  It was throbbing from my knee to my pelvis bone.  I've been icing, elevating and took 2 ibuprofen.  I'm hoping it doesn't hold me back for too long.  I'm also hoping I didn't do any serious damage. 
Pain is no fun and neither is being parked on the couch.  GAh! 
And, just in time for the barefoot running clinic tomorrow.  Hopefully it will be more of a listening clinic.  Grrrrrrrr
That's all folks!
Ashley