Well, I left off RIGHT before the ceremony started.  The event coordinators were literally watching the weather channel and knew the storm was headed our way in about 20min.  We squeezed it in just in the knick of time.
AJ escorted our Grandma..so cute!
Chris + his mom.
One of Chris's best friends from high school, Andy, escorting my gorgeous SIL, Natalie.
Cole was supposed to be carrying a large pewter ring, with ribbons attached holding fake rings.  The ring was engraved with the words "An unbroken + neverending circle symbolizes a commitment of love that is neverending"
However, we couldn't find it!  Later, I found it at home in my closet.  hehe  So instead he carried this small pillow that was actually a pair of golf socks from the pro shopped wrapped in a napkin.  It worked perfectly!!
Early in the planning, Chris + I decided to have someone we know marry us.  The person we thought of right away was my Uncle Alan.  I've been extremely close with him since the day I was born.  Chris had become close with him over the years as well and we couldn't think of anyone else that would have been a better fit.
My uncle had to be ordained to marry us.  It was legal, don't worry!  Chris and I wrote our whole ceremony, taking pieces from here + there and making some parts up ourselves.  Chris also wrote our vows, which were perfect.
The chuppah turned out great!!  Better than any rental, but I'm probably biased ;)
I remember looking at friends and family in the seats and then locking eyes with Chris.
I think my dad was a tad nervous…I had to whisper to him to shake Chris's hand and then we hugged.  And then this happened…
ONE…
TWO… [Chris's face is hard to see, but cracks me up!]
THREE….phew, close one dad!
I remember having a hard time focusing on what was really happening!  It was going too fast!  The wind was starting to go crazy at this point and the sky was turning dark.  I remember at one point everyone turning to look when there was a loud clap of thunder.
One thing we wanted to incorporate into our wedding was tradition, but we also wanted it to be unique.  I am part Irish [from my dad's side] and Chris is 50% Irish, with a last name starting with "Mc!"  We searched for Irish wedding traditions and came across the perfect one.  It was called hand fastening.  Before we said our vows our hands were bound together with 2 different ribbons [by my Aunt + brother] and then we recited our vows.  This symbolized our lives being bound together as one.  It was my favorite part of the ceremony :)
Check out my veil and material on the chuppah flying everywhere!!  There were a few points in the ceremony where we burst out laughing because it was getting so crazy!
Aisle runner was not cooperating!  The chuppah was about to take flight!
Jewish tradition before kissing the bride is, the breaking of the glass.  Chris crushed it and everyone yelled "mazel tov!!" [congrats]
Again with the laughing…
One of my favs!
Love how everything is blowing around.
Married!
My Aunt [wife of my uncle that married us] with my bro.
Windy much?  It had already started to pour at this point and people were starting to get a little wet. 
Happppyyyy
Playing in the rain, the bagpiper came walking up along the 9th whole where the ceremony was, to escort everyone inside.  We had a pianist playing during the actual ceremony though.
They say rain on your wedding day is good luck! 
I did something different with the head table.  Since we had a somewhat large bridal party, I had a mini head table so everyone could sit with their dates on either side of the room.  At the head table was Chris, me, Chris's brother [best man] + Natalie [bm], and my brother [gm] + Renee [moh].
My grandma + my Aunt's mom :)  Always chatting!
Being announced in…Ahhh so cute!
Our first dance was to The Avett Brother's, Swept Away.  Definitely our favorite band at that time [and still high up there].  This song gets me choked up every time!  I love the part where their sister starts singing :)
During our dance we talked and laughed…a lot!  We kept saying how long the song felt and that we couldn't believe it wasn't at the part where the sister was singing yet. 
We didn't have any crazy moves but I did get a twirl or two!
Then the speeches, which were both amazing.  Tears were shed!
More laughing…
And a big high 5! 
The storm only lasted about 30min and then it was gorgeous once again.
We took a few more photos outside after dinner.
On the putting green!
Love these shots!  We both love golf and wanted to take some fun action shots.
Chris is a gazillion times better :)
We threw [literally] all of our extra flowers in vases and spread them around StoneWater.  I made this guest seating list about 3 days before the wedding and it wasn't printed until the day before, along with the programs.  Slightly stressful! 
The lovely Fuse Photographic team Travis + Laura!  However, Laura was in my wedding and not shooting it! :)  Two of thee most talented photographers and genuinely amazing people that I have the honor of knowing.
My dad gave quite the speech.  It was very cute…one part saying that, basically the reason he likes Chris, is because they both like golf :)
I started pulling the cake down with the first slice..oops!
We did a little icing smear on each other's face but nothing too messy.
My dad and I danced to LOVE by the Beatles.  :)
Dancing with mom!
I was a dancing machine…way too much fun!  I danced a lot with my amazingly talented friend Rachel, that I met in grad school
Our friend Ben.
We had a huge group dancing along with the traditional Jewish wedding dance song "Hava Nagila."
My bro + uncle
Time to get hoisted!
Also one of my favs :)
My dad is hilarious.
Then we did a Greek dance.  I'm not Greek and neither is Chris but my aunt and her family are 100% Greek.  I've always been very close with them and wanted to incorporate a little piece of them into our wedding as well. 
My Charlotte girls, that I miss, dearly.
College friends.  Kurtz, in blue, has been on the blog quite a bit and our friend Peter on the far right just moved to CO too!
Chris's dad tore it up on the guitar.  He's played in a band off + on since his 20's.  He's extremely talented!
I've got good moves…I swear!
Joe got funky…yes, the same Joe that taught me how to make poached eggs :)  And actually, congrats to Joe + Michelle who just got engaged!!
There was no electric slide but there was definitely Hang On Sloopy, O-H-I-O.  Gotta love the Ohio State Buckeyes!!!
Bro in law + Sis in law…so cute!
Can you spot the bride + groom?
I think every single person danced the Cha-Cha slide!!  Even my mom got down!!! haha
End of the night!!
Off to the hotel on the limo bus with our friends. 
It was so much fun riding back with all of our friends.  Chris + Chris [Yes, Chris has at least 5 friends named Chris, no joke]
The huz!!!
Ginette…one of my besties!!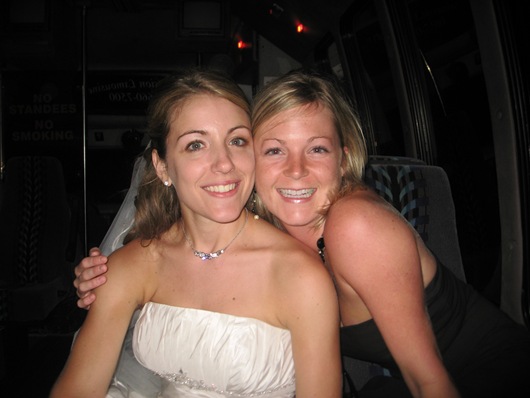 So I remember getting to the hotel and I was STARVING.  Chris carried me through the doorway, which I thought was hilarious and then I made him raid the snack bar at the hotel, LOL.  We never thought to stock the room with food + drinks.  I wasn't able to eat a ton that day, just from all of the excitement, so I was seriously starving.  I think he left for snacks at least twice and then once for mini bottles of champagne, hehe.  :)
Did I cover enough of the day for you??  Well the wedding recap is over, but I still have to fill you in on our honeymoon to Ireland!!
I wanted to thank everyone for the amazing comments following Part One of the wedding recap.  You all are way way too kind and I appreciate everything you said! 
Night!
<3
Ashley
I double posted yesterday and probably will again today!  I can't leave you foodless :)