Do I look a little jet-lagged???  The answer would be, YES.  We arrived in Dublin and planned to stay there for 2 nights.  Dublin was the only city that we actually booked a hotel for.  We pretty much winged it for the rest of the trip!
The first thing we noticed was –> Ireland is not shorts + flip flop weather!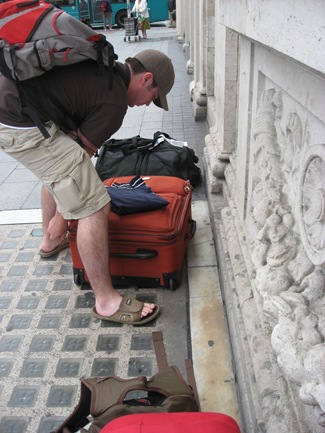 I took a lot of food photos on this trip, but I knew nothing about composition :)
The remains of my first traditional Irish breakfast.
I did not know how to use the macro setting!!  LOL  Why is the coffee in Europe SO much better than US?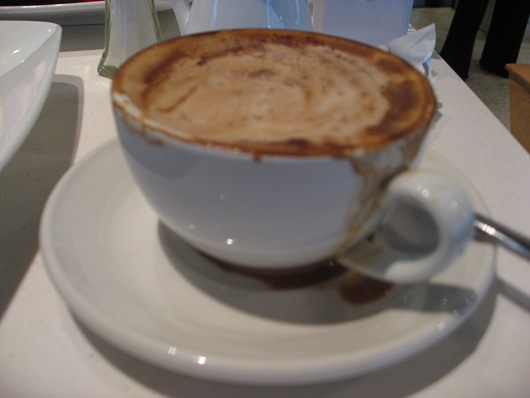 Loved this restaurant!
We walked around the city while we waited for check in time.  Piece of advice – We got upgraded at all 3 hotels we stayed at for mentioning our honeymoon.  When traveling, Chris + I will always be on our honeymoon :)  Just gotta polish up those rings!!
This was my favorite hotel.  Everything was totally my style.  I forget the names of the hotels though…whooops!
The food in IRE was pretty sub-par for how expensive it was  Our best food was in Dublin.  This was a delicious plate of veggie lasagna although now it looks like a huge mess of cheese!.
Fish n' chips for Chris.
It rained every single day on the trip but never for the whole day.  We didn't really mind at all and were well prepared with rain jackets + umbrellas.
Lot's o' Guinness!  One thing we found completely shocking was that locals drank Budweiser more than Guiness!!???  AND Budweiser cost more than Guinness!
While in Dublin, we went to jail…
The Kilmainham Gaol that is…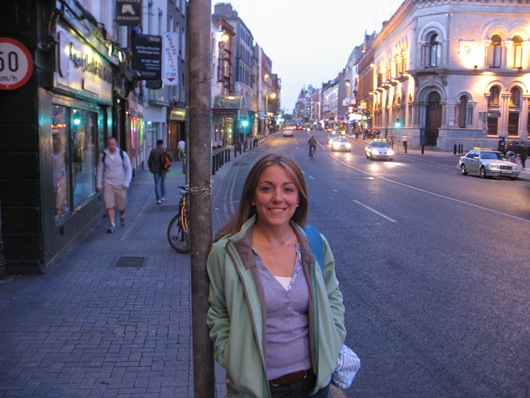 The very famous Temple Bar, in Dublin.
New friends…totally sober ;)
From Dublin, we took a train to Belfast.  That morning, I woke up feeling really crappy.  I ended up with a sore throat, headache, congestion type of thing and I know it was due to:
wedding stress of last minute to-do's
not getting enough sleep
not getting enough sleep, again.
traveling on a plane
etc.
The bus ride was not fun, but i tried to ignore my sick feelings and make the best of it.  We got to Belfast and had to find a hotel to stay at.  Ooops, should have done this in Dublin.  We strolled around with our luggage and finally found a place to stay.
Political murals. 
Chris was playing with the new camera and I was clicking along with my point n' shoot.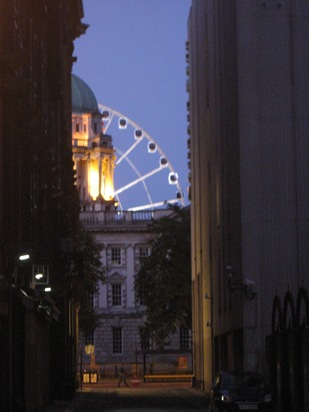 I still managed to get some decent photos with that little camera that is now on it's last leg!  This was a city government building and the ferris wheel is a new trend in European cities.  I'm not afraid of heights, but really do not like ferris wheels.  I always envision the little car detaching right at the very top and crashing down.  Does anyone else share this odd fear?
Irish bar music was really fun to hear although not all that common!  In more than a few bars they had 1 guy playing the guitar singing American songs from the 90's.  It was very odd!
After our short stop in Belfast, we planned to rent a car for the rest of our adventurous trip.  Things you should know about renting a car in Ireland:
they drive on the other side of the road
the driver sits on the right side of the car
99% of cars are stick shift = using your LEFT hand to change gears!!!
Now, I can definitely drive stick.  I had a stick shift car for 4 years, however, Chris knew from the get-go that HE would be the one doing the driving if this was the route we were going.  I couldn't even imagine touching the stick with my left hand.  It still freaks me out! Ahhh
I would be lying if I said that Chris enjoyed this new experience for the first few hours.  We rented the car from the airport, which was really the only option and right away you're spit out onto the freeway.  Ireland has like 5% freeway compared to road, but of course it was where we needed to be driving.  This was the most tense time of our trip, but we laugh about it now and I love Chris for staying calm-ish and figuring it out :)
Oh, maybe I forgot to mention a few other factors.
the roads are EXtremely narrow
crazy people pass you going faster than the speed of light
rock tunnels…yup, and they're smalllll!!
there is like 1" of shoulder space on either side
I was actually kind of nauseated sitting on the left side of the car.  It was really weird!  And Chris was hugging the left side of the road, which was suuuper scary because it was usually lined with rock.  After asking Chris about 100 gazillion times "are you sure about this" "are you okay" "is it getting any better" he told me to relax + enjoy the scenery.  I quieted down + let him drive, and he did an amazing job!
And the scenery was amazing!  I think the rainy skies made it even better. 
We stopped for breaks, so Chris could breath for a few minutes and so we could take everything in. 
He was slightly more at ease here.  We were working our way up to the most Northern point in N. Ireland.  I believe that total drive was around 4 hours.  Driving in IRE is a little strange because of the fact that most roads are just 2 lanes and they don't really have many freeways.  So, while it took 4 hours, we may have only traveled about 100 miles.  Crazy, right?
So peaceful.
Here we are at one of our stops, Carrick-a-rede rope bridge. 
At the end of the hike, there was a rope-bridge linking you the very tiny island you see disappearing into the ocean.  I was still pretty sick at this point and didn't really fully get better until about 3 days until the trip was over.  I still trudged along though!
It was quite windy but amazingly gorgeous. 
Mom…would you have walked across this?? :)
A better view of the bridge.  SO cool!
Then we hit up the Bushmills Whiskey Distillery!  We couldn't just pass it by when we saw the signs :)
Then we stopped at one of the most amazing places on the whole trip…The Giant's Causeway.  My camera of course ran out of batteries here so I do not have many photos.  Definitely check out the google images page for this incredible spot!
The Giant's boot!
It was the site of an ancient volcanic eruption that left behind a stunning rocky landscape.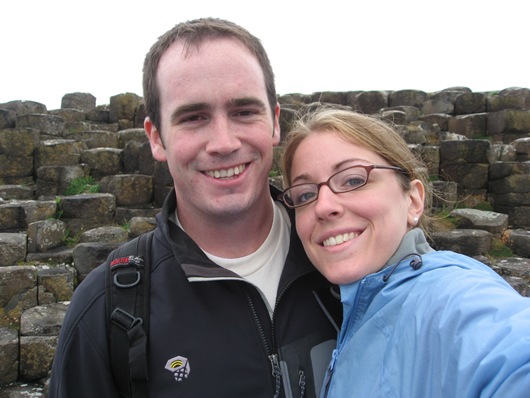 And then we headed about an hour or two South to the middle of the country in Northern Ireland.  We stopped in Maghera to be exact and we were stopping there for 3 nights to stay with our friends!  Yes, we have friends that live in the country, in Ireland.  Weeeeee :)
The road our friends live on.  Now how do we know a family in Ireland?  Well actually Chris had never met them.  Only my mom + I had.  We met them while they were on their honeymoon in Hawaii about 8 years ago.  We were on a group tour together and just started chatting away.  We've stayed in touch over the years and always wanted to plan a way to see them again.  They were ecstatic when they found out Chris + I were honeymooning in IRE and invited us into their home. 
As soon as we arrived at their home, madness ensued.  In a good way!  They had SO many things planned for us, and were extremely sweet to stock our bedroom with wine + glasses.  Dinner was waiting for us on the table and then we were off on adventure number one.
This was the next morning, after the most insanely delicious breakfast you have every laid your eyes + stomach on.  Michael is one mean breakfast cook!  We were off on a hike down the road from their house….I managed to not fall too far behind even with my hacking + snotting everywhere, hehe.
Michael + Chris.  Michael is one of the most kind, energetic, fast-talking people you will ever meet.  It's so funny going to Ireland because you assume you'll be able to understand everyone.  Well, Michael grew up in Belfast, and had a ridiculously hard accent to understand + he was a speed talking x100.  Even his wife and her family used to have a hard time understanding him!
I'll save you the story but just tell you we placed a rock on the pile for good luck!
The last part of the hike was really intense.  I have honestly never felt winds like this before!!
Mom, Sinead + baby Felix.  She also had another baby on the way at this point!
Chris, Michael + Felix
So apparently, these sweat houses, used to be used when people were sick.  They would get sent there to "sweat out" their sickness.  
Sinead's daughter Ellie Rose and Sinead's younger sister, Michelle.  Can't believe we squeezed into the sweat house.  We were not in there for long!
We had the most amazing time with our friends and miss them dearly!!
Driving to our next destination, Westport!
We booked a hotel and started off on the drive.
LOT's of time in the car!!  However, it was actually pretty fun.  We really had to stay on our toes because you had to make a LOT of turns.  Good thing we had the Garmin handheld GPS!
We made it to a Manor House [type of hotel] in Westport and got UPgraded to this awesome suite!
Complete with sitting room + bottle of port :)
We went for a swim and sweat-it-out in the sauna too!
Then we had another sub-par dinner that set us back about $80 USD.
The manor house we stayed at….forget the name!!  We left here the next day and drove for about 20min before Chris realized he left his wedding ring at the hotel.  Stellar.  We drove back and there it was in the bathroom of our room.
We were supposed to hike that mountain the day before, but it was storming.  We were off to our next destination! 
Things got a little craZZy!
Reminders….in case we forgot, LOL!
We got another sweeeet upgrade at a hotel in Kinsale, IRE.
We were there for two nights and looooved Kinsale SO much!
It's a fishing town, obviously!
Actually had a decent meal with local fish.  Excellent food photography, wouldn't you say? 
We loved this quaint town.  It had SO much character!
And then I had the best + cheapest meal of the trip…a veggie samich with goat cheese. MMMmmmm
CHomp!
A fort!
One of the last days of our trip was my birthday!  I orderd breakfast in bed and then enjoyed a few nice hours at the spa!  I became obsessed with the cereal Wheetabix on this trip!
We departed from Kinsale and made our way to Shannon, IRE where we were departing from.  We drove the famous Ring of Kerry drive which was stunning!
Driving in Ireland is really fun because of all the towns you pass through.  It's much nicer than freeway driving despite the extra time it takes to get from town to town.
I wouldn't change one single thing about our crazy adventurous trip.  It was amazing and full of memories that we will never forget!  We definitely hope to return some day as well.  SO much more exploring to do!
And this is the romantic location where our trip ended.  This photo does not do this room justice.  It was dISgusting.  I wore sandals in the shower and even slept with socks on :)  Still a memorable end to the trip! hehe
As if this post wasn't long enough I thought I would include a map of our route! 
The blue dots are the places we stayed.  The black dots are some of the places we stopped and visited along the way.  The purple line is the train route we took from Dublin to Belfast.  The red line was a day trip to Donegal, with the family we stayed with in Maghera.
I was so thankful that I decided to buy Chris the Garmin for a wedding present.  It came in handy for many reasons:
we could look up hotels
we could get walking + driving directions
check for nearby restaurants
it told you exactly what exit on the roundabout to take…and there were a LOT of them
short cuts on crazy back roads
it would have been hard printing out directions to all of the locations because of how LONG the directions were…at least 40+ turns to take from one destination to the next!
even though they speak english, signs are in Gaelic and suuuuper confusing!!!
This is the Garmin we have.  It doesn't talk, because it's the handheld version, but still beeps in different tones to let you know if you're doing something good or bad :)
Garmin 60CSx – it gets great reviews and worked really well for us.  Totally recommend it!
And now this monster of a post is done.  I promise :)
Ashley