While I was home [in Ohio] I went through a bunch of old photos.  I thought it would be a fun birthday post to show you some of them!
First, a little about me, from my 11yr old voice: [yes, I was a HUGE baby!]
I danced for a few years but then got into karate + sports instead :)  I'm in the middle!
My mom always made me the most creative cakes!! 
That little house on the left is for Smooshies!!  Did anyone used to have these?  I LOVED them!!!
Nice stache dad!  A lot these photos were from visits to see my grandparents in Ohio, when we were still living in Michigan.  We moved to Ohio when I was 7.
My first day of school!! [1st or 2nd grade maybe?]  Totally rocking the NKOTB lunch box!!!
the bro + me [we're just under 4yrs apart in age]
New Years at my g'rents house in Ohio!
Ohhh yah, muscle machine! 
I loved that teddy bear sweatshirt..it's stomach squeaked!
Love this one :)
Visiting our g'rents that lived in Florida…Awesome Looney Toons outfit, lol!!
Found a really cool photo of my parents…they're the 2 in the middle!
More HILarious writing, from age 11. 
And here I predict the future…at 11yrs old!!  I about dropped on the floor when I read this!!!  I love some of my random sentences in both of these pieces…ohhh goodness.  I wish I would have predicted more, because so far I'm spot on!
1 – I'm definitely very environmentally conscious but how did I know this when I was 11??? Who thought about buying a car that didn't pollute the air?  No one even really talked about that back then!
2 – I have 2 degrees in Architecture and have always been interested in high-end residential design.
3 – I had never even been to Colorado when I wrote this!! 
This AMAZES me!!!
We had a fun pre-birthday night hoppin' around a few art galleries tonight!  Here is a quick photo recap…
Oh, but first a post-workout smoothie:
work.it.out.
.75m walk to gym
45min swim, didn't count laps
.75m walk home
weights at home

lateral shoulder raises
front shoulder raises
standing shoulder press
curls
tricep extensions
squats
lunges

yogadownload 8min abs
Polly's 10min Yoga For Runners with a few add-ons at the end
Purple SlurrrRRRple!!  This one was sooo delicious!
3/4 banana
~1c strawberries
~1c blackberries
~1/2c plain Greek yogurt
~1/2c unsweetened coconut milk
~1/2c unsweetened hemp milk
3T Living Harvest hemp protein powder
1/2t maca powder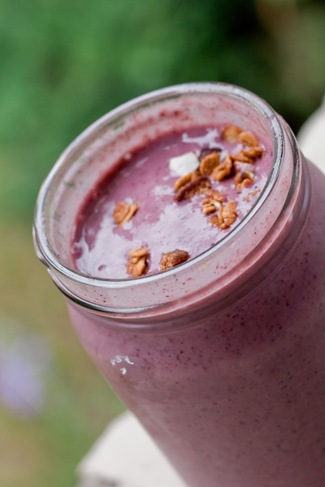 Ann + Kurtz got me the cutest gifts!
A pretty EnviroSac shopping bag and 6 adorable coasters!
…time for bed, lots of fun tomorrow!! :)
Ashley