Before I get to July 3rd, let's start with July 4th morning.
Something is wrong here…see it?
I took my first big spill today.  Chris + Kurtz and I went on a 9am bike ride today.  There was a lot of bike traffic on the path on the way back home.  There was basically a bike traffic jam and we all had to slam on our brakes pretty quickly.  Well, I got tangled up in Chris's back tire and went crashing into the ground.  It was a bit startling but could have been worse.  My knee, elbow + hip are pretty banged up + swollen.  My handlebars also got bent pretty bad, but apparently that bent part should just pop back into place.
[knee]
My elbow/arm + knee took the brunt of the fall.  I'm definitely starting to feel the effects all over though.  My neck and whole left arm feel stiff + store.  Yuck!  I knew it would happen sometime, and I'm sure this won't be the last!
Lumpy swollen elbow…blah
We managed to get in 18 miles on the ride though!  I'm feeling pretty sleepy + out of it…so I'm going to start on the morning/afternoon of my birthday and do part 2 tomorrow. 
It was a seriously awesome + eventful, aaaand very relaxing day!
I woke up and had plans to go to the Boulder farmer's market with Chris.  We were going to meet Lauren + her boyfriend Scott there too!  But first, my morning started with a delicious breakfast. 
Tea to start + yes, I incorporated this amazingly delicious chocolate into my breakfast.
I made the super simple coconut flour flax pancakes.  The were perfect!  Love the fluffiness + how hearty they are even though you only use 2T of coconut flour + 2T of ground flax meal.
The recipe makes about 3, 4" pancakes and with all my toppings it is the perfect amount! 
I made one pancake with chocolate chunks, one with blueberries and one with both.  Looooved them all!
Toppings included:
pnut butter banana "soft serve" [blend 1 frozen banana + 1T pnut butter in the food processor for about 3min]
blueberries
2 cherries
Love Grown Foods granola – gotta have some crunch!
Birthday breakfast perfection!!!
We kind of left the day open.  Chris said we had plans from about 5pm – 10pm but other than that everything was up to me!  First, we were off to the farmer's market.  It was a sizzling 95+ degree day!
As we were walking to the market I felt like a birthday iced coffee :)
Boulder has some EXcellent coffee spots!  I love how they are all really unique and have great tasting coffee.
Lauren + me
Husband + happy bday girl
We were at the market a little later this week…around 11:30?  Some of the veggies were already discounted, which was awesome!  We got a ton of stuff for less than $20!
Would you LOOK at THIS rainbow chard?????????  It is GIIIInormous!
just.beet.it.
Dad – I finally found a use for your old golf shoes!!!
For some reason, these creep me out! 
Some of the goods!  Yes, that is a gigantic zucc, that cost $1.25 and is perfect for baking.  My mom + I used to make a TON of zucchini bread every summer, and I've been craving it!  I'm excited to play with the recipe.
My birthday wouldn't be complete, without a stop to Whole Foods :)  We had to pick up some things for dinner and figured we would just eat lunch there.  We stopped a one of the HUGE stores in Denver with a million lunch options…seriously!
I made a huge salad with grilled zucc, marinated shrooms, beets, feta, chickpeas, cucumber, etc.  I also got a spoonful of 3 different veggie dishes from the hot bar too.  Everything was seriously delish!  I stashed my point n' shoot for a few quick photos.
We stumbled on a big art fair outside of WF and breezed melted through it…SO hot + bright!
Free popsicle!!  We split it..yummers :)
I didn't exactly know what the plan was for later that night.  I thought we were probably going to a cool spot to check out fireworks, but Chris told me I would need hiking shoes.  We bought a few things at Whole Foods to pack dinner to take too. 
A loaf of ciabatta and some of my favorite goat cheese!  It's local from Haystack Mountain farms.
When we got home, Chris informed me that it was time for Birthday Lunch Dessert!  This was a first and I think I jumped in excitement at the idea.
He had a slice of turtle cheesecake hiding in the fridge that he bought the day before.
This was tasty!!  We split it…lunch dessert is the best idea everrrr!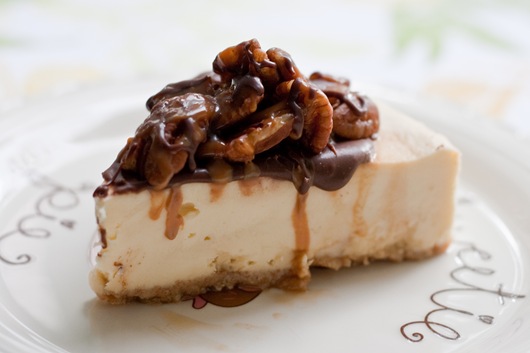 Then we took the doggles for a walk. 
Skirts + Vibrams…why not?
The flowers are taller than I am!! [something crazy is going on with my neck in this photo!!!]
Here was our spread for dinner!!  Goat cheese + jelly sandwiches are so underrated.  We both LOVED them.  Details on where we ended up going soon!  We both took a lot of photos that need to be sorted through + edited. 
For the 4th, we went over to Pat + Nat's house [Chris's bro + wife] for an all day partay.  It was a ton of fun.  Nothing like hanging outside + relaxing with a bunch of good friends.  The food was awesome too!  I made Emily's vegan black bean burgs, which were a huge hit!  Details coming soon on that too…
I need to go rest my sore body!!  
Awesome birthday…awesome weekend…gooooodnight!
Ashley