I have another special post for you today.  One of my besties offered to help out and I love her for that :)  If you don't know
Kelsey
, she has a super cool blog, that is FULL of personality, awesome information, fabulous photos, and quick + easy recipes.  She also is the queen of catching
random strangers
in their finest moments of life and posting about it.  Ohhhh, Kelsey is so great!  Thanks girl!
Quick Chris update
– We are
out of the woods
!!  Chris made great progress today!  His kidney function level took a hefty jump today that we were jumping with joy for.  Well, maybe not jumping, but we definitely high 5'd and hugged it out :)  We're hoping for more progress tomorrow and possibly a release from the hospital this weekend.  I know that ALL of the love and support from all of you, our family, and friends has SIGnificantly helped.  It has kept our spirits up and kept up positive throughout the week.  All we can say is….
thank.you.thank.you.THANK.YOU.
And now to my lovely lady……
Hiiiiiiii!!
It's Kelsey from
Bites + Bowls
here to spread BLOG LOVE to the dearest of the dear --- the one, the only --- ASHLEY of EDIBLE PERSPECTIVE !!
Quick background ---
I
ASHLEY + CHRIS
We met in a very random way.
Kath
mentioned to me she was meeting a girl from the farmer's market who made her own granola bars + I had just met Eric who said he had a friend who made granola bars + was meeting a pretty big deal blogger. Long story short -- The big deal blogger was Kath of
Kath Eats
and the granola bar girl was
Ashley
of OTA Bars . So we emailed + became instant friends. My third date with Eric was actually at Ashley's house because Ashley's husband was super uper good friends with Eric.  She had us over for
GRILLED PIZZA
.
It was LOVE at FIRST BITE!
When I found out that something was going on with my Colorado besties I had to come up with something to do for them!!
HHHMMMM What can I do for my lovelies that are over 1,000 MILES AWAY?
Everybody loves
KELSEY BALLS
-- I will make them Kelsey balls!!!!
Yes that is right, my name is Kelsey + I have balls.
The ball making CORE INGREDIENT LIST is quite short:


Dates [I prefer organic pitted dates from the bulk section of the grocery]


Roasted Salted Peanuts [also from the bulk section]


Whole dates
Scissor chopped dates
Glamor shot of the measured ingredients:


3/4 Cup roasted + salted peanuts


1/2 Cup packed with chopped dates


I don't have a food processor, so I used my knock off magic bullet to get the job done. I divided the peanuts + dates into 3 batches to blend as to not overwhelm the tiny machine.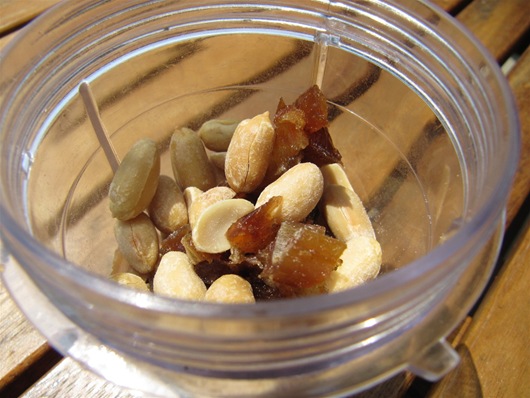 Using the chopping blade it comes out like this
I just kept adding my small batches into this mixing bowl
Now it's time to talk OPTIONAL INGREDIENTS.
Optional ingredients are OH SO FUN + can be almost anything.  Experiment + play around with ingredients YOU like -- Keep in mind dried items work best to help keep moisture levels low + the consistency favorable.
In these BALLS I used:


White chocolate chips [I know I know.. Not the healthiest choice -- but the ones photoed below are very minimally processed compared to most]


Dried Cherries


CoCoNuT tiny flakes


I chopped the white chocolate chips in the same bullet container that I used to chop the dates + peanuts in earlier -- Heck Yeah less dishes!!!!!!!
Again, I used the same container to chop the cherries as evidenced by the white chocolate residue on the sides of the container!! So HOTT!!
All mixed up in one bowl:


date + peanut mix


chopped white chocolate


chopped dried cherries -- more like cherry paste!!


coconut


After the initial mixing I decided to add a small handful of whole dried cherries and coarser chopped white chocolate chips for extra flavor + texture.
Once the mixture is mixed + meets your personal FLAVOR SEAL of APPROVAL bring out your best ball rolling skills + start rollin!!
In the spirit of ASHLEY I decided to be experimental with the small amount of leftover chopped dates.
In the MIX:


Raw Walnuts


Raw Almonds


Chopped Dates


Sprinkle of Real Salt


I'd say the ratio was roughly equal of the main three 3 components
The consistency wasn't quite as easy to shape into balls as the original Kelsey Ball mixture, but made EXCELLENT DISCS
KELSEY BALLS
-- which can also be formed into bars -- can keep in the fridge for months. They start to dry out after a month or two, but they still taste great.
I take them everywhere -- Road trips, hiking, rock climbing, airport travel. Kids LOVE them too!!
They are based off of the recipe for
LARABARS
+ are much more flavorful [because they are uber fresh when you make them at home] and much more cost effective [less than half the price of purchasing
LARABARS
in the store].
And yes you can rename them after yourselves, such as "ASHLEY BALLS".
Cheers to happy ball making and a speedy recovery for Chris!!
LOVE,
B+B
…
THANK you Kelsey!!!  I cannot wait to try your balls…