I'm back!  Feelin' better!  The stomach issue subsided quickly yesterday but the headache took about 30hrs to go away!  I didn't want to drink any caffeine yesterday but I did take 2 rounds of advil [which I hate doing].  Nothing worked.
The headache continued this AM until I put it rest with this!
Coffee with half+half
Then I had a breakfast fail.  I tried to make protein banana soft serve but it didn't turn out that hot!  It was waaaay too sweet.  I used Living Harvest Hemp – vanilla spice protein powder.  They use a small amount of cane sugar for sweetness but really not much.  Between that the bananas + strawberries, something made this way too sweet.  Next time I think I'll just blend almonds into it, instead of protein powder.  I only ate about 1/3 of the banana soft serve.
I smeared the waffles with pnut butter instead and ate some yogurt.
I looks good though!!
frozen bananas + strawberries + protein powder + vanilla bean paste = no bueno
I planned on going for a long bike ride yesterday but delayed it until I was feeling better.  My stomach was 100% fine and my headache was gone.  I was well hydrated and felt great, so I decided to go out for a ride.  I set out hoping to go 15-20 miles but further if I felt fine.
I tried the Honey Stinger energy chews for the first time and really like them, although they have double the sugar + 1/3 more calories than 1 serving of the Shot Bloks.  I'll stick with the Shot Bloks.  They have a pretty impressive ingredient list too!
I like to eat 2-3 bloks right before heading out for a longer ride or run [when I used to run].  They kick in about 15min into the ride.  Since I thought there was a chance I would be going further I packed a larabar for sustenance + energy.  I needed it!
2 water bottles. 
1 with:
1/2 coconut water
1/2 water
ice
juice from 1 lime
The other was filled with plain water.  Coconut water really helps fuel + hydrate me during my rides + swims.
I biked a different way on the path today and made it to the HUGE REI flagship store in about 15min.  I think it's almost quicker to bike than drive there!
The black fuzz around the edges of the photos is not a photography effect.  It happens because my 4 year old point n' shoot lens cover doesn't open all of the way!
The path runs under the city.  I feel so fortunate to live in a place with bike paths and lanes!
I finished out my ride with 3 laps around Wash Park.
I "mapped my ride" and found that I went between 28-29 miles!!  Felt great!
When I got back, I went on a little barefoot run after to stretch out my legs + toughen up my feet!
Feelin' good!
20min yoga for cyclists + 8min abs from yogadownload.
Chew off my arm.
Eat lunch.
mashed avocado
patty pan squash
mashed chickpeas
zucchini
shrooms
red win vinegar
s+p
toast
perfectly delicious
With salt + vinegar kale chips!  I make standard kale chips and then in the last 5min of cooking I splash a few Tablespoons of apple cider vinegar and toss them around.  They crisp up nicely and have a great tang.
The bike ride put my hunger through the roof!
Remember my vegan zucchini bread muffins?  Well, I made a bunch and froze a lot of them.  I wrapped them in saran, then foil, then in a freezer bag.  If you defrost them for 30 on 50% heat they turn into perfectly fresh + warm muffins.
Frozen.
Warm + soft.  Just like new!  This hit the spot!!  Alwaaaays make extra!
I received a package today!!  City Sports swag!  Very fun :)  Thanks City Sports!!  I always need new water bottles + new t-shirts.  The bag and Gu Chomps will also definitely come in handy.
Dinner was quick and late!  Terrible kitchen lighting. Blegh.
This dinner took 15min to prep + 20min to bake and I used mostly leftovers.
Husband's burritos:
whole wheat organic local burritos
refried black beans [whole foods organic – love this!]
chickpeas
quinoa mixture
avocado
jalapenos
My burritos:
refried black beans
sweet potato puree
avocado
baby maters
Roll up + tuck in ends.  Top with everything you forgot to put IN the burritos ;) hehe
vegetarian green chili
frozen organic corn
organic valley white cheddar
cumin
chili powder
Made 5 total.
Mess!  Which I cleaned while it cooked.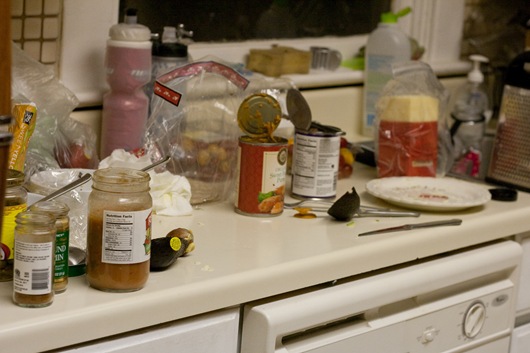 These are SO good.  Super sweet.
20min later…done!  Definitely broil these for a few minutes at the end.  Our oven doesn't broil…gr!
Tucked in end.
I love the combo of black beans + sweet tater but this canned organic puree was a little too sweet.  Also, the tiny tomatoes I used were really sweet as well.  Still good, but I wouldn't use those exact ingredients again.  I scarfed down two!  Chris's were probably better :)
I should probably shower today….hehe
I hope you're all watching Caitlin on The Today Show in the morning!!!!!!!!!!!!  Freaking amazing.  Congrats x 1,000,000 to her!
Also, the latest header is done!  Check it out over at Mama Pea's blog!!  :)
Night all!!
Ashley