1. I'm obsessed with raw chard leaves.
2. I'm obsessed with wrapping my breakfast with raw chard leaves.
In all seriousness, I love this breakfast.  This was my best green wrapped breakfast yet!  I blame that on the melted coconut butter. :)  Don't be fooled as this breakfast looks somewhat small.  It packs a mean nutritional punch! 
What's inside + on top?
Green Wrapped Breakfast
1 banana, split between 2 rolls
1/4 apple [ate the rest on the side]
2T unsalted/unsweetened peanut butter
1/2-1T coconut butter drizzled on top
1-2T flax sprinkled inside
~2T raisins sprinkled inside
1-2T coconut flakes on top
handful of walnuts on top
This will leave you feeling completely satisfied, but not weighed down.  It's a great way to get your greens in, in the morning.  The raw chard provides a superb c.r.u.n.c.h.
I've been having some pretty intense sweets cravings this week.  I haven't had any added sugar, processed sugar, or syrups of any kind.  The only sweets I've had have come from fruit.  The biggest cravings I get are right after lunch + dinner.  I crave a piece of dark chocolate or something minty.  It hasn't been easy to ignore, but not impossible by any means.  My favorite way to curb the craving is by eating a few dried apricots.  They are super sweet and have great chew.
However, sometimes apricots just don't cut it.  And for those times, here is what I came up with.
Similar to a Larabar, but better.  This totally curbed my craving for chocolate + sweet, without giving in to my detox plan.
Chocolate Coconut Dough Balls [yields 12, 1" balls]
1c ground walnuts + almonds
1/2c lightly packed ground medjool dates [~12 dates]
1-2T unsweetened cocoa powder
1T unrefined coconut oil [optional]

can sub 2T unsweetened shredded coconut as well
Process [in food processor, vita-mix, magic bullet, etc] nuts together, until crumbly with some larger pieces.  Be careful not to process to long.
Measure out 1c and empty into a bowl.
Cut out pits in the dates by lightly slicing down the middle.  Remove pits with fingers.
Process dates into small pieces.  They will stick together.
Lightly pack into a 1/2c measuring cup.
Add nuts + dates back into food processor, along with cocoa powder + coconut oil [if using].
Pulse until mixed together.  Do not over process! Scrape bowl once or twice. 
When you can form a ball with the dough, it's done! 
Roll into balls or form into bars.  Wrap in saran wrap and store in the fridge.
*They should hold together very easily and firm up in the fridge. 
*I made mine with 2T cocoa powder for a very dark chocolate taste.  Reduce to 1T if you want the chocolate flavor a bit lighter.
*The coconut oil is not crucial for this to work.  If you don't want a coconut flavor, leave it out.  Do not sub in other oil.  It's not needed.
These tasted like dessert but were an extremely healthy snack!  Perfect anytime.
These will be great to have on-the-go, as it's harder to find detox-friendly snacks while out and about.  The possibilities are endless with recipes like these.  It's so fun to experiment.  I would love to create a lemon-ginger bar next! 
Anticipation.
Excitement!
Can you believe I was able to eat out twice in 1 day, sticking to the detox?  Chris and I grabbed a delicious, simple lunch at Tasty Harmony, in Ft. Collins.  It's a veg-friendly restaurant, featuring an almost all vegan menu.  They do offer some local cheeses on a few items.  They also have a great selection of tea, green juice, and raw items.  I got a 3 part tasting plate, so I could be sure to avoid gluten/dairy/soy.  Here's what I had:
quinoa/millet mix [unseasoned]
steamed seasonal veggies – butternut squash + root veggies lightly steamed
side salad with house dressing
They brought me an extra dish of the house dressing, which is probably the.best.dressing. I've ever had.  Ever.  I'm sure there was some salt in it, but it didn't taste overly salty, which I was happy about as I'm trying to reduce my sodium intake.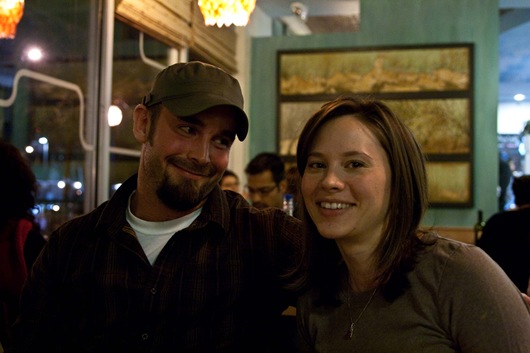 Dining out meal #2 was eaten along with lovely Pat + Natalie [BIL + SIL] and Kurtz + Ann.  We headed to Watercourse, a vegetarian/vegan restaurant, in Denver.  Denver is a little over 1 hour drive from where we live.  Our main reason for going to Denver was to see comedian, Daniel Tosh [you may have seen his show, Tosh.O]. 
[Kurtz + Pat]
Their menu was perfect for my current plan.  All items were marked if they contained dairy, gluten, or soy.  They had a huge "build your own salad" option too.  There was definitely not a shortage of things to choose from, but it was funny being at a vegetarian restaurant and not being able to pick from anything I wanted on the menu.
I decided on the corn tortilla, sweet potato + black bean soft tacos with peppers + onions.  It came with guac + salsa on the side.  It was delicious and hit the spot.  Although, it left me juuuust satisfied.  I thought there would be more potatoes.  It wasn't a problem though, because I packed balls in my bag.  [that sounds so wrong]
[Chris + Ann]
Comedy shows are so much fun to see.  It's a great ab + cheek muscle workout too. ;)
Daniel Tosh was HIL-freaking-arious.  Totally worth the money + drive to and from Denver.  Although, since I'm not drinking right now, I was DD.  This meant driving home at 1am back to Ft. Collins.  It was tough, but we made it!
Detox Day 5 – overview
Day 5 was actually pretty rough in the morning + afternoon.  During day 4 I felt sluggish and it continued to day 5.  Although, I was also in a terrible mood, for no reason.  I really have almost never felt like this.  I was angry for no reason, felt tired, cranky, and off.  I wanted to just sit on the couch all day, but knew I needed to get my body moving.  It took a good 2 hours + ball baking experiment to finally convince myself to hop on the bike trainer.  The best way to flush out toxins is to sweat.  I knew that a rest day was not what I needed.  When I hopped on the bike I felt mad.  The biking was going slowly, I felt like I was suffocating, my feet were claustrophobic in my shoes, our Christmas cards were staring at me from the mantle, the TV was on with football but muted, everything annoyed me.  There was no reason for me to be mad, but I finally blurted out to Chris how I was feeling.  Then, I demanded he remove all the Christmas cards from the mantle.  This is sounding hilarious to me now, but at the time they were only 2' away from me and stressing me out.  It was horrible, but I continued on for 45min, sweating more than usual.  I got off the bike, did some dishes, chugged some almond milk + amazing grass, put away some clutter [that was making me feel claustrophobic], and then did an arm + ab workout, with some lunges thrown in.  I also mixed in some yoga stretching and began to feel completely fabulous.  I was crossing my fingers that that would happen and it was such a relief when it did.  I felt 100% better.  I dry brushed, to get rid of all the crap I released, took a hot shower, then drank some detox tea.  Maybe Day 4 + half of day 5 was my detox release.  Who knows!  All I know is it has passed and I hope it doesn't happen again!
The rest of the night was great and my stomach has been feeling so so so much better!!  I typically get the "food baby" [bloated to the point you look pregnant] at least every other day.  By the end of the night, I'm always at least somewhat bloated.  I haven't felt like this at all in the past few days.  I've had a few periods of feeling bloated, but they seem to pass [haha] much more quickly than normal.  I'm so excited about this!
Nothing else major to report! 
Off to enjoy Sunday!  We're headed to the mountains on Monday for a powder day at Vail, so we're just relaxing today.  Chris has Monday off and there is supposed to be a lot of snow, so we'll be heading out at 4:30am! eeek!
~Ashley
Just catching up?
detox day 3 – part 1, part 2 [dry brushing + swimming]
detox day 4 –
getting creative
detox day 5 – juiced!