I can't believe a full week has already gone by since I started this detox plan.  It's flown!  Breakfast this morning started with steel cut oats.  I'm getting a bit sick of the texture of regular rolled oats. so I thought this would be a nice change of pace.  I love the slight crunchiness of steel cut. 
I thought to mix in some blueberries, so it wouldn't be quite so plain tasting.  It worked!  This bowl was awesome.
With some vanilla cinnamon tea brewed on the side.
In the mix:
1/3c steel cut oats
1T ground flax
3/4c water
3/4c unsweetened almond milk
1/2 banana
1t cinnamon
splash vanilla
topped with: raw almond butter + coconut butter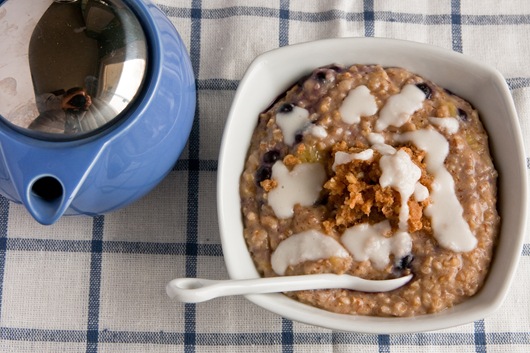 Not much happened between breakfast and lunch.  It was a nice relaxing morning on the couch doing some computer work. 
I felt like winging it for lunch, which worked out really well!
In the bowl:
3c raw spinach
2 farm fresh eggs
1/3c avocado
pepitas
3/4c millet
sprinkle of salt
black pepper
The 2nd egg is hiding under the millet.  :)  I loved every bite of this!!  A perfect mix of flavors + textures.  This was an awesome 1 bowl meal.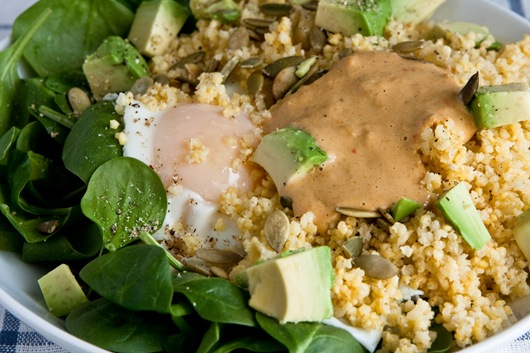 Didn't get the best photos of dinner with the light box, but I had to talk about this meal.  I came up with a vegan lemony cream sauce that turned out way better than expected!!  It was bursting with flavor and great mixed with brown rice pasta + tons of veggies.
Herbed Lemon Cream Sauce [makes about 2c]
2c unsweetened almond milk
1/3c chopped shallot
1 chopped garlic clove
zest + juice of 2 lemons
2T nutritional yeast
1/2c raw cashew pieces
1T arrowroot starch
1T olive oil
1/4-1/2t salt
black pepper
2t oregano
2t basil
In a small pan, over med-low heat, heat 1T olive oil.
Add chopped shallot to the pan and stir frequently for 2-3min. 
Add garlic, oregano + basil, stir 1 more minute.  Set aside.
In a medium size pot, whisk arrowroot starch into almond milk, until no lumps are left.
Bring to a boil, stirring frequently, then reduce heat to simmer.
Simmer, stirring frequently, for 5-7min until slightly thickened.
While simmering, in a blender or food processor, blend cashews + nutritional yeast until powdery.
Add in shallot/herb mixture and milk mixture after it's finished cooking.
Blend, starting on low and moving higher, until smooth.
Add the mixture back to the pot and heat over low to med-low until thickened. [~10min, but can keep on low for longer while pasta and/or veggies are cooking]
Stir frequently to avoid lumps.
*While the sauce is thickening you can boil water for pasta and steamed veggies.  Steam veggies until just tender and follow pasta package directions for cook time.  Drain pasta, add back to the pot.  Mix in veggies and desired amount of sauce to coat.
I added 1c frozen organic lima beans [full of fiber + protein!], 3/4c organic frozen broccoli florets + 3c organic fresh spinach.  The frozen brocc + lima beans steamed perfectly.  I saved a lot of money buying frozen organic broccoli then fresh and for this meal, you couldn't tell the difference.  I also toasted pepitas for a little crunch!
We both really enjoyed the lemony cream sauce.  The only thing that was just "okay" was the brown rice pasta.  It tasted great, but became quite gummy.  We used Lundberg Organic Spaghetti, which was the same brand that we used the other night.  However, we both liked the penne pasta much more.  It didn't stick together nearly as much. 
Detox Day 7 – overview
1 week? Really!? 
Today I felt great.  Nothing interesting to report really.  No crazy cravings or mood swings. :) 
I walked the dogs for a little over an hour and then did 20min of yogadownload. 
Pretty boring, no?
Originally, my plan was to take out gluten/dairy/soy/caffeine/alcohol + greatly reduce sugar/sodium for 1 full week.  I ended up taking those foods out, reducing my sodium to under 1/4t total per day, and not eating any sugar [except fruit].  My stomach has been much better, but I still have a ways to go.  As I've read and heard from others, to really figure out which foods are bothering you, it's best to take them out for at least 3 weeks, before reintroducing them back into your diet.  I want to try at least another full week with no gluten, dairy, and soy. 
I'm excited to keep up with this, to hopefully find a real answer in a few weeks.  I'm in no way planning on keeping these things out of my diet for the long term, unless I find one that is causing me problems.  I'm going to keep the salt to the under 1/4t a day for the time being.  I think that's helped me feel better as well, because I'm not retaining as much water.  I'm keeping sugar out of my diet a bit longer too, until my cravings aren't as intense.  Once that happens, I'll bring honey, brown rice syrup, and maple syrup back in, in very small amounts.  As far as coffee + alcohol go, I'm holding off for 1 more week.
Will keep you posted of course!
Early wake up call…off to pack for mountain day breakfast + lunch and then get to bed! 
Ashley
---
detox day 3 – part 1, part 2 [dry brushing + swimming]
detox day 4 – getting creative
detox day 5 – juiced!
detox day 6 – balls save the day