Today has been crazy busy and filled with excitement.  Nothing too noteworthy, but just a few things that brightened my day.  More details on everything soon!
The UPS + Fed Ex trucks stopped at my house today! 
I woke up to my find a receipt in my inbox, from my first Etsy customer. :)
I'm wearing a new shirt, thanks to the eco-vegan-friendly clothing company, Ecolissa.  More on this soon.
I've received a few emails + packages from healthy bar companies asking to try their product.  I'm not complaining!
My Breville compact juicer arrived!!!!!!!!!
A package arrived for my review + for a giveaway.  You will love this.
And a few more things I can't think of!
Before I announce the winner of 1 free 5x7 print of choice, a quick product review.
I don't really review a ton of products.  Well, I should say, companies don't send me too many products to review.  I do feel like I review a decent amount of products that I buy, just for fun.
The lovely people at Pure Bar, recently emailed me to see if I would like to review their products.  I remember trying these a few years ago, when I first saw them at Trader Joe's.  Their packaging has since changed, which I absolutely love.  It's bright and eye catching.  Along with the 12 free bars, they were also kind enough to send a $20 Target gift card my way.  That will really come in handy!  In return, they only asked for an honest review of the bars.
These bars are somewhat similar to Larabars.  They are made with real food, mostly dates + nuts, and minimal ingredients.  There are some differences though.  Pure Bar only has 6 flavors.  I actually like that they only have 6.  To me that means, they've spent their time making these 6 flavors the best they can be!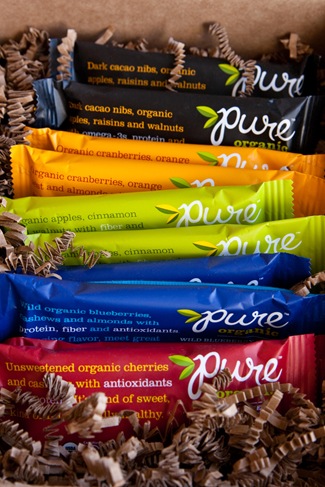 A few things I like about this company + product:
packaging – I'm a sucker for good design
flavor variety – apple cinnamon – orange cranberry – cacao nibs trail mix – cashew cherry – wild blueberry – chocolate brownie
certified organic – unlike Larabars
certified gluten free + vegan
soy free!!
plant 1 tree every time a customer buys 3 bars
GMO free! – most companies do not guarantee this
no refined sugar
A few things negatives:
added agave nectar – While the bars aren't too sweet for my taste, I'm always on the lookout for no added sugar.
added protein – I'm not sure if I want this on the pro or con list.  They use organic rice protein, which is a plus, but I would prefer it be left out.
not using fair trade chocolate [that I'm aware of] – Larabar does use fair trade chocolate, which I admire.
The first few times I looked in the box, I only saw 5 flavors, but didn't think anything of it.  Today, when I took them out of the box, I squealed when I found the 2 of the chocolate brownie bars hiding in the bottom.
So far I have tried 2 of the bars.  Wild Blueberry + Trail Mix Bar
Here is a link to the review I just did on the Blueberry Muffin Larabar, if you're curious.  The Wild Blueberry Pure Bar, was better, in my opinion.  The blueberry LB had an almost sour flavor, from the added lemon, but this did not.  I liked the texture of the blueberry Pure Bar much better.  There was a bit more blueberry flavor, compared to the LB, but still a little weak.
Stats: cals: 190 - fat: 8g - saturated fat: .5g - sodium: 5mg - fiber: 3g - sugars: 19g - protein: 6g
WILD BLUEBERRY PURE BAR INGREDIENTS: Organic dates, organic wild blueberries, (with organic apple juice concentrate and organic canola oil), organic cashews, organic agave nectar, organic walnuts, organic brown rice Protein, organic almonds, organic unsweetened lemon juice concentrate. That's all! [source]
Wild Blueberry Pure Bar – 6.5/10
Blueberry Muffin Lara Bar – 4/10
Today I chomped on 1/2 of this Trail Mix bar and loved it!!  What I loved so much is that you could taste the different fruits.  It didn't just taste like a date bar.  The contrast with the crunchy cacao nibs was awesome. 
Trail Mix Bar rating – 8/10
As I try the rest of the bars, I'll be sure to let you know what I think!
And now for the winner….
Congrats to long time commenter Lauren!  Thank you for your continued support + super sweet comments.  :)  Take a visit to my Etsy shop and let me know which print you would like!
Thanks to all who entered.  I loved learning about your favorite colors + veggies.  I think the most popular veggie pick was the sweet potato, although I'm not sure exactly what family that belongs in.  Green seemed to be the most popular color, but not by much! :)
Ashley