This breakfast was purely evil.  It was so hard not to get up and make a second.  Good thing I was out of English muffins.  My favorite hearty + healthy English muffins are the Ezekiel sprouted grain.  I've also been out of rolled oats for a week or so [the horror!], so I made this morning's banana scramble with Bob's Red Mill high fiber cereal.  It worked great!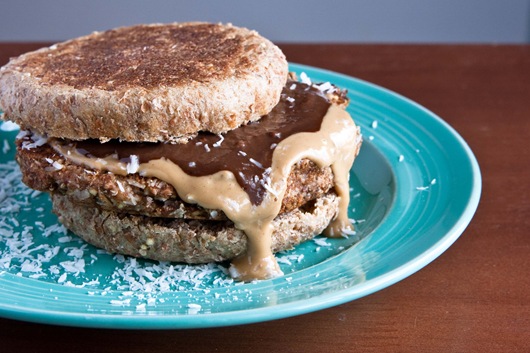 I stuck to my latest recipe for the banana scramble, but I also added 1/2T chia seeds to the mix.  It was topped with peanut butter + peanut butter carob fudge, from yesterday.  I can't even imagine the goofy look on my face, while chowing down on this sandwich. 
I couldn't even sit down before taking a bite!  The best part about this sandwich, is that it actually keeps me as full as my typical bowl of oats.  Not many breakfasts can keep me full that long, even my beloved farro.  Speaking of farro, my local Whole Foods, now has it in the bulk aisle.  They had a sticker on the bin that read "exciting and new!"  GUESS how much it cost???
$12.99/lb!!!!!!  Whaaat!?  And it wasn't even organic.  The bag I bought at Costco was $8.50 for three pounds and organic.  If you can't find it around you, trying ordering it.   This is the cheapest I have found online.
Now back to this sandwich…it has all my favorite breakfast components…
chewy.crunchy.melty.creamy.
I finally made it to the pool today, after a 3 week hiatus.  Since starting swimming last spring, 3 weeks is the longest I've been away from the pool.  I typically go twice a week, but with being home in Cleveland, the holidays, and Chris's week off, it's been hard to get back!
It felt awesome to be in the pool again.  Although I was still a bit sore from snowboarding on Monday.  My breathing felt good.  I wasn't gasping for air, but my arms were sore + tired.  Definitely happy with my first swim back.
100m warm up
750m freestyle
250m aqua jogging
250m breast stroke
250m freestyle
250m aqua jogging
150m breast stroke
50m cool down
total length: 2050m = 1.25 miles in 53min
I've had a few questions recently about swimming workouts + how to get started.  I'll be posting on that topic soon!
I got home from the pool, and chugged an almond milk + protein powder mixture, to replenish my muscles.  Then it was time for lunch.  I couldn't stop thinking about soup leftovers!!
They were really good the first day, but far better on the second day.
I toasted up 2T pepitas with a few sprinkles of smoked paprika.  To toast the seeds, I just put them in a dry pan over medium heat, for about 5-8min, until nice and brown.  They started making popping noises + getting puffy when they were about done.
Oh man.  This blew away the avocado topping.  The crunch was awesome.
slurp.crunch.chew.
When Chris got home we took off for the gym.  Yes, I already swam today, but I needed to get in some lifting + core work.  I'm really trying to get back into lifting.  It's something I did a lot during high school + undergrad college.  There are a few free-weight exercises that I do on a regular basis, but I want to put more focus on lifting, and develop a better routine.
Today was all about legs, and I'm definitely going to be feeling it tomorrow!
lunges + bosu ball balancing + leg extensions + leg curls + calf press + leg press
We got home late, so dinner was a hodge-podge of randomness!  My favorite part were the kale chips with Gena's amazing balsamic tahini dressing.  We both LOVED it.  First, I made the tahini, and then blended in the other ingredients.  I kept it on the thick side, but will be thinning it out to top on salad tomorrow.  YUM.
I baked the kale chips dry, with just a little garlic + salt, and topped with this amazing sauce.  It was a fun change for an old standby.  Tomorrow, I might even be brave enough to try Gena's raw banana sushi breakfast.  Depends if my bananas ripen in time!
There is so much that's been flowing through my mind lately, on food, exercise, the new year, etc. but I just can't seem to find the time to get it all out!  I'm hoping tomorrow is a very productive day. 
Goooooodnight!
Ashley