Hey guys!!  I have another fabulous guest post for you today from the lovely Janetha, of meals & moves.  I met Janetha at the Foodbuzz festival last year, after being blog friends for quite some time.  I love this girl + her blog, and couldn't be more excited about her post.  Why?  It involves 2 of my favorite foods.  Apples + caramel.  You may not know, but I have an undying love for caramel.  Always have, always will.  I tried to make caramel from scratch, for caramel apples 2 years ago, and it was an extreme fail.  It definitely looks like Janetha is a pro and it's making me want to give caramel apples another go! 
Hello, Ashley's friends! My name is Janetha and I blog over at meals & moves. It is a pleasure and privilege to be guest posting for Ashley today. Ashley sent a few suggestions my way as far as topics she'd like me to post about. I did what any obedient blogger would do and totally threw those suggestions out the window and went with the most random idea that popped into my head. Makes sense, right? Let it be known: I am borderline obsessed with National Food Holidays. I am not quite sure where this fascination came from, but it's here to stay so I just go with it. I recently posted about October's holidays, and no.. we aren't talking about Halloween or Columbus Day. I want to point out some of the food holidays that October brings:
National Apple Month
National Pretzel Month
National Caramel Month
National Dessert Month
Eat Better, Eat Healthier Month
For my guest post, I decided to whip up a recipe that combines all five of these October food holidays so I could really showcase my strange obsession.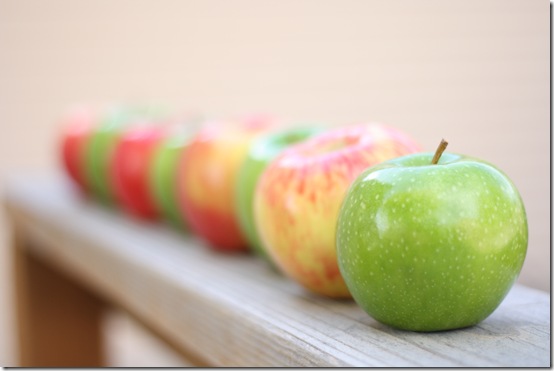 That's a surefire way to make friends, right?
Just put all your odd quirks on the table, and if any one still likes you, you know you've made a true friend or two.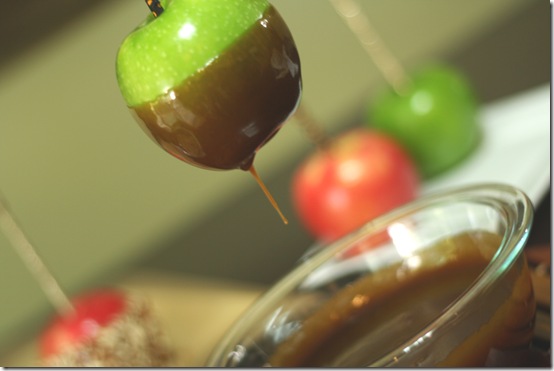 And, hey, if you make these apples, you might even be able to bribe more than one or two people to be your friend despite your odd quirks.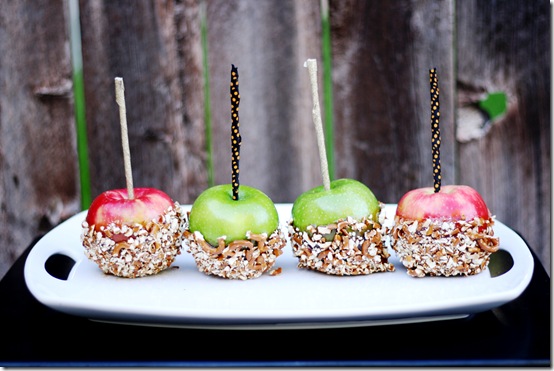 Pretzel Covered Caramel Apples Makes 12 apples
12 apples (tart ones are best)
12 sucker sticks, popsicle sticks or bamboo skewers plus decoration (if desired)
3 cups salted pretzels, crushed into bits
1 cup heavy cream
1/2 cup (one cube) butter
1 cup brown sugar
1/2 cup pure maple syrup
1/4 cup molasses
2 tsp vanilla bean paste (or extract)
Remove stems from apples, wash and dry.
Decorate sticks if you want, then stick about 1" into each apple (where the stem was.)
After crushing your pretzels, place them in a shallow bowl.
In a medium saucepan, melt cream and butter over medium heat.
Whisk in sugar, syrup and molasses and turn heat to high, bringing the mixture to a boil.
Once boiling, reduce heat to medium-low and let simmer for 15 to 20 minutes, stirring frequently.
To check if the caramel sauce is thick enough, dip a spoon into the sauce and pull it out—if a thick layer of sauce sticks to the spoon then you are good to go.
Whisk in the vanilla bean paste.
Remove caramel sauce from heat and let cool for about five minutes. You may transfer it to a bowl to speed up the cooling process.
Carefully dip each apple into the caramel sauce a few times so a nice, even coat of caramel is achieved.
Roll each apple into the crushed pretzels so there is an even layer around the entire apple.
Place each apple onto parchment paper to dry.
Serve immediately or package apples individually in cellophane wrap tied shut with cute ribbon (yes, the cute ribbon is required.)
Step-By-Step Tutorial Time! First, pick your apples. I like tart apples because they pair well with the sweet caramel. My favorite apples to use for this recipe are Honeycrisp and Granny Smith.. plus, it's more fun to use both a red and a green apple, right?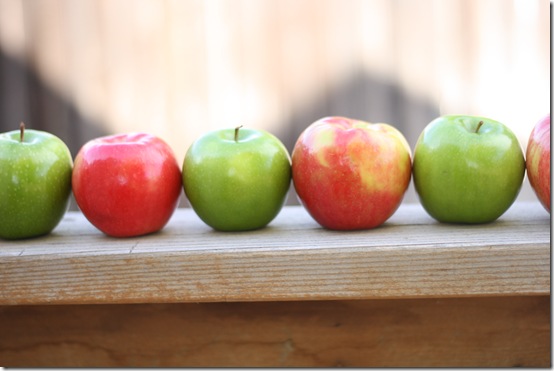 After de-stemming, washing & drying your apples (don't forget to remove the stickers!), set them aside and get ready for arts & crafts time!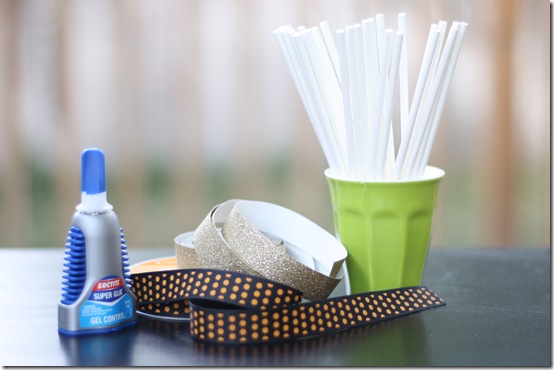 You could always just use the white sticks and call it good, but I decided to fancy these apples up a bit by decorating the sticks. I tried two methods and will show you both. First up: sticky glitter tape.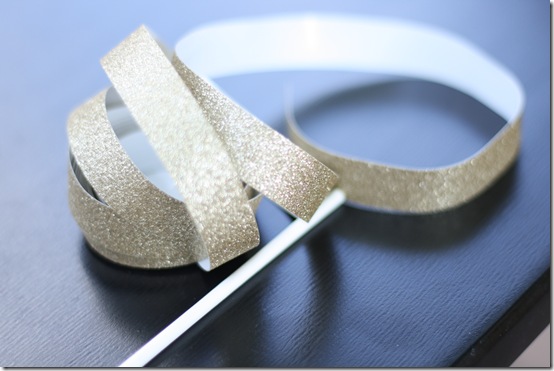 This was the easiest method because the adhesive was already on the decoration. I simply placed the tape about 1" down the stick (leaving the part that goes into the apple bare) and wrapped the tape in a spiral down the stick, snipping it once I reached the end.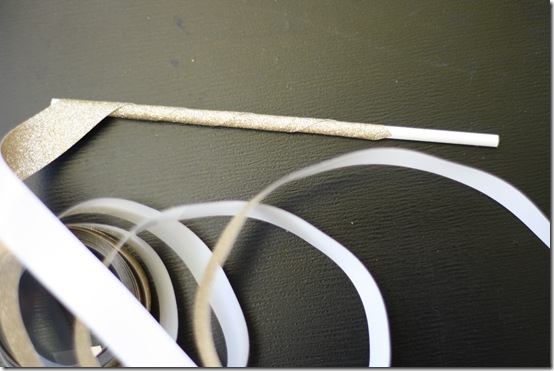 The second method was a little more labor-intensive, but I think it turned out cuter. Although, if I could find some polka-dotted tape, this method wouldn't be needed at all. For this method, you'll need cute ribbon and super glue.
[So festive, I love this!!]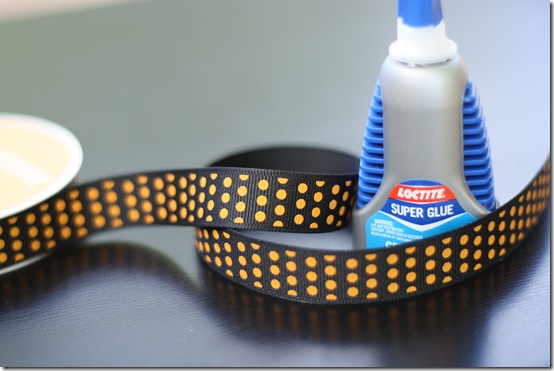 Dab a bit of glue on the inside edge of the ribbon, then place the edge onto the stick.. again, about 1" down the stick. Wrap in a spiral until you reach the end of the stick, snip the ribbon and dab another bit of glue on the tail end to seal the deal.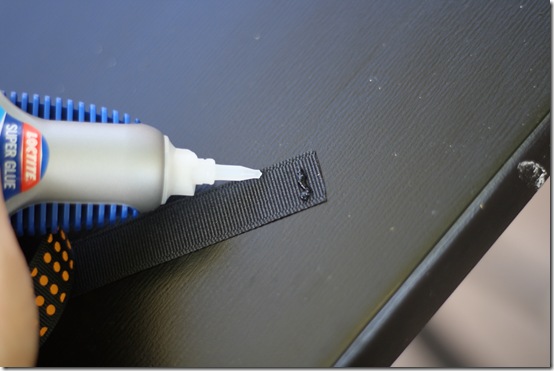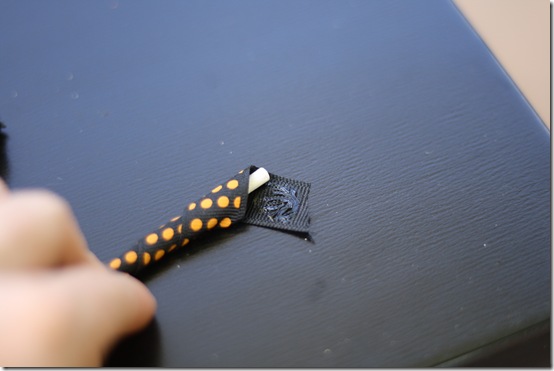 Tada! Cute apple sticks!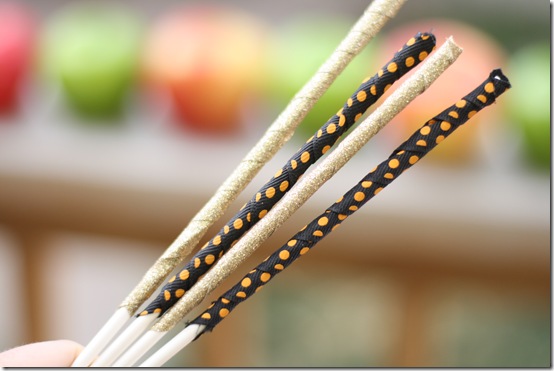 Stick a stick about 1" into each apple and set the apples aside. Time to get started on the pretzels! Place your pretzels in a Ziploc bag.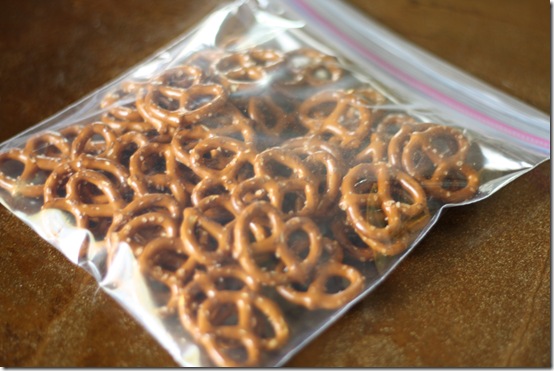 I only had quart-sized zipper bags, so I had to crush my pretzels in stages.. but you could do them all in one big bag. Grab a bottle of anything—I used a bottle of wine. Use the base of the bottle to crush the pretzels up a bit.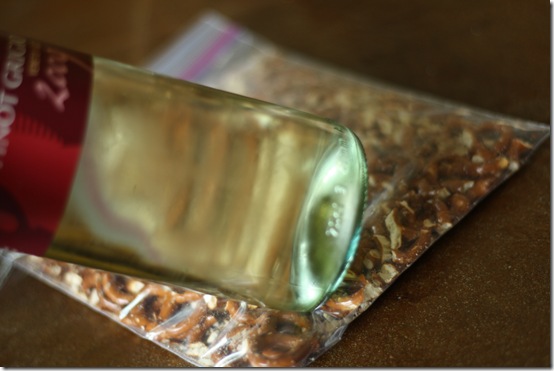 Finish the process by rolling the bottle over the bag.
Place the pretzel bits in a shallow bowl and set aside.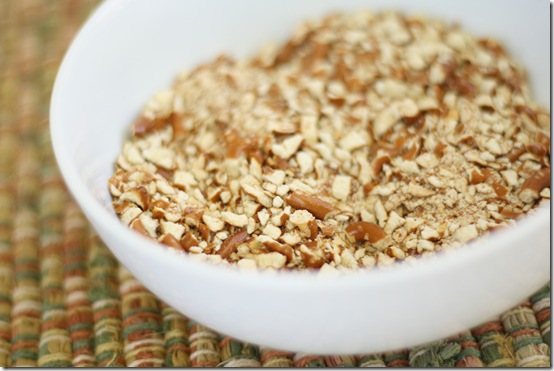 Time to make the caramel!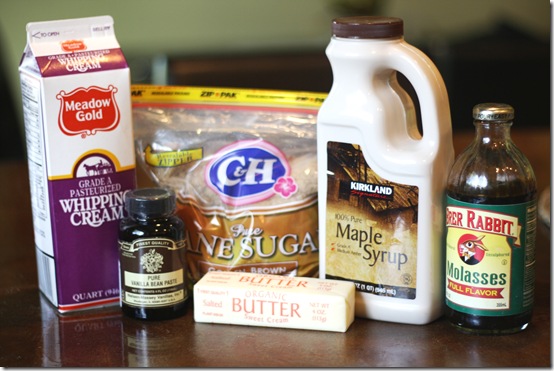 In a medium saucepan, combine cream & butter and heat over medium heat until butter is melted. Next, whisk in the sugar, syrup and molasses. Turn heat to high and bring mixture to a boil.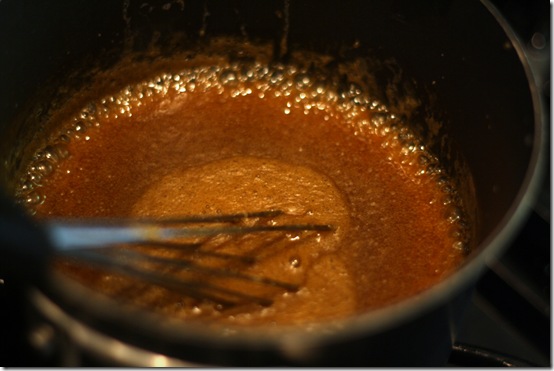 Once it is boiling, reduce heat to medium-low and let simmer for about 15-20 minutes, stirring frequently.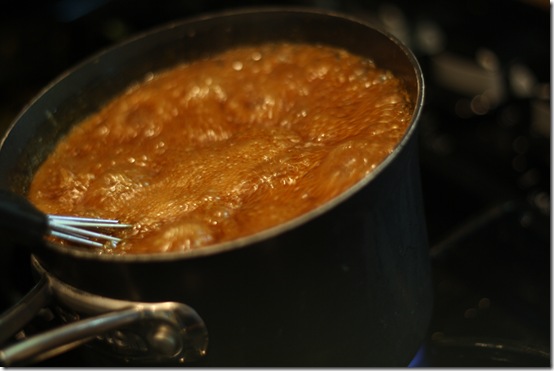 To test the caramel sauce, dip a spoon into the sauce and pull it out. If there is a thick layer of caramel sauce stuck to the spoon, you are good to go. Just before removing the sauce from the heat, whisk in the vanilla bean paste. Remove saucepan from heat and let the caramel sauce cool for about five minutes. To expedite the cooling process, I transferred it into a bowl.
Assembly time!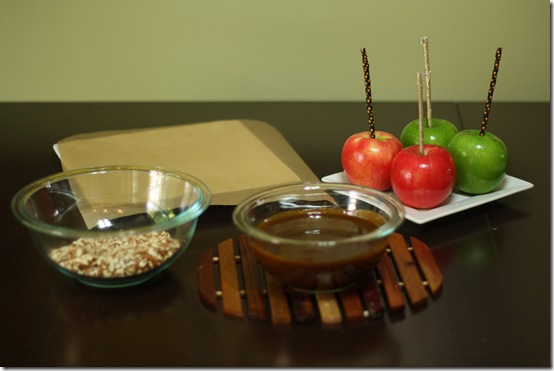 Dunk…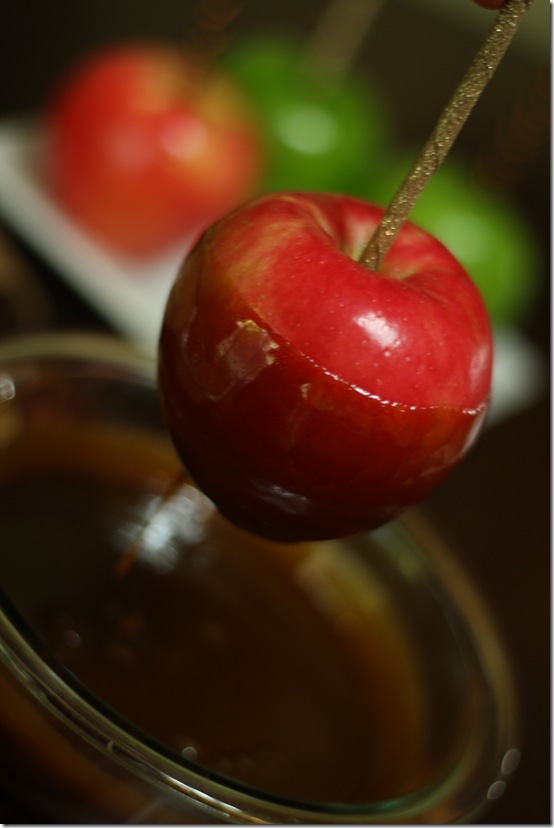 Roll…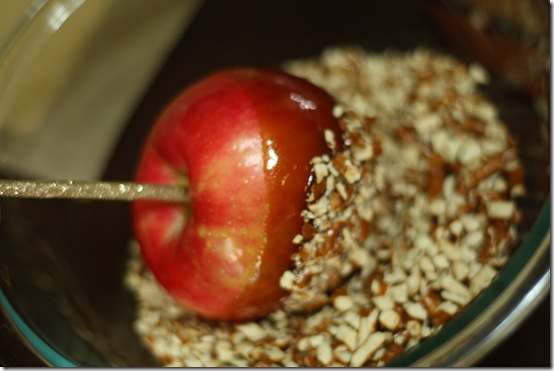 Repeat!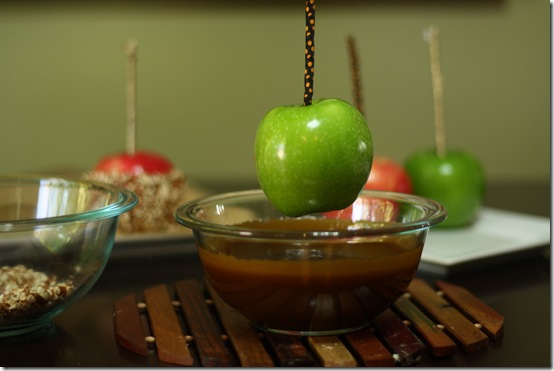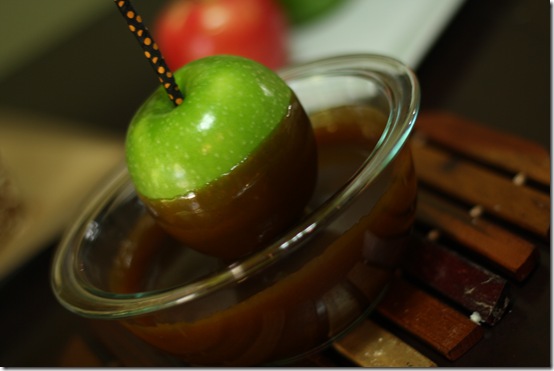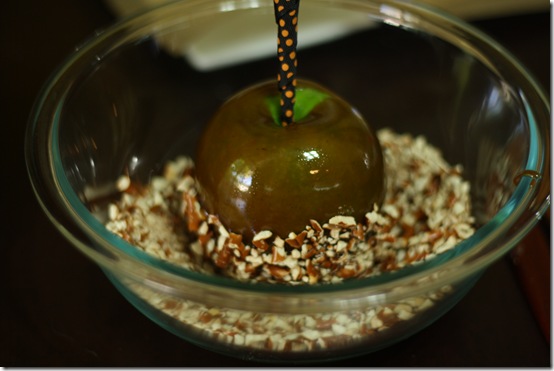 Place all the apples on parchment paper to dry.
[Caramel perfection!!  Check out my major fail for a good laugh!]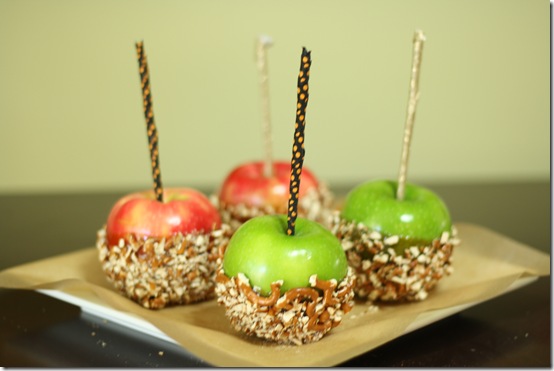 Serve immediately or wrap in cellophane sealed with a cute ribbon/bow.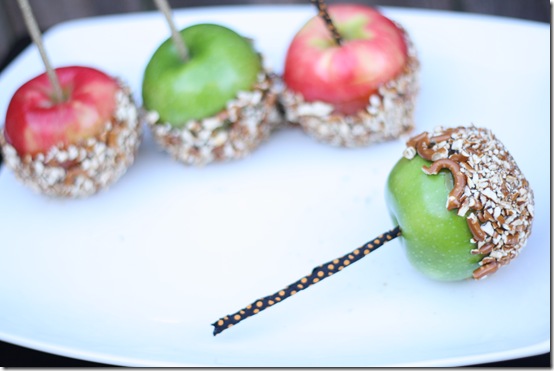 So, I think you have made the food holiday connection so far, right? This recipe celebrates National Apple Month, National Pretzel Month, National Caramel Month, National Dessert Month… oh, and that last one, Eat Better, Eat Healthier Month? The healthy apples in this pretzel-covered dessert cancel out the sugary caramel. Promise. Thanks for having me, Ashley! And thanks to all of you for reading. xo. Janetha G.
A huge thanks to Janetha, for sharing this detailed caramel apple tutorial.  Time to go dream about puddles of caramel…
Ashley