I'm excited to report I have a recipe to share today.  There has been a definite recipe funk going on in my brain.  I'm overwhelmed with fall and all it's options.  Too much all at once!
Instead of giving in to the fall bounty, I'm ignoring it.  Instead of something squashy, or something soupy, I made a recipe I've been meaning to make for about 6 months now.
Now my only question is, why on earth did I wait so long??
I have a lot of make-up-eating to do.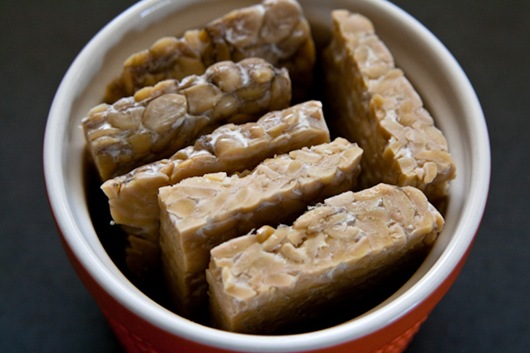 This recipe actually starts with Chris, and a week where I was out of town.  He created a recipe for
breaded tempeh
, which I proclaimed to be my favorite tempeh recipe.  Ever.  It's just something I never would have thought to do, but am so glad he did.
It hasn't been made in far too long, because of the whole no-gluten thing.  I make it for Chris once in awhile, and knew a gluten free version was more than possible.  Yes, you might be able to make this by grinding up gluten free bread into breadcrumbs, but what would replace the panko breadcrumb crunch??
Buckwheat.
I ground about 1/3c raw buckwheat groats halfway to flour, and about 1/2c buckwheat groats all the way to flour.
This was the consistency of the partially ground groats.
Talk about crunch.
It was like a crispy breaded shell, encompassing the tempeh.
Make sure you have enough oil in the pan, to result in the best texture + even browning.  It's hard to tell in the photo, but there is about 1/8" of oil in the bottom of the pan.  A light drizzle of oil will not have the same result!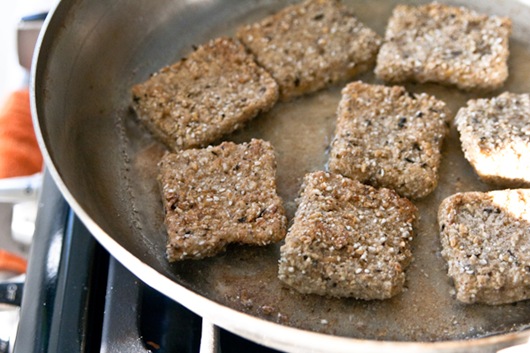 Evenly browned, in about 12min flat.
The buckwheat mixture was combined with Italian spices + topped with marinara.
But don't be fooled.
I'm not trying to make faux-chicken-parmesan.  This isn't that.  This is something entirely different.
And entirely pleasing in it's very own way.
Not only is this recipe gluten free, but it's also vegan.
Instead of using an egg wash, simply dip the tempeh slices in any type of dairy-free milk and coat with the flour mixture.
I double dipped the tempeh, for an extra thick crust.  Twice in the milk + twice in the flour.
Feel free to scarf this recipe on a bun, in a wrap, in pasta, on a salad, or all by itself.
Herb Crusted Tempeh
[serves 2-3] gf + vegan


8oz package tempeh


1/3c partially ground raw buckwheat [about 1/2 way to flour]


1/2c raw buckwheat flour


1/2c milk of choice


1T oregano


3/4-1t garlic powder


3/4t salt


black pepper


1/2T dried basil


red pepper flakes [optional]


sunflower oil [enough to coat the pan with 1/8"]




Cut the tempeh into about 4-6 squares/rectangles, and then turn each piece on it's side + slice, so they are 1/2 as thick.


Preheat the pan over medium heat.


In a bowl, mix together the buckwheat and spices and pour onto a plate.


In another bowl, add the milk.


Dip each piece of tempeh into the milk on both sides and then into the buckwheat mixture to cover all sides.


Repeat a 2nd time with each piece and place on a plate.


Once coated, the oil in the pan should be hot.


Place each piece in the pan and and cook for 4-7min until golden brown.


Flip and good another 4-7min until golden brown.


Remove from pan and drain excess oil off.


*Instead of buckwheat flour, you can also use GF oat flour, millet flour, quinoa flour, or another similar flour.  If you can't find raw buckwheat groats, partially grind millet or quinoa 1/2 way to flour for that part of the recipe.
In about 20 minutes this meal is hot + ready to be enjoyed by all.
Who needs fall flavors anyway?
Funk be gone!
Ashley
*Exciting*  My first real people-photo post is up on my photography site!