Accidents generally carry negative connotations. 
Dog pooping everywhere in the house, while the owners are happily asleep.  It was an accident. 
Ashley not properly closing the lid to Chris's coffee mug, which makes it spill all over the inside of his bag.  It was an accident.  All four times.
Leaving a carton of eggs on the counter [cough-Chris], then leaving the house, then Dakota eating 2 raw eggs…shell + all.  It was an accident.
Using cayenne pepper instead of chili powder.  It was an accident.  A very spicy accident.
But what about good accidents?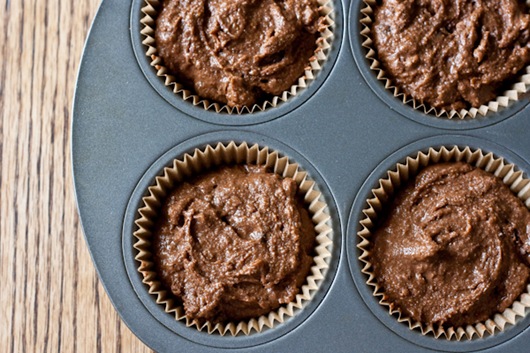 They happen.  Most often for me in the kitchen.  But they're quite rare.
This accident happened about 2 weeks ago, when I tried to make Triple Chocolate Donuts for my sister-in-law.  For some reason, before heading out to the store, I forgot to check and make sure I had all of the necessary ingredients.  They are typically things I have on hand.
Oops.  Accident!
I was out of eggs, almost out of sucanat, and had no applesauce.  Being out of eggs, wasn't a huge problem, as I could just sub flax and make the vegan version.  But only having half of the sugar and no applesauce, left me stumped for a few minutes. 
I decided to sub pumpkin puree instead of applesauce, and use 1/2 sucanat and 1/2 brown rice syrup, instead of only sucanat.  As soon as I poured the wet into the dry, I thought, this is probably going to be too wet with the brown rice syrup addition.  I should have subbed out some of the milk.  When vegan/gluten free batters are too wet, they just never seem to fully set.
I baked them for what seemed like forever, and the toothpick would just not come out dry.  I made a double batch too, which really annoyed me, because I thought it was going to be a major fail.  I was looking for donuts, not gooey cake.
But, after awhile I thought…
"What's wrong with gooey cake?"
Best.
Accident.
Ever.
Serving these warm, fresh out of the oven, is highly recommended.  However, if eaten the next day, your mouth will still do a happy dance. 
Gooey on the inside.
Chewy on the outside.
I will always have an undying love for half melted ice cream, especially when sitting atop warm chocolate cake.  As a kid, I used to vigorously stir my vanilla ice cream into a puddle, then slurp it down with a spoon.  Vanilla was always my favorite, with mint chocolate chip in close second.  It was a tough decision, deciding between the two flavors for this dessert.  I wanted the gooey chocolate cake to shine, so I chose vanilla.
The Ciao Bella Gelato had great texture, but the vanilla flavor was actual a bit too strong for me.  You know the point when there is slightly too much vanilla added in something?  This was definitely that.  More than edible, but wouldn't buy it again.
Gooey Chocolate Cakes adapted from triple chocolate donuts [vegan + gluten free]
1/2c GF oat flour
1/2c sweet rice flour
2T coconut flour
1.5T ground flax meal
2T sunflower oil
1/4c sucanat
6T brown rice syrup
3T pumpkin puree
3/4c unsweetened almond milk
1/4c unsweetened cocoa powder
2t vanilla
1/2c vegan chocolate chips
1/2t salt
1t baking powder
1/2t baking soda
Preheat your oven to 350* + grease your donut pan.
In a medium sized bowl mix together the oat flour, sweet rice flour, coconut flour, sucanat, flax meal, cocoa powder, salt, chocolate chips, baking powder, and baking soda.
In a small bowl, whisk together milk, pumpkin, brown rice syrup, vanilla and oil.
Stir wet into dry, until combined.  Do not over stir.  It will be quite thick.
With a spoon, spatula, or piping bag, transfer the batter to your greased pan, filling about 1/8-1/4" from the top.
Bake for 35-40min. 
Test with a toothpick for doneness.  The toothpick should not come out clean, but it should feel somewhat "set" when you push it in.
Remove to a cooling rack for 5min and serve immediately with any toppings you desire.
*Yields 7 cupcake sized cakes.  I know, kind of an odd amount.  Double it, trust me!
*For high altitude – oven 375*, 3/4t baking powder
When our friends came over for dinner, I had the dry ingredients and wet prepped in separate bowls.  As soon as dinner was over, I preheated the oven, mixed the wet + dry, spooned them into the muffin pan and set them to bake. 
If you pre-mix the wet + dry, the batter will become too thick.  Keep them separate, right until you're ready to bake.
Nothing better than the smell of baking chocolate coming from the kitchen. And trust me, no one will mind the wait for dessert.
Sunday highlight?
Hour long bike ride with Chris, in chilly 40* temps.  Not as bad when running, but quite different on the bike!  Then, coming home and attack snuggling the mutts!
Definitely looking forward to this week!  Friends + FOOD.
Ashley