I'm so excited to show you this morning's breakfast.  I'm sort of obsessed with the
breakfast bakes
.  Have you noticed??  Oatmeal, what?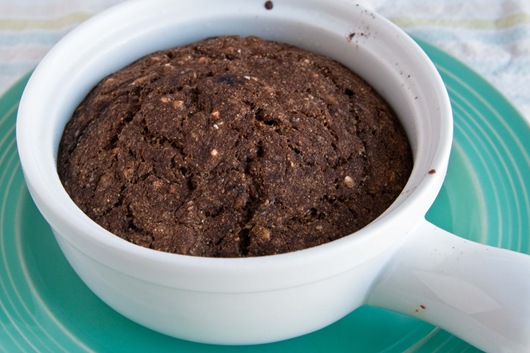 Why does this one look like a brown rock or something a dog might leave behind?
Because I added carob powder to it!!  Forget what I said about the dog…because this was maybe my favorite breakfast bake yet!
It's hard to describe the flavor of carob.  Some people like it and some don't.  I happen to really enjoy it.  It's similar to chocolate, but has a bit toastier/nuttier flavor.  You can find carob chips at most natural food stores as well.  The best deal on carob powder, in my store, was the
Bob's Red Mill
brand.  It was about $3.50 for a 16oz bag.
It had the best texture and consistency out of all the breakfast bakes so far.  The crust was thick and crunchy and the center was slightly gooey but didn't fall apart.
I would say this recipe is somewhat adaptable, but if you start leaving things out, like chia seeds, you might need to lower the amount of liquid.  Chia seeds are a liquid vacuum!  However, as
tested the other day
, you can definitely sub 1/3c oats instead of the buckwheat.  I'm not sure how oat bran would work.  You might need to adjust the liquid measurement a bit.
This was topped with peanut butter +
coconut butter
, which became extremely gooey and melted.  Oh yes.
Carob Buckwheat Bake
[serves 1]


1/4c ground buckwheat groats [untoasted]


1T whole buckwheat groats


1/2t cinnamon


1T carob powder


1t vanilla


1 small banana [or 1/2 large]


1/4t baking powder


1 flax egg [1T ground flax meal + 2.5T warm water, whisked]


1T chia seeds


2T chopped walnuts


5T almond milk




Preheat oven to 350*


Whisk flax egg together and set aside for ~3-5min.


In a small bowl mash banana until egg-like.


Mix in almond milk + vanilla with a fork.


Mix in buckwheat, buckwheat groats, cinnamon, baking powder, chia seeds, carob powder, and walnuts.


Mix in flax egg.


Lightly grease a small oven-safe dish, add mixture, smooth, and bake for 30 minutes. [I used a personal size soup crock]


*You can use 1 flax egg or sub 1 egg white or 1 chia seed egg.
*The carob adds a nice subtle sweetness.  If you want to sub unsweetened cocoa powder, add 1-2t, but you might want to add a little some sweetness because cocoa powder if very bland. [~2t maple syrup/honey/sucanat]
*Use 1/3c unsweetened applesauce, if you don't like banana.
Love the crusty top!
Do you want a bite?  You could definitely make a few of these at a time, let them cool, wrap them up tightly and store in the freezer.  Then defrost one in the fridge the night before + heat it up in the morning.
Nothing better than a waterfall of peanut butter, that's for sure!
Off to make more cereal for lunch!  I'm addicted!
Ashley