Congrats to reader Colleen, for being lucky commenter #98!  She said…
You added more prints   I would choose 'Sticky' if I were to win.
Thanks to everyone who participated in the Etsy print giveaway!
So what's new for blog-fan appreciation week?? 
Well, this is actually a re-gift.  How nice of me, right?  I bought it for myself though, so it's really not that bad. ;)
With all of the hype around the Trader Joe's peanut flour, I had to buy 2 packages of it, when I was home in Cleveland.  Colorado does not have TJ's, which is insane!  So, I just stock up when I go home and fill my carry-on.  Works for me!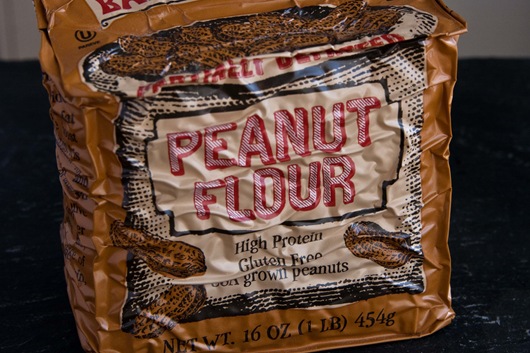 I opened the bag of peanut flour and used it to top my oats a few times.  Guess what?  I don't like it!  Even with adding a little salt + sugar, it just tastes off to me.  I know most of you out there absolutely LOVE this stuff.
So, instead of throwing out this unopened bag, I'm gifting it to one of you!
I've seen many bloggers add this to smoothies for a nice protein kick, without all of the fat + calories of typical peanut butter.  It can also be useful in baked goods. 
Here are the stats:
I've also heard some talk that TJ's is discontinuing this product.  I'm not sure if that is in all stores or just some, but you might not see this stuff around for too much longer!
To enter:  Leave me a comment telling me if you've tried this before and what you thnk.  Obsessed?  Is it crazy that I don't like it? :)
Giveaway ends:  Thursday, Jan 3rd at 6pm EST
*Giveaway open to US residents only.  Sorry!!
And just because I like you, I'm going to throw in a batch of my cocoa coconut energy balls along with it! [soy/dairy/gluten free]
Let the games begin!
Ashley