I'm finishing this post in 10min flat!  I need a 1 hour break tonight, before going to bed, to just veg-out.  And I don't mean eating vegetables, I mean watching TV.
Here we go.
Breakfast for TWO this morning!
I made myself a chocolate cherry buckwheat bake + made an oat flour bake for my lovely Laura, who was meeting me at the house to help paint.  It was so nice to have a friend at the house, helping out.  It gets a bit boring on my own, but I actually don't despise painting yet.  However, when it's done, I won't miss it. :) 
Cherry Chocolate Buckwheat Bake [serves 1]
1/4c ground buckwheat groats [raw]
1T whole buckwheat groats [raw]
1T unsweetened cocoa powder
1/2T vanilla
1T maple syrup
1/2 large banana
1/4t baking powder
1 large egg, whisked
1T chia seeds
1/3c chopped frozen cherries, plus a few more on top
4T almond milk
Preheat oven to 350*
In a small bowl mash banana until egg-like.
Whisk in egg.
Mix in almond milk, maple syrup + vanilla with a fork.
Mix in buckwheat, buckwheat groats, baking powder, cocoa powder + chia seeds.
Min in cherries.
Grease a small oven-safe dish, add mixture, smooth, and bake for 30 minutes. [I used a personal size soup crock, which is 4-5" diameter.  You can also use 2-3 muffin tins]
*You can use 1 flax egg or 1 chia egg instead of a real egg.
*Use 1/4c applesauce, if you don't like banana.
*Add 1-2T of other mix-ins like chopped dried fruit, fresh chopped fruit, chocolate chips, or coconut.
Topped with peanut butter, coconut, walnuts, and a drizzle of delicious local clover honey.
Great way to start the day!
CHOMP!
I am thrilled that this will be my view when I'm cooking at the stove.  The stove will be placed against the half wall.  Everyone always congregates in the kitchen, so maybe having the open wall, will keep people in the dining room instead! :)
I would say that painting is 75% done!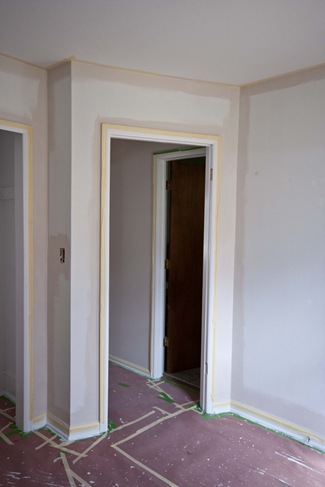 Master bedroom!
IKEA kitchen came today!!!!!!!!!  I have no idea how many boxes but I'm scared to start!  The electric screwdriver is charging up as we speak!
Another quick + simple dinner but completely delicious + nutrient dense!
I pan cooked tempeh in a little oil over medium heat, until golden brown.  I topped the salad with:
2 carrots
1/2 large avocado
1/3 block tempeh
Organic Valley feta cheese [LOVE their cheeses!]
sun dried tomatoes
olive oil/balsamic/apple cider vinegar
Texture + flavor amazingness.
Off to the house again, bright + early.  The plumber + my uncle are coming to work in the morning and I'll keep progressing with the walls.  We just ordered new ceiling fans and need to order our kitchen floor tile pronto!  So many things to remember!  Eeeek!
12min flat. 
Time to veg.
I'm out!
Ashley