Another full day at the house and things are really progressing!  We got three more windows in, which only leaves 4 more to go.  The dry-wall patching should be done tomorrow, which means I can start painting the kitchen Tuesday.  The end is in sight!  Sort of…we already have a list of things we want to do this spring + summer.  I'll also be working on getting the interior all spiffed up with little projects here + there.  It's still a bit weird that we finally own a house.  I'm not sure when it will really sink in!  Maybe when we're not moving out of it 8 months later! :)
It was a buckwheat bake breakfast kind of weekend.
They're especially perfect for days spent at the house because they keep me full for so long.  My appetite has been raging lately!  I haven't been sitting at the computer nearly as much and have added a lot of carrying, painting, building, cleaning, and moving around to my daily routine. 
This buckwheat bake, with blueberry + carob, hit the spot!
I randomly grabbed a head of cabbage the other day, because they were on sale for St. Patrick's Day.  I wasn't sure what to do with it, but then remembered a recipe from 101 Cookbooks that I have made many times.  It's called, Japanese Pizza, but doesn't really resemble pizza in any way.  I wanted to try making this gluten free, since wheat flour doesn't seem to be agreeing with me.
I decided to try freshly ground [in my blender] millet flour because I thought the mellow flavor would work really well with this dish.  It's like a giant egg-pancake of sorts, made with cabbage, leeks, flour + eggs.
It's a simple + delicious side dish, that can be flavored any way you like.  The topping choices are endless as well.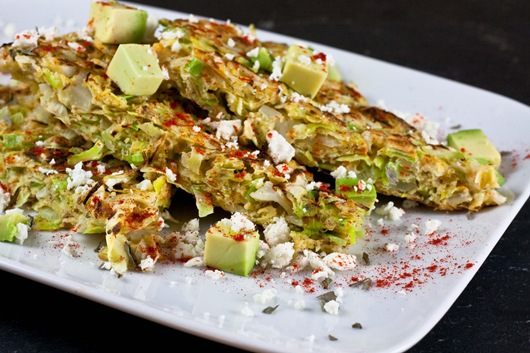 This was my favorite version to date and the millet flour worked perfectly!  I also added ground flax for a little more binding power.  I'm not sure if a vegan version would work with this or not, because the eggs are crucial in holding everything together.
Topped with avocado + feta this is quite nutritious!
Cabbage Leek Pancake adapted from 101 Cookbooks
2c shredded cabbage
1c chopped leeks
1 garlic clove, minced
2/3c millet flour
1T high heat oil
2 eggs, whisked
1.5T ground flax meal
1/2t sea salt
black pepper
sprinkle of smoked paprika [optional]
Heat a 12" skillet over medium heat with 1T oil.
Combine cabbage, leeks, garlic, flax, smoked paprika [~1/4t], salt + pepper in a large bowl.
Toss with flour until coated.
Stir in whisked eggs, until thoroughly coated.
Empty the mixture into the skillet and flatten into a pancake with a flat spatula.  It should be about 1/4" thick.  Make sure to pat it down well and push the edges in, to ensure that it holds together.
Heat for about 5min, until golden brown.
Once golden, loosen the edges and slide onto a large plate from the skillet.  Put another large plate face down over top, hold the plates together and flip over.  The raw side will now be facing down. 
Slide the pancake back into the pan, raw side down and pat down with the spatula.
Cook for another 3-5min until golden brown.
Slide onto a cutting board and cut into triangles and serve with toppings.
*If using a stainless steal pan [which is what I used] be very careful when loosening the edges.
**You can make 4 smaller pancakes if you don't want to deal with cooking + flipping the 1 large pancake.  It's a little tricky!
Topping Ideas:
cheese, avocado, toasted almonds, smoked paprika, beans, salsa, pasta sauce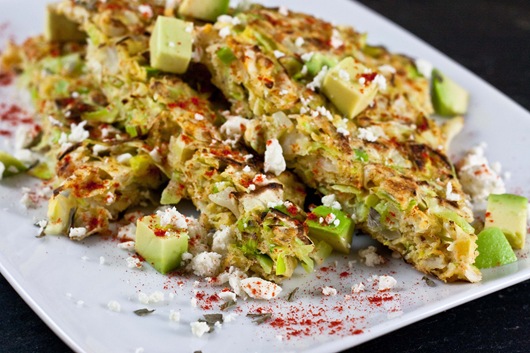 I love the texture of this and the mild but delicious flavor.  You could definitely make a meal out of this by adding beans, tempeh or tofu on top.  I plan on eating the leftovers with black beans, salsa, cheese + avocado. 
Long day.
Long weekend.
Feeling good!
Feeling excited.
Feeling like I need to get to bed.
Goooodnight!
Ashley