There are some things that just go together.  These are a few that come to mind right away!
chocolate + cookies
chocolate + chocolate
peanut butter + jelly
peanut butter + bananas
caramel + apples
cherry + almonds!!
I'm not sure what it is, but it just works.  The cherry almond buckwheat bake was one of my favorites and this smoothie is right up there as well.  It's a small smoothie with a big healthy punch.  I loaded this with healthy fats + protein, in hopes that it would really hold me over.
It's just been one of those crazy hunger days!
Lately, my photography has been very go-go-go.  Sure I think about what I'm doing, but I haven't really been focusing on improving my skills or trying new things out.  In a mere 5min today I did a little light study, while I was waiting for my smoothie to thicken up, from the ground chia seeds.
Here is a photo that is taken with my typical set up.  I have a big sliding glass door to the right, which is where the direct light is coming from.  I usually set up a light bounce [large white piece of foam board] on the left side, to soften shadows, but for this experiment I didn't use it.
If I had used the light bounce, the left part of the photo wouldn't be so dark.  The white board would have bounced light coming in from the right onto the left part of the photo.  Does that make sense at all?  Maybe I need to draw a diagram. :)
Ghetto drawing with a capital G!
So literally the light bounces off of the board, and onto the food/object.  I do this with almost every photo, but sometimes it gives the food a more dramatic look to take the light bounce away.  Shadows can be your friend!
Here we have a back-lit photo.  This is my favorite photo of the group and all I did was turn my table 90* clockwise!  The light came in through the door to the back of the photo and left the front of the photo in shadow. 
This is also back lit, but was taken at an angle, instead of overhead.  Huge difference, no? 
More ghetto diagrams?  But of course…
Backlit shot.  The light is coming through the glass doors and hitting the back of the food.  It's a little hard to tell the direction of the light with the arrows in this flat drawing.
So let me be a total nerd and bust out a sweet perspective drawing for you.
light –> doors –> food <- camera 
This is side light, taken at an angle, still with no light bounce.
It's funny how you can sort of tell the approximate time of day depending on where your shadows are.  When the light is higher, you'll have less shadow, but when the light is lower, it will create a longer shadow. 
Hmmm, I just thought of a fun experiment!  Set up an object and photograph it every hour, standing from the same spot every time, and see how the shadows shift.  I'll be sure to do this in the next few days and post the outcome.  Actually it might not be until next week because we'll be busy tearing up the kitchen at the new house this weekend!!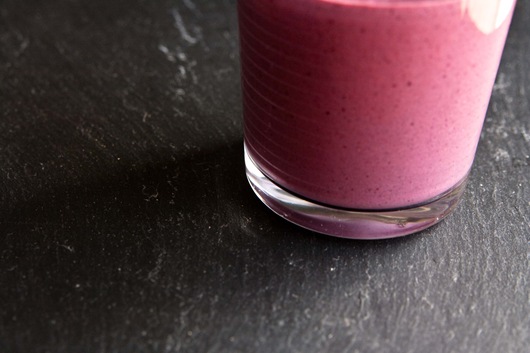 Oh…and about that recipe!
Cherry Almond Smoothie [serves 1]
1 small container plain Greek yogurt
1/3c water
3/4c frozen cherries
1/8t almond extract
1/2t vanilla extract
3T raw almonds
1T chia seeds
Combine everything in a blender, and blend away until smooth.
Let sit for about 3min to thicken, if desired.
*Banana would be a great addition as would 1/4 avocado for more creaminess and healthy fats. 
*If you want to veganize this, you can just use about 3/4c almond milk and omit the yogurt + water.  Add vanilla protein powder if you're looking for a protein boost or 2T chia seeds, instead of 1T.
This wasn't so much a tutorial, per se, but just something to think about.  Lighting is a GIGANTIC part of photography and it is extremely fun to play with.  If you feel like you're in a photo rut, try to play more, instead of worrying about getting "the shot."
I'm proposing a little photography assignment, because it was actually requested multiple times after my last photography 101 post. 
Photograph food or an object playing with shadows and light, all from the same location. [don't move to a different area of your home with the object]  Use a light bounce, don't use a light bounce, move the food, move yourself, etc. Email me 2 photos from your shoot that show the object with two different light/shadow looks.  Make sure to downsize your photos before emailing [around 4-6" wide] and describe the set up you created. 
This is meant to be a fun study of light!  No need to spend hours on it, unless you really want to.  Hopefully you will learn something along the way, as I did.  I never turn myself or the table to backlight the photo and that was my favorite photo of the group!
Have fun!! 
Email me at: edibleperspective AT gmail DOT com
Email subject line should read: edible homework
I'll take submissions through the weekend and post them early next week.  I can't guarantee I'll post them all.  It will depend how many come through.  If you have a blog, please include an embedded link in the email so I can link to it.  For example: The Edible Perspective  If you make a blog post about this, please include the direct link to that post, and I'll include that as well. 
See you tomorrow.  We're going to be homeowners in TWENTY SIX HOURS!!!!!!!!
Ashley