WE'RE HOMEOWNERS!!!!!
Isn't she a beauty??
Don't worry, this is just our shed.  Our very very old shed.  Pretty fabulous, no? ;)  I wanted to pose in front of our house, but decided not to for safety reasons [showing the front of our house to everyone on the internet..no thank you!].  The shed will have to do for now!
We couldn't have been more excited.  I was a nervous ball of energy ALL day, so I made a new nut butter and baked for hours.  More on that soon…
After getting our keys…
…we went to Equinox Brewing [love this brewery] for a some brews.  I had a few of these 5oz samples, which were all so delicious.  My favorite was the brown ale.
Then we got the awesome idea to start the kitchen demo early.
So, for the record, we are now AHEAD of schedule. 
Ohhh yah.
The tool I'm holding is called "The Eliminator."  It was intense and I took the first few swings.
It quickly became fun + addictive.
SMASHHHHHHHHHHH
Chris's turn.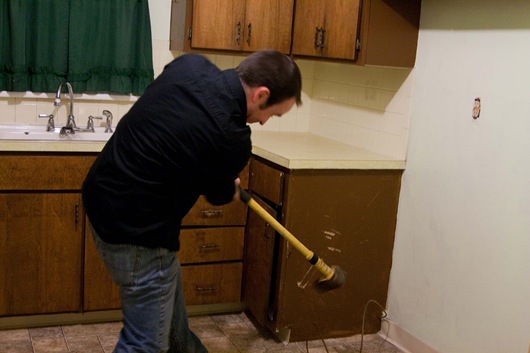 There we go!!
Peter + Michelle were there to help out too!
Again, again!
We got about 1/4 of the kitchen cabinets knocked apart in about 30min!
Up bright + early to continue the destruction!!!
Ashley