Ummm, I fell asleep on our bed-couch last night at approximately 11pm.  This is a world record in the past few months, especially on the weekend.  One thing I hate, is falling asleep somewhere other than your bed.  I turn into the grumpiest person alive when it's time to move to my real bed.  That definitely happened last night.
We were exhausted!!
Saturday started off with a favorite. 
Cocoa Muffin-Cake Bake with back-lit light!
I topped this one with toasted coconut, which is UHmazing if you've never tried it.  It's something I grew up on as a kid, because it was part of a dessert recipe my dad used to make.  If you like coconut, toasted coconut will blow your mind!
Be careful toasting it though [oven 350* ~10-15min, turning every 1-2min until golden brown].  It goes from golden brown to burnt in about 2 seconds flat!
The back-lit wasn't working the best for this.  Might have been the early morning sun that wasn't high enough in the sky.
Normal photo setup.  Light coming in from the right.  I was in a hurry and didn't set these up on my tripod and I can tell a difference!
Also topped with my latest nut butter.  Recipe coming soon!
The fun started around 8:30am.  We met my uncle at the house and finished what we started Friday night.
We had to see if there was any plumbing or electrical in the soffit before tearing it down.  We're putting in tall kitchen cabinets to utilize the space the best, since we can't fit in as many kitchen cabinets as I would like.
The kitchen is about 10'x12'.
Where the washer and dryer used to be.  Remember??
Ah, yes, there we go.  [more before photos here!]
Unfortunately, the cabinets were not salvageable.  They were mounted onto the wall with no back and splintered as we took them off.  I would have loved to be able to donate them, but it just wasn't happening.
This was about 1 hour in.
Do you see the shiny floor?  We had a bit of a 10min panic, when the sink plumbing line was accidently power-sawed into. 
Hot water was spraying everywhere.  It was like a free trip to the spa.  Steam baths for everyone!
Wet floor!  Maybe we should have figured out where our water shut-off controls were before starting the demo.
You learn.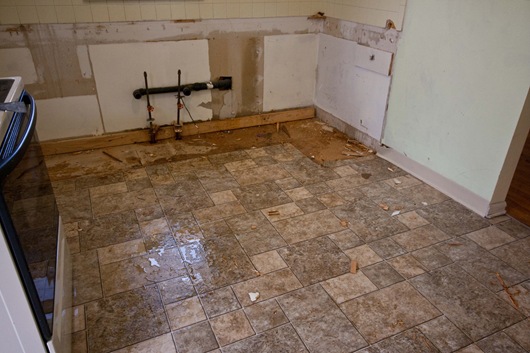 And the soffits came down!
And the doorway was enlarged.
After 2 hours the kitchen was completely gutted except for the tile backsplash and linoleum floor.  Chris and I went back around 5pm to finish up.  It ended up taking about 3 hours to get it all done.  The tile and floor were one of those tedious projects that took much longer than expected.
I rolled up the first layer of the floor, only to find a 2nd layer.  It had probably been there since 1950, and we literally had to chisel the entire thing out.
Progress!
We finished and went home for dinner.  I got my photos uploaded last night, but there was no way my brain was functioning enough to type anything out! :)
It's 9am and we're off to Home Depot, Rocky Mountain Bagels, and then the house.  More soon…
Ashley
p.s. Don't forget to submit your homework!!