What's that lurking in the shadows?
Breakfast.
A new breakfast.
Get excited.
I am always inspired by HEAB's savory breakfasts + meals and her love for cornbread, coconut, pancakes, oat bran and nut butter.  Her combinations are creative + quirky and I love that!  I feel like I've been craving everything that is hard to make when one has no oven.  However, today I conquered one of those cravings.
Cornbread.
For one.
In under 5.
The microwave happens to do an excellent job at making buckwheat bakes.  They have a bit of a different texture [more muffin-cake like] and are equally delicious as the oven bake versions, but in a slightly different way.  I figured if you can make buckwheat bakes in the microwave, cornbread could also be mastered.
How about buckwheat cornbread? 
I have always been a cornbread lover.  The sweet, nutty flavor of corn flour is just perfect.  I remember the nights when we had breakfast for dinner.  My favorite was Jiffy cornbread, topped with butter + maple syrup and sausage or bacon on the side.  Well, okay, Belgian waffle night was pretty dang delicious too.  My dad was always in charge of Breakfast for Dinner nights.  I don't know why, but it was just "dad's thing."  Right, Dad?
This texture was a cross between cornbread, cake, + muffin.  In other words, pretty dang fantastic.  If you don't want to buy a whole bag of corn flour, check your bulk bins.  It will probably be there!
Now how did I turn this into a complete breakfast?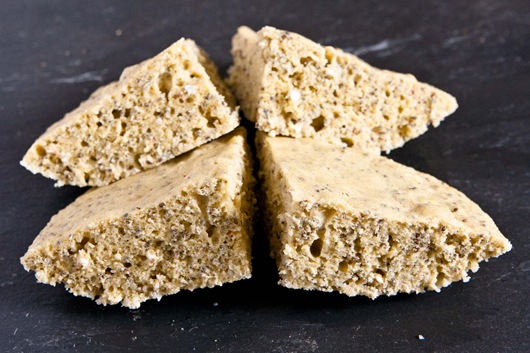 Please don't think I've gone crazy.  Okay, maybe I have a little.  Yes, I put beans on my breakfast.  I'm not typically a savory breakfast girl, but I was enamored by HEAB's cornbread bean photos the other day, so I just had to try it out.
Remember those adzuki beans I boiled + froze?  Many people told me they are a sweet bean and that they're commonly used in desserts in Asian cooking.  In trying to add more protein to my breakfast, I thought this was a good idea.
And it was!  I defrosted, mashed and heated about 1/2c adzuki beans and plopped them on top, along with peanut butter.
And honey!  Definitely didn't feel like a savory breakfast at all and this plate kept me full for 4.5 hours.  Two thumbs up!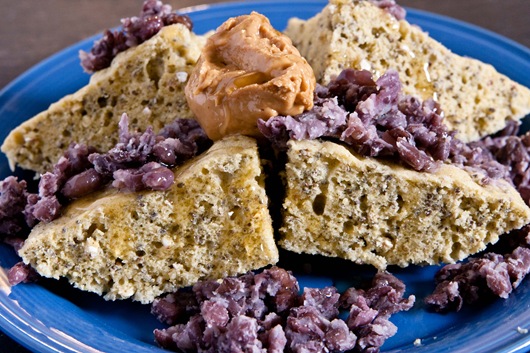 If you're afraid of the beans, I understand.  But trust me on the cornbread!  What did I think of beans with breakfast?  It definitely won't be an everyday thing.  If I mix beans + this cornbread again, it will probably be topping it with chili. :)
Cornbread Muffin-Cake [serves 1]
2T raw buckwheat flour [ground from raw buckwheat groats]
1T raw buckwheat groats
3T corn flour
4-5T 2% milk [or nut milk]
1T chia seeds
1/2T unrefined coconut oil, melted
pinch of salt
1/4t baking powder
1 large egg
In a bowl, whisk together egg + 4T milk.
Whisk in all dry ingredients until just combined.  If it seems too thick, add 1T more of milk. 
Grease a bowl and empty batter into bowl and smooth out.
Microwave for 1min 30sec – 1min 45sec.
Carefully tip out of the bowl [will be hot!] onto a plate and top away.  Or top + eat right out of the bowl.
A few notes…
Millet flour would be a great buckwheat flour sub in this recipe.  If you have millet, you can just grind it in your blender until it turns into flour.  You could also use oat flour, or make your own by grinding oat groats.
For the corn flour.  I used Bob's Red Mill Masa Harina, golden corn flour [1T] and Fine Stone Ground Corn Flour [2T].  You could probably use any type of corn flour or even corn meal.  However, the liquid amount might vary slightly depending on the mix you use.  For this recipe I used 2 finely ground flours. 
I typically add 1/2 mashed banana to my buckwheat bakes, but didn't want the banana flavor in this.  If you want banana cornbread [which sounds good!!] I would mash 1/2 of a banana and reduce the liquid to 2T.
If you don't have chia seeds, use ground flax meal.  If you don't have either, leave it out, and lower the liquid by 1T.
Sub 1 flax egg, instead of 1 large egg to veganize. 
If you add beans on top, definitely heat them up!
I AM SO EXCITED ABOUT THIS. :)
With the beans + peanut butter, this recipe packs 550 cals, 25g protein, 15g fiber + 34% daily iron.  Stellar!
What did I eat for lunch?
That should even have been a question.  Repeat!
With cubed sweet tater + coconut butter on the side.  The sweet tater definitely helped this meal stick to my bones!
Why am I showing a lot more of my daily eats lately?  2 reasons!
It has been fun t to show you that even without a kitchen, or the time to turn on your oven, you can still create delicious + healthy recipes!
I want to share my journey in trying to figure out which foods help in curbing my insane appetite.  This was also why I went into detail about milk in my breakfast yesterday.  Thanks for your suggestions – btw!
So what did I have for dinner?  Reference the breakfast photos.  Yup.  Twice in one day.  Breakfast for dinner.  [Dad, you would have loved it!]  This time, it was topped with honey + butter and accompanied by a hefty taco salad.  
It's 11:11 and I'm out!  More EP – Home Edition coming soon!
Ashley