Okay.
Hold it.
Before you go making this morning's cornbread muffin-cake, you might want to check this out first.  If you're looking for more of a traditional cornbread flavor, that post is for you.  If you're hesitant to eat straight up cornbread for breakfast, this post is for you.
All of my buckwheat bakes use 1/2 smashed banana.  For the first version of this, I wanted to keep it more traditional.  Plus, the thought of banana + cornbread wasn't doing it for me.
But this morning it was.
I thought I would experiment with banana.
And light.
This photo has no light bounce,  The previous photo, taken at the same angle does.  You still get some shadow in the first, but it's more dramatic in the 2nd.
Okay, back to the bake.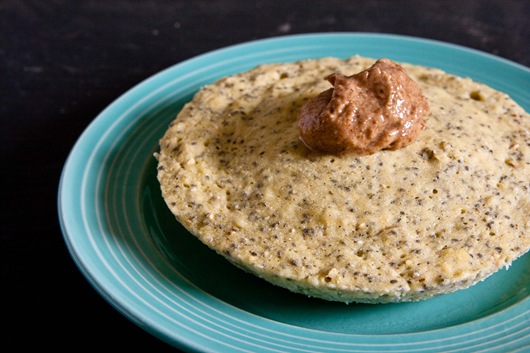 I can't even tell you what adding 1/2 banana to this recipe did.  It sweetened it slightly, gave it a slight banana flavor, and made the consistency like cake.  You still get the cornbread flavor, but with a little more breakfast-like twist.  Although I have no problem eating traditional cornbread for breakfast.  But next time, hold the beans. ;)
It was fluffier than the previous version and I was also able to eliminate the oil, without sacrificing moisture.  Truth is, I forgot to add the 1/2T melted coconut oil.  I'm sure it would be a great addition, but it's not needed.
I ate this straight up, with maple cinnamon almond butter spread over top.  With every single bite, my taste buds broke into a little song + dance.  I wanted another one, immediately after. 
Before sitting down, I noticed the bottle of honey was staring me down.
Only one way to fix that!
Banana Cornbread Cake
2T raw buckwheat flour [ground from raw buckwheat groats]
1T raw buckwheat groats
3T corn flour
4T 2% milk [or nut milk]
1T chia seeds
1/2 banana, mashed
pinch of salt
1/4t baking powder
1 large egg
In a bowl, mash the banana until very wet.
Whisk together egg + 4T milk.
Whisk in all dry ingredients until just combined.  [If it seems too thick, add 1T more of milk.  Should be muffin batter consistency.]
Grease a bowl and empty batter into bowl and smooth out.
Microwave for 1min 30sec – 1min 45sec.
Carefully tip out of the bowl [will be hot!] onto a plate and top away.  Or top + eat right out of the bowl.
*Check the original version for tips on substitutions, etc.
Weekend mission!  Make this bake!
Ashley