I was overwhelmed with all of your comments + votes [almost 500!] helping me decide which comforter to buy!!  Guess what?  I'm still undecided.  Not a big surprise there.  And I've wasted hours looking for comforters.  Hours that I could have been organizing my kitchen cabinets.  Bah!
Your comments really helped though.  You made so many good points.  So, thank you for that!!
Breakfast?  Corny oats, again!  What I want to direct your attention to, are the brownish blobs on top.  I'm out of coconut butter and running low on nut butter, so I decided to make Sarena's coconut cream again.  This time, however, I added a few things.
Cinnamon Sweet, Coconut Cream adapted from Coconut Cream
2T coconut flour
4-6T unsweetened almond milk [or other milk]
1t honey
1t cinnamon
Whisk together until smooth.  Add more milk to reach desired consistency.  I used 6T.
Dollop on oats, toast, a buckwheat bake, or just eat with a spoon!
I actually didn't like it too much paired with the corny oats.  There was too much "mush," with this bowl being so creamy from the flour + oat bran.  However, it would be perfect on a buckwheat bake or bowl of rolled oats. :)
Can't find coconut flour in stores?
Buy it here.  Want to make coconut flour at home?  It's a bit of a process, but definitely doable!
For lunch?  Something I haven't made in months.  Something that always seems like it won't fill me up, but leaves me completely satisfied for hours.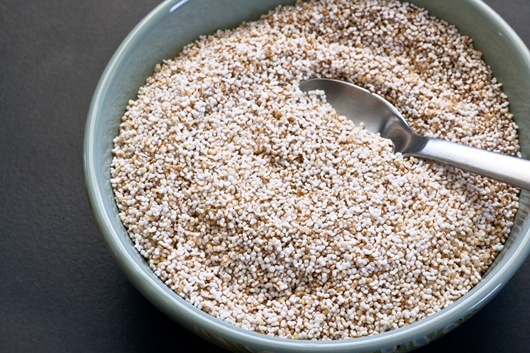 That's right!!  You can pop amaranth at home, and turn it into a crunchy, soft cereal.  I absolutely love this!!  I'm actually not a huge fan of cooked amaranth, because of it's distinct earthy flavor.  However, when you pop it, the flavor mellows out quite a bit.
I pop 1/3c raw amaranth, which makes around 2c popped amaranth.  Follow that link for directions on how to pop.  It takes a few tries to get the hang of it, but isn't too hard. 
And guess what?  You can whisk/blend fun things in to your milk! 
peanut butter or other nut butter
chia seeds
flax meal
cinnamon or other spices
protein powder
honey/maple syrup
maca
banana
For this version I used:  chocolate chip cookie dough almond butter [minus the choco chips…I ran out!], flax meal, cinnamon + maca
This bowl is GIGantic.  The never-ending bowl of cereal you always dream about. 
I topped this bowl with: coconut, dried figs, + almonds
Dried figs are spectacular. 
Almost had an overflowing bowl!
Cinnamon Puffmaranth [serves 1]
1/3c raw amaranth
1t cinnamon
1.5t honey
1-2c milk [depending on preference]
1T ground flax meal
1t maca powder [opt]
1T nut butter
toppings: coconut, dried figs, almonds
Follow these directions for popping amaranth.
Whisk/blend cinnamon, honey, flax meal, nut butter, and maca into the milk until combined. 
Top amaranth with nuts/dried fruit + pour on milk
DIG IN!!
Want to know more about this ancient grain? Check here!
Check out these stats!  This is just for the amaranth.  The calcium, fiber, iron + protein stats are quite impressive!
Tomorrow's agenda:
Kitchen organization extravaganza!!!  I'm trying to at least make it sound fun. haha 
Night!!
Ashley