This was definitely a day.  A long, labor intensive day.  My arms feel like jelly, my throat is parched, and my eyes are fading.  However, I just have to share this day.
It started off with a cocoa banana muffin cake.  The microwave version is much more cake-like, where as the oven-baked are more like a breakfast bread.  Whenever I post a microwave version, I get a lot of comments asking if there are oven-baked versions + vice versa.  Check my recipe page for the full list! 
As I sat down to eat this, I opened up my google reader, only to find that Kath had dished on the same exact breakfast.  This combination is definitely a favorite of mine.
After b-fast, I stopped at Home Depot [story of my life] to pick up grout + a few odds and ends.  I obviously have to finish priming and then painting the window trim, in case you were wondering.  We also still need to finish installing the under-cabinet trim.  You can see one of the pieces on the far left cabinet.  The kitchen is so close to being done!
I can't wait to add some pops of color!!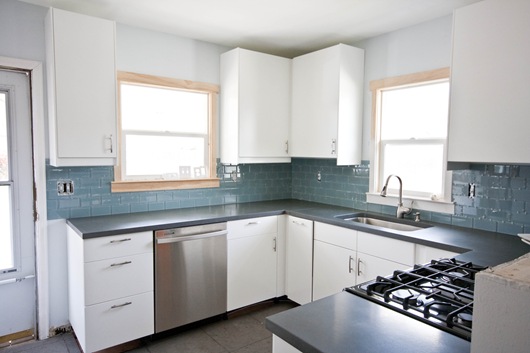 After scrubbing the mortar off the tiles, and taking out the 1/16" spacers, it was time to mix up the grout.  We went with an ever so slightly off-white.  It's more gray than cream, but barely even noticeable. 
Dreaming of ideas…
This was the scene as I applied the grout.  Stove pulled out again + another HUGE mess.  My arm was already tired from scrubbing the dried mortar [what you put behind the tile to adhere it to the wall] and then I had to slather on the grout.  I hate that dead-arm, jelly feeling!
I had no choice but to power through.  Silly me made the mistake of applying all of the grout, which took about an hour.  I should have done one wall at a time, because by the time I went back to sponge off the excess, it was hardened.  Now, it's not too big of a deal.  You can definitely still get it off.  However, it takes a ton of elbow grease.  Like, two hours of elbow grease.  Yaaaah.  I kept letting out moans + groans, while Chris worked on school + some things for work.  I'm sure it was highly annoying, but I couldn't help it.
You really should try this apple + savory nut butter combo.  Really!  It's a winner.
To take it one step further, how about:  toasted English muffin + apple + cheese + salt + pepper cashew butter – You could even stick a piece of tempeh in there if you're feeling feisty. 
A little wide-angle apple love.
After finally scraping + sponging + rubbing the grout off of the tiles, I had to go back and smooth over all of the lines.  I rubbed my finger with grout, along every single, stinking line.  They all had to be filled in perfectly!  Then, I went back and scraped all of the grout lines with my nail.  Seriously.  The grout stuck outside of the lines, but I didn't want them to appear larger than they actually are [if that makes sense].  The only real way to do this was using my nails. 
My hands are cracked.
I have no nails.
I lost feeling in both arms.
It was worth it.
There is still a little hazy film left on the tiles, but that will go away after a few more rub-downs with mr. sponge. 
Cute little white grout lines!!!
Love! 
This definitely took hours longer than I thought it would, but that was pretty much my fault.  At least I know what I'm doing now, if I ever have to do this again.
I hope I never have to do this again.
Did I say we were going to remodel our bathroom next year?  Naaaah.
Next up!
I had to prime the closet.  My uncle finished expanding the closet to fit our water + dryer.  He basically ripped the old framing from the wall and moved it out about 1', then added new drywall.  Good as new!  We're going to stack the w/d so it only takes up half of the closet.  The other half will be used for excess clothing storage.
This bedroom is still a disaster!  But once the closet is done and the washer + dryer are moved in, we'll be able to clean it up and move bedroom things into it.  Then we can unpack all of our boxes, stored in the 2nd bedroom, and turn that room into an office.
Are you tired yet?  I am!!
Night!
Ashley