This post is all about paint.
Seriously.  No food involved!
It's been a long time coming, too.  I used a multitude of different paints, from different companies.  Some were generously donated, and some were purchased locally.
Let's get messy started.
Yesterday, I did a bunch of random painting tasks.  Once everything in the house is "set," we'll devote a whole day to touch-ups.  For right now, it's not worth it to try and fix every little scuff, etc.
Sometimes, though, the smallest little painting tasks make such a difference!  Even though the 3rd bedroom is still a dirty cream color, painting the trim, made me feel that much closer to being done.  It looks so fresh + clean!
I also finished painting the closet.  Nice + white!  The washer/dryer will be stacked on the left and we'll install a built in closet on the right.
The dogs LOVE coming into this room.  The one room they shouldn't be in.  Figures!
Another painting task that has been looming, is painting our back door.  Everyday I look at it, I am grossed out.  There are pizza sauce stains on it, from the first night we demo'd, and it's just dusty + all around filthy.
There were a bunch of little nail + screw holes in the door that looked really bad as well.  I took the door off the hinges, and almost fell over, as it was much heavier than expected!  I cleaned the door, filled in the holes, and then got to painting.
Ahh, like a breath of fresh air!!  No more ugly blinds, no more pizza sauce stains, no more dirt.  Just bright + white!! 
Painting the house, was a much bigger task than I expected.  Our house is quite small.  It comes in at 1015sqft.  I never expected the painting to take so long, and didn't think we'd plow through as much paint as we did.
Besides painting the walls, ALL of the ceilings had to be painted as well.  They were a nasty yellow color that had to go.  Painting ceilings is extremely difficult + tiring!!
Wow.  It's been a long time since I've looked at the BEFORE photos!!!
Priming all of the walls [twice! textured walls require more paint], painting the ceilings, painting the trim, taping off the ceilings, taping off the trim and then painting the walls, took FORever.  
Luckily, one of the days, our friends were kind enough to help.
I worked away for weeks, during the day, on painting the house.  It was a huge sign of relief to be done. 
The time, the energy, the money, were all worth it.  We went with a really neutral look for right now.  It's hard to jump in and decide on bold colors, when you have no furniture in the house.  So this is a great canvas for us to work with. 
And now for the paint reviews.
First up:  Mythic Paint
I was extremely lucky to receive 3 free gallons from Mythic paint.  I had heard about this company before, and love everything they are about.
Mythic is a paint company that was developed to be zero-VOC [volatile organic compounds] and ultra low odor.  They focus on being safe for the environment and people.  What I love about this company is that it was developed with these goals in mind.  Most companies have adapted to the eco-friendly ideas, and now carry two lines of paint.  A pricier, eco-friendly paint, and a typical paint that has all of the odors + toxins you may be used to.
Mythic is top notch, but comes with a hefty price tag.  Their gallons are about $45 a piece.  When you're painting an entire house, $45/can adds up quickly!!  There are so many decisions when buying paint.  It may seem like a cut + dry buying process, but paint varies so much.  This paint is thick, but was still fairly easy to work with.  It coated the walls very well, but didn't cover as much space as some of the other paints we used.  When priming with Mythic, we only needed one coat, as opposed to two coats, using a few other brands.
The pros + cons of Mythic paint:
Pros:
zero VOC – in any color
extremely minimal odor – It smelled like playdough and it vanished quickly.  No headaches or nauseating fumes, at all.
thick – nice, even coating
environment/kid/pet/people safe
extremely knowledgeable + helpful online customer service
user friendly website
a huge array of color choices + paint types
great dry time
Cons:
thick – did not spread quite as far as I had hoped
cost – $45-50/gallon
this paint is not carried at Home Depot + Lowes – You can check for paint dealers, in your area, on their website.  However, you might just have to do all of the ordering online.
A huge thanks you much to Mythic for sending me 1 gallon of primer + 2 gallons of eggshell wall paint!  I absolutely love this company.  Their packaging + design is fabulous as well.  :)
When I was painting everyday, I was eating TWO full lunches.  Quite the workout!
Did you know…
That "paint" smell you are probably familiar with, are actually toxic fumes being released into the air and your lungs?
Did you know that the fumes continue to off-gas even after the paint is dry?
The EPA set a standard maximum for low-VOC paint at 250 g/L, which is still very high.
California set the VOC maximum at 50 g/L, to be considered a low-VOC paint.
A lot of paints that are low-VOC or no-VOC are only considered that in their WHITE color option.  Adding pigment to some of these brands increases the VOC levels.  Mythic is 100% voc FREE, no matter what color you choose.  As is the Benjamon Moore "Natura" + Olympic Paint, that I talk about below.
Second:  Benjamin Moore - Natura
We lucked out again, when the generous people at Benjamin Moore told me they were going to donate ALL of our kitchen paint.  This included:
1 can ceiling paint
1 can primer
3 cans wall color
We went with a very pale blue, that has a slight gray tint to it.  We wanted a nice soft color that would compliment our calming blue/gray/natural theme in the kitchen.  I am very happy with the way the color turned out!
Benjamin Moore is a large paint company with an extremely large collection of all different types of paint.  Most, if not all of Benjamin Moore's paints are low-voc.  You can find the full list of their eco-friendly products, here.  Natura is their line that is zero-VOC, no matter what color you choose.  I love that more and more companies are now offering these much healthier options.  If you're taking on the task of painting an entire house, the off-gassing fumes can really start to build.
I was determined to use as much zero-VOC and low-VOC paint as possible. 
The pros + cons of Benjamin Moore Natura:
pros:
little to no odor
zero voc – with any pigment added in
very easy to paint with
great customer service
can find locally at Ace Hardware [some other stores might carry it as well, but Home Depot + Lowes do not]
color was true to the swatch we chose
painted evenly
favorite ceiling paint out of the 4 I used
great dry time
cons:
cost – also around $45+/gallon
not a fan of the website – interactive person talking to you and way too many sections to click for more information
I liked this paint slightly better than Mythic, because it was easier to apply.
Third:  Diamond Vogel – Vantage Plus low VOC paints
I found Diamond Vogel by chance one day, driving around town.  I was getting sick of trekking to Lowe's [20min drive] and DV was only a few minutes from our new house.
The employees were extremely friendly and knowledgeable.  They knew what they were talking about.  They know what advice to give me.  They knew the specifics about all of their paint, about VOC's, paint brushes, rollers, etc.. 
They gave me discounts, because I was there every.single.day.
Oh happy day!
They explained to me the differences in how regular paint, low-VOC, and non-VOC paint work.  The chemicals in paint, that make it stink, are what make the paint work well.  Take out all of that stink and it's much harder to make a paint that spreads evenly + holds up over time.  Figures!  It's kind of like food.  All of those mystery ingredients that make processed food shelf stable for so much longer than real, unprocessed food.
I swear I could find a relation with anything to FOOD.
What was interesting about their paint, was that the zero-VOC paints were cheaper than the higher-VOC paints.  It's actually cheaper to make the more environmentally friendly paint!  How often does that happen?  Never!  Hello organic food.  [see, there I go again, relating paint to food]
I'm not sure of the exact level of VOC's in their low-VOC paint, but I was quite happy with it and didn't notice any headaches or nauseous feelings.
The pros + cons of Diamond Vogel Vantage Plus
pros:
local store less than 1 mile from my house
great price – the cans were more in the $20-30 range
best spreading paint – likely do to having some VOC's in the paint
low-VOC
went on easily
great dry time
fabulous in-store customer service – sometimes it's just nice to talk face to face with someone about a product
they matched the exact Mythic paint color we picked out
the best coverage out of all the paints
cons:
Diamond Vogel stores are not everywhere around the country and their paint is only sold at their store.
had some paint odor + off gassing
Fourth – Olympic Premium zero VOC paint
The last and final paint!
When we first started painting, this was the only zero-VOC paint I knew of, carried at Lowes or Home Depot.  I think HD carries one, but this was much cheaper.  I started with their primer and also bought ceiling paint and some semi-gloss for the trim.
I had never really used primer much before, so I wasn't sure how it was supposed to go on.  It had been awhile since I painted in general and I had never paid that much attention to it.  Never did I expect to learn so much about paint!
I'll get to my point about this paint.  It was pretty horrible.  I didn't realize this until I started using the other paints though.  I was wondering why it wasn't covering well, leaving streaks on the ceiling, and the trim.  The cost of this paint should have been my first clue.
The pros + cons of Olympic Premium zero VOC paint
pros:
cheap – avg. $18/can
zero VOC with zero VOC pigments
low odor
found at Lowes
great dry time
wide variety of colors + finishes
cons:
spread very thinly
poor coverage
flat ceiling paint left noticeable streaks
semi-gloss paint used on trim left terrible streaking
Without a doubt my least favorite paint.  As soon as I discovered Diamond Vogel, I swore this paint off.  The cheap cost was just not worth it, at least for a whole house.  If you're only painting with 1 room, I could possibly see dealing with it for the cost benefit.
All in all:
Out of the 3 zero-VOC paints used Benjamin Moore Natura was my favorite, with Mythic closely behind – only because it spread a bit easier
Mythic is my favorite company because they were developed as zero-VOC, have a clean + user friendly website and great customer service.
My favorite paint to work with was the low VOC from Diamond Vogel.
I loved the knowledgeable staff at DV and it was nice to discuss the products in person.
The staff I worked with at Benjamin Moore + Mythic, through email, were all extremely helpful.
I did not like buying paint at Lowes.  The staff was not well informed on their paint products and didn't know too much about zero + low VOC paints.
Unless I'm painting a room for a baby [not anytime soon, sorry mom], I would stick with the Diamond Vogel – low VOC.  If I was painting a babies room, I would buy Mythic or Benjamin Moore Natura.
Like I said, we went through a LOT of paint.  Much more than I had anticipated!!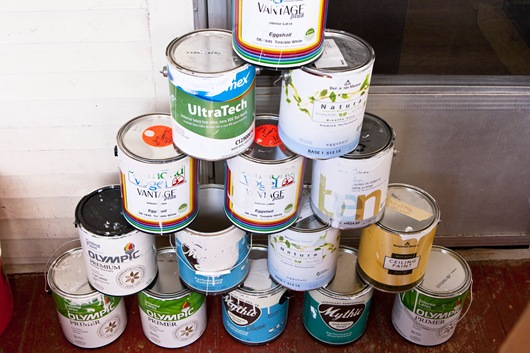 A few of the cans have a little bit of paint left, but 90% of these are completely empty.  These aren't even all of the cans.  Add about 6 more to the pile for the grand total of 25-30 cans [not done painting yet] that it took to paint a just over 1000sqft home!
ceilings were primed + painted
walls were primed twice + painted twice
trim was primed + painted
I obviously didn't list out every tid bit of information, so feel free to ask questions.  If I don't know the answer, I'll try to point you in the right direction.
And now, if you actually made it through this entire post [I barely did], I have an exciting giveaway!!
The generous people at Mythic want to give one of you TWO gallons of their interior eggshell paint, in any color they offer.   They will also send out a full set of their colors for you to choose from.  This is a $100 value on fantastic ZERO voc paint!
To Enter:
I realize some of you may want to comment but may not want 2 gallons of paint. If you want to be entered in the contest please type "I WANT PAINT" and tell me your plans for the paint.  :)  If you don't want paint, please still feel free to comment!
Giveaway ends Friday, May 6th at noon EST
Thanks Mythic!!!!
And thank you Benjamin Moore, for also supplying me with an amazing eco + health friendly product!
And now it's time for a nap.
Okay…maybe the gym instead.
Bye!
Ashley