Can you see it?
Not the huge mess.
Can you see it now?
It's a couch!!  We finally have a couch!!  It's been in the storage shed for about a month now, waiting to be put together.  We're getting ready to start moving things into the 3rd bedroom, so we decided it was time to get the couch out + ready.  We are both quite sick of using a double bed for a couch.  It's been over 2 months!
The bed is now leaning up against the wall and Kenna's cage is floating in the middle of the living room, but that doesn't matter.  We have a place to sit + lean back on!
I put the couch together yesterday, while Chris ran some ultra-domestic errands.  I think one of the most "I'm an adult" purchases you can make is….
A lawnmower!  And a weed whacker.  We lucked out and Sears was having a sidewalk sale with last year's models.  We got the exact mower that we wanted, for $40 less!  We have a lawn to mow!  How strange.  Neither of us have had to mow a lawn since high school.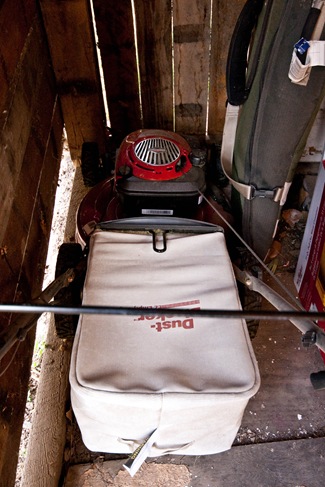 The 3rd BR closet is coming along!!  My uncle build the dividing wall with shelves and laid in the tile floor.  The flooring in there was not the same wood throughout the house.  For whatever reason it was a hodge-podge of 5 different types of wood with stains + holes all over.  We used leftover kitchen tile and now have a nice, easily cleaned floor, for where the washer + dryer will be stacked.
It was 80* yesterday!!!  The dogs chilled outside all day.  
After another long house day, it was nice to get to put my feet up and lean back on a couch!  Never thought I could get so excited over a piece of furniture.
We biked to Odell Brewing, for a second night out in a row!  Party animals. ;)
I love order the sampler trays because of the fun variety.  If restaurants offered sample tray entree's I would be all over that too!  This one tray is equal to just over 1 beer.  Perfect for me!
Peter met us for some very intellectual discussion.
And then Chris + I went to our favorite, Tasty Harmony, for dinner.  We demolished a gigantic plate of vegan nachos, with the best cashew cream sauce I've ever had and then continued to scarf down dinner.  Lovely evening!
In a little while I'm off to Colorado Springs to meet little Samantha Ann!!  Can't wait! :)
And also…
 Happy Mother's Day!!!! 
Everyday, I feel so lucky for the amazing relationship that my mom + I have.  We're best of friends and even though there are a lot of miles between us, we don't let that get in the way.  We talk on the phone daily about anything + everything.  We've shared so many amazing memories together and I can't wait for more.  My mom will be visiting me in a few weeks, and I couldn't be more excited!  LOVE YOU MOM!!
And happy mother's day to any and all of you that are moms, moms-to-be, new moms, or grandmas.  Hope you all have a lovely Sunday!
Ashley