On the last day my mom was in town, I wanted to do something fun for breakfast.  I've been eyeing up all of the donut recipes lately, anxiously waiting to try one out.  In lieu of a donut pan, I used a mini bundt cake pan.  The pan has 12 molds, and there are holes in the middle, just like a large bundt pan.  I figured it's practically the same thing.  Typically, the donut pans have 6 molds, so my little cakes were a mini version.
My mom and I both love mini-sized things, so this was perfect.
My goal was to make an edible, gluten free, donut-like mini cake, with flavors similar to our lemon blueberry pancake from Snooze.
Honestly, my main goal was hoping they were edible.
I looked at Michelle + Lori's and Mama Pea's donut recipes for a little inspiration.  I also looked at a few of my buckwheat bake recipes.  I wanted to make these a little more indulgent than the buckwheat bakes and lighter in texture.
I scratched down some notes on what I thought would work and got to mixing.  Recently I picked up sweet rice flour, because I saw a few GF recipes that called for it.  Sweet rice flour is very moist, adds a bit of sweetness, and helps to hold baked goods together.  Instead of mixing this with buckwheat flour, which I thought would be too dense, I chose oat flour.  Oat flour is a bit lighter and has a lovely slightly sweet flavor. 
To make oat flour, I grind whole oat groats [or steel cut oats] in my blender, until it becomes a fine powder.  When making fresh flour, it will turn rancid much more quickly than store bought.  You should use it within 1-2 weeks.
To also help hold these together, I used 2 eggs.  I'm hoping to experiment with a vegan version, but for the first try, I wanted to play it safe.  The eggs helped these rise and created a lovely cake-like texture.  Typically, I don't add sugar to my breakfasts, except maybe a drizzle of honey.  But like I said, I wanted to create something a bit more indulgent, while still using healthy ingredients.  To sweeten these, I used sucanat, which is dehydrated sugar cane juice. 
These little cakes ended up being delicious.  They surpassed my expectations.  Pure luck!  The lemon was detectable, but not overpowering.  The blueberries added a nice juicy pop of flavor.  The texture was like a gooey, doughy cake-donut.  It was extremely moist, thick but light + cakey, and oh so addicting.  They held together perfectly and were not crumbly at all. 
My mom and I scarfed these down.
No icing needed. 
But maybe a dusting of powdered sugar for fun!
To pay a little more homage to the lemon blueberry pancakes we dined on a few days prior, I topped one of the cakes with Noosa honey yogurt, just as they did at the restaurant.  Noosa, is a local yogurt, made with dairy from Morning Fresh Farm.  It's like no other yogurt I've ever tasted.  The texture is creamy, not too thick, and not too runny.  It's slightly sweet and tastes a bit like cream cheese.
I was so excited to make my mom a memorable breakfast before she left town.  Chris ate one, and loved it, but my greedy paws snatched up the rest!  I can't wait to make more flavor variations and try a few different things with the recipe. 
Lemon Blueberry Breakfast Cakes
2T coconut flour
1/2c oat flour
1/2c sweet rice flour
2 large eggs
1/3c mashed banana [~1 medium banana]
1c frozen or fresh blueberries
1/2c almond milk
1t baking powder
1/4t salt
1/3c sucanat
3T coconut oil, melted
1T lemon zest
2T fresh lemon juice
Preheat oven to 350*
Thoroughly grease a 12 mold mini bundt pan.
In a large bowl combine coconut flour, oat flour, sweet rice flour, baking powder, sucanat, and salt.
In a medium bowl, mash the banana until egg-like.
Whisk the eggs in with the banana and then whisk in the milk + melted coconut oil.
Add wet to dry and stir until combined.
Stir in the blueberries, lemon zest + lemon juice until just combined.
Evenly scoop batter into the pan and bake for 20-25min. 
Toothpick test one of the cakes, and pull out when the toothpick is still very slightly wet.
Let cool for 10min and carefully, using a small silicone spatula or butter knife, remove each cake.
*I'm sure you can use a 6-12 mold donut pan, or a 12 mold muffin pan.  The cook time for the muffin pan will probably be a few minutes longer, since there is no hole in the middle of each muffin.  If you're making them in a 6 mold donut pan, they will also take longer.  They should be golden brown on top and toothpick test for doneness.
*The banana is not detectable in this at all.  I don't recommend using applesauce for a substitution, as it is too wet.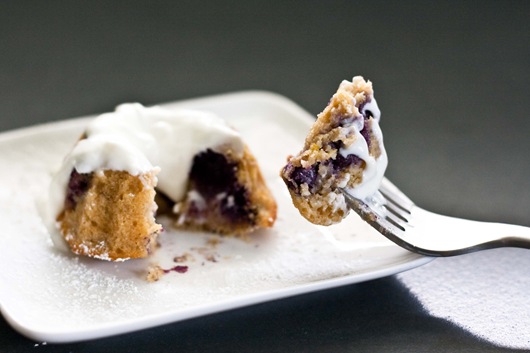 I hope you enjoy these as much as my mom + I did!
Ashley