Colorado has seemed to finally pull out of a super wet spring.  No complaints here though.  I'll take all the rain we can get!  The temps have been creeping up into the 90's, but still nice and cool at night.  Mornings are definitely a bit warmer, but I'm still craving my creamy bowl of oats!
However, sweating during breakfast is not enjoyable.  How to avoid breakfast sweats?
Pour a little milk on top to cool things off.  It makes a creamy bowl of oats even creamier. 
I'm currently hooked on this combo:
3T rolled oats
2T oat bran
3T masa harina
1c unsweetened almond milk
1c water
More specifically, I'm hooked on masa harina.  I just love the flavor!
Fresh organic blueberries, a little banana, a little peanut butter, and a delicious splash of almond milk.
Hot weather breakfast heaven.
After breakfast, my day was a blur! 
When I woke up, after a horrible nights sleep, I remembered I had to get my tooth drilled.  I'm glad I remembered, but it sure put me in a fowl mood!  One of my fillings needed to be replaced.  We found a dentist here that we really like and he did a great job.  I was in + out, with no pain, and a fuzzy feeling face.
Then it was baby shower shopping time!
I hit up the Dollar Store, Hobby Lobby, Michaels, Sunflower Market, Natural Grocers, and Whole Foods. 
Phew!  I got back around 1pm, took a break for lunch and then got to cooking.
The shower is fairly small.  There will be a nice little group of nine girls.  What's on the menu?
Natalie's Shower Menu
chicken salad + dinner rolls
deviled eggs
caprese salad skewers
spinach salad w/strawberries, feta, walnuts + a shallot basil dressing
sea salt kettle chips
Dessert Menu
chocolate peanut butter fondue

peanut butter + chocolate chip mini cupcakes
vanilla GF mini bundt cakes

brown rice peanut butter crisp treats, topped with white chocolate
candy [pink salt water taffy, fruity tootsie rolls, tootsie pops, animal crackers]
Farm fresh eggs!  I'm going to come up with a smoked paprika deviled egg recipe.  Don't worry, I'll share!  If it's good!
I adapted my lemon blueberry mini bundt cakes, and made a vanilla version, to dip in the chocolate peanut butter fondue. 
They turned out really well!  They had cake like texture with a little spring and weren't crumbly at all. 
These could be eaten for a snack, breakfast, or dressed with frosting for dessert!  Recipe soon! 
Then the disaster started.  I got the brilliant idea to make brown rice crisp treats, roll them into balls, and dip them in white chocolate.  Kind of like cake pops, that you have probably seen a lot of lately.  Rolling them into balls, was not easy!  Even though I refrigerated them, the warmth of my hands, made things extremely messy!  I got about a dozen and a half on sticks and then it was chocolate dipping time.
I had at least 5 almost catastrophes with these silly things!  Covering them completely in chocolate, was not working at all. 
Then I decided just to dip the top + cover it with sprinkles.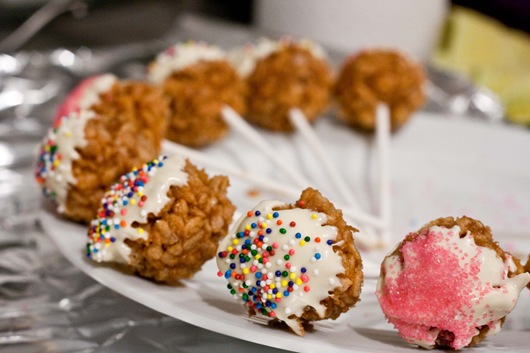 It worked for the most part.  But some of my crisp pops, turned into plain ol' crisp balls.  The stick just didn't want to stay put!  At least they'll still taste delicious.
The headless sticks.
I haven't cooked chicken in at least 1.5 years.  Haven't missed the cooking process at all!!  I'm making a simple chicken salad, for the "main dish."  I will be feasting on the deviled eggs. :)
I made 2 dozen mini cupcakes from Jessica's latest recipe.  They're not gluten free, so I couldn't do any taste testing, but they smelled delicious!  Chris said they were really good.  He was my official tester!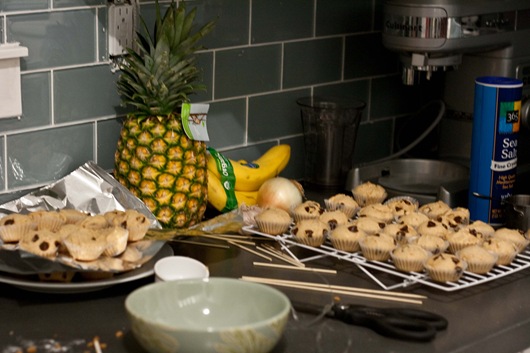 Making lists + piles, so I don't forget to bring anything!  Man was it hot in the kitchen all day.  Totally worth it though!
I have a lot to finish up tomorrow before heading down to Natalie's house to get things ready.  So excited!!  Time for some much needed sleep!
Ashley