The shower was a success!! 
Everyone enjoyed the food, the candy, and dessert.  Hooray!
The onsie decorating was so much fun, and the girls came up with such creative designs.
It was a gorgeous evening, with not a cloud in the sky and temps in the mid 70's.  After dinner + gifts, we decorated the onsies outside and then I brought out dessert.
Fondue always goes over well, especially with a group of all girls.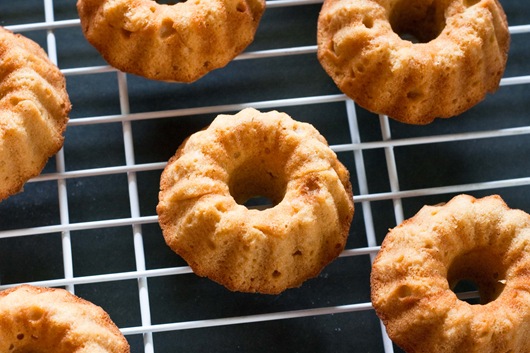 The gluten free mini cakes turned out to be delicious!  I adapted my lemon blueberry mini cake recipe into a vanilla cake recipe.
Slightly springy, thick + cakey, with a warm vanilla flavor and a slight hint of coconut [from the oil].
Dipped in peanut butter chocolate fondue?  Even better.
We'll get to the fondue in a day or 2, as well as the rest of the party.
Right now, I need my bed.
But not before I give you this recipe!  Eat them plain, frost them up, dip them in chocolate, drizzle maple syrup, whatever suits your style.
If you're gluten free or not, these cakes are worth your time.
Vanilla Mini Bundt Cakes [makes 10-12 mini cakes]
2T coconut flour
1/2c sweet rice flour
1/2c oat flour [ground in blender from whole oat groats]
2 large eggs
3T unsweetened applesauce
1/2c almond milk
1t baking powder
1/4t salt
3T coconut oil, melted
1/3c sucanat
2t vanilla extract
1/2t almond extract
Preheat oven to 350*
Thoroughly grease a 12 mold mini bundt pan.
In a large bowl combine coconut flour, oat flour, sweet rice flour, baking powder, sucanat, and salt.
Whisk the eggs in a medium sized bowl and then whisk in the applesauce, milk, vanilla extract and almond extract.
Whisk in melted coconut oil.
Add wet to dry and stir until combined.
Evenly scoop batter into the molds and bake for 16-20min. 
Toothpick test one of the cakes, and pull out when the toothpick is slightly moist.
Let cool for 10min and carefully, using a small silicone spatula or butter knife, remove each cake.
*I'm sure you can use a 6-12 mold donut pan, or a 12 mold muffin pan.  The cook time for the muffin pan will probably be a few minutes longer, since there is no hole in the middle of each muffin.  If you're making them in a 6 mold donut pan, they will also take longer.  They should be golden brown on top and toothpick test for doneness.
Everyone really enjoyed these and were surprised they were gluten free. 
Time to dream about more cake flavors…
I'll be back again tomorrow afternoon!
Ashley