Since our trip to Telluride, CO a few weeks ago, I've had numerous emails + comments about packing food for camping trips. I figured this is a big camping weekend, so this might come in handy. Or it might be 3 days too late. Either way, I hope this gives you some easy ideas for your next trip!
10 thing to think about before your trip:
1. Make a meal plan + shopping list a few days before your trip. - It's really important to plan ahead, because if you wait and go to the store on the way to your destination you will be completely overwhelmed and end up buying bread + a block of cheese. That doesn't sound half bad, but it won't get you through more than 1 night. Try making a simple list for every meal you'll be gone. If you have a plan, it will help keep you from overbuying.
Friday

breakfast -
lunch -
dinner
snack -

Saturday

breakfast-
lunch -
dinner -
snack -
2. Think minimally. Plan your meals so that you don't need much from the kitchen. If we're car camping, this is a typical kitchen supply list for us: 1 all-purpose kitchen knife, 1 pot, 1 pan, 1 grill, 1 spatula, 1 spoon [stirring], 1 butter knife [spreading] 1 small cutting board, 1 small grill or jet boil. Really, you could even plan so that you don't have to cook at all, but that gets pretty boring if you're going on a multiple day camping trip.
3. Avoid messiness and complexity. No need to pull off a new recipe or make things that are complex. Anyone you're with will be happy that you're cooking at all, and while camping, everything tastes better. Even a plain ol' baked potato. You also don't want to be cleaning for an hour after you eat.
4. Simplicity. Can you cook something in foil, instead of dirtying a pan? Is there anything you can pre-cook/pre-chop at home and stick in the cooler? What items at the grocery store will make your life easier? Pre-made hummus perhaps? It's a great sandwich topper and snack dipper.
5. Don't forget the condiments! It may seem like excess, but bringing garlic powder, salt, pepper, and small bottles of ketchup, hot sauce, and mustard, will make your meals so much better. Typically we will bring salt, garlic + hot sauce.
6. Bring reusable plates, spoons, knives + forks. No need to make excess trash while in the outdoors! If you have an REI or camping store nearby, you won't have a problem finding inexpensive + lightweight items like these that you can bring along. I recently bought a pack of four plates from the company Preserve. They're dishwasher safe, made from 100% #5 recycled plastics, BPA free, 100% recyclable, and reusable. They have a slew of other great products, worth checking out. For cutlery, we use Light My Fire, Sporks. It's a 3 in 1 utensil and they come in all different colors. [pictured below, in my bowl of oats]
7. Make sure you have plenty of ice. When we were at the 5 day festival, we had to restock ice everyday. Luckily, there was a guy that sold ice from his truck, right at the campsite.
8. Pack in, pack out. Be mindful of the campsite you're staying at. Have a separate bag for trash, recycling and maybe even compost. But also remember, there are most likely a lot of animals nearby that would love your trash. Take proper precautions in tying your trash bags in trees or disposing in campsite dumpsters.
9. Don't forget the soap! I recommend using Dr. Bronners all-purpose liquid castile soap or Coghlan's Camp Soap. There are other brands of similar products on the market as well. What I love about these soaps, are that they're biodegradable, non-toxic, and concentrated. You just need a few drops! Plus, as an added bonus, you can typically use these soaps for many other tasks. ie: shampoo/toothpaste [get the mint!]/hand soap/etc.
10. A lighter/matches + bottle opener/wine opener. Just don't forget these items. You will want a fire and you will want a drink!
11. Okay, there are 11 items. Bring plenty of water, especially if you'll be hiking. We also use this Katadyn water filter, when backpacking, since you can't pack all of your water. It works fabulously, even pulling water from pretty stagnant areas! If you can, stock a few coconut waters in your cooler for extra rehydration in the morning or during a hike.
So now you know a little bit in how to start planning, but you still don't have a clue what food to pack.
Easy packing camp food:
Tempeh – Easy to prepare and can even be eaten right out of the package. It's great with apples + cheese on bread, and even better when melty + hot.
Tortillas or pita. Also, easy to pack + keep cool and easy to fill with anything you want. PB + J, scrambled eggs + cheese, tempeh, hummus + veggies, etc. Just make sure you seal them well. You might want to double bag them, so water from the cooler does not leak in.
Peanut butter + jelly. This is a no brainer and it is delicious. Always. Maybe throw in a banana if you're feeling crazy.
Hard boiled eggs – Obviously do this before you go. Peel them ahead of time too and make sure to keep them really cold. This is a great, quick source of protein and taste so good sprinkled with salt + hot sauce.
Hummus – Make a batch of your own or buy a container at the store. You can put it on almost anything and use it for dipping veggies. Because you're going to pack veggies, right!!??
Cheese – Pre slice or shred your cheese ahead of time, pack it in a plastic container and believe me you'll use it. Breakfast burritos with beans, tomatoes + potatoes, tempeh cheese sandwiches, omelets, cheesy eggs, quesadillas, etc. All easy meals to make at camp.
Oats!!! – Obviously, my breakfast of choice. Use your pot or mini camp stove for this! Make sure to clean it right away, or you will be 1 unhappy camper later that day. he he he I even packed fresh sliced strawberries + bananas to top my bowls with. I also packed a small container of protein powder to mix in and a few single serving packs of Justin's nut butters. I also brought a carton of soymilk and kept it chilled in the cooler.
Peppers, carrots, onion, potatoes, apples, tomatoes, avocado, grapes – Easy items to pack and easy to cook with or snack on. You can also cover potatoes in foil and bake them IN the hot coals of your fire.
Canned beans – Just don't forget your can opener!
Coffee! We bring organic instant coffee, which makes things nice + easy. Just boil some water + you're good to go!
You don't have to make everything from scratch, either.
Mac n' cheese anyone? If you need it to be gluten free Annie's has you covered. Chris and I both ate this and loved it.
Just add water soups – We bought a few of these Nile Spice soups and they were excellent. Low calorie, but packed with a lot of flavor, and tons of protein + fiber. The average container had about 170 calories, 8g of fiber, and 10g of protein. I looked the the ones with lentils + beans for the biggest nutritional punch! These aren't fine dining by any means, but definitely taste great for a camp trip and the ingredient lists are impressive.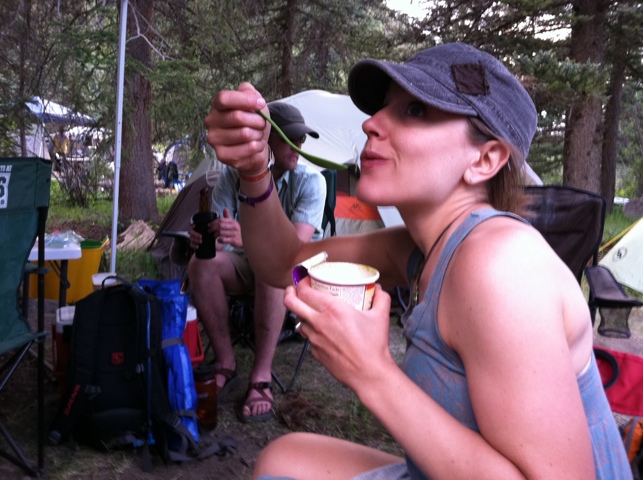 Bread – Bring 1/2 – 1 whole loaf of bread, depending on how many people will be eating it. If you need GF bread, my favorite brand is Udi's. Their millet/chia bread is amazing!! If you hop on their site, you can find a $1 off coupon! Also, check with your local Great Harvest to see if they make gluten free bread. Our's does and it's delish!
Garlic Gold Nuggets – My new best friend. I shake these on everything!
And you definitely cannot leave home without some snacks!
Snacks

raw almonds + walnuts mixed with dried fruit
homemade or store bought Larabars
apples/grapes/blueberries/bananas
carrots
peanut butter stuffed dates
dark chocolate [keep it in the cooler!]
tortilla chips
chocolate chip cookies
oat bars
Love Grown Foods granola
Also, don't forget these non-food items!! A first aid kit is always great to have on hand as well.
I know there are plenty of other great ideas for what to bring when camping, so feel free to add to the list in the comment section, or tell me about your best camp meal. I'm hoping this post comes in handy for this weekend or for a future camping trip this summer!
Have a safe + fun holiday weekend. Birthday party [for me!!] tomorrow + real birthday on Sunday. Also super exciting, is that baby Fiona should be arriving any day in the next week or so now!!! I can't wait to be an aunt!!!
Ashley