A little market action to start off the day!
Do you spot the food item in this bouquet of flowers?
Hairy.
I luuurve fresh, local flowers!!
Pretty, but gag inducing. ;)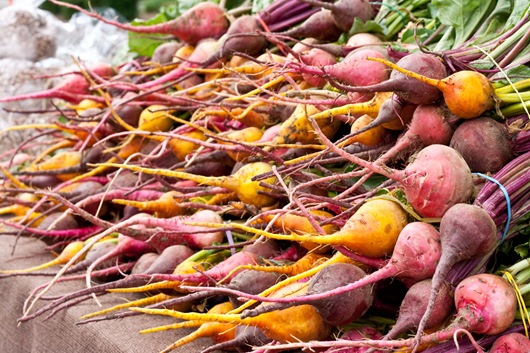 2 types of basil!
Sweet + tart.
More flowers, taunting me.
Veggie burger madness!  I made 3 kinds, which I'll fill you in on soon!  It's a meat-free partaaay!
Time to cleanup!  Not much has happened in the house since I last showed you photos.  I did a lot of paint touchups and painted the kitchen window trim white.  Doesn't look too different though, just cleaner!
My "mom's" room is clean!
Floors are cleaned and still a little wet.
The furnace closet doors are finally back in place + freshly painted to match the walls.  There are some missing hardware pieces, so they're sort of just leaning.  Looks better though!
Have to keep the beast secured while the floors were wet!  And, I can finally use our new desk! 
New shower curtain + towels that make me tolerate the bathroom.  Still need to hang some shelves + photos. 
2 new fixtures in there, that were $10 and look SO much better.  Hard to tell in this photo though.  Still needs some major updating at some point.
Time to get this party started!!  For once, seriously the first time ever, I didn't stress getting ready for today.  I took my time in the kitchen, didn't plan to cook too many things, and got everything done I needed without freaking out.  Huge milestone over here. :)
Have a great weekend everyone!!
<3 Ashley