If you haven't tried making popped amaranth yet, you are seriously missing out.  It's super quick to make and 100% customizable to your taste buds.  Not to mention, amaranth is packed with nutrition. 
I've posted the nutrition facts before, but it amazes me every time.  It's packed with iron and has more protein, iron + fiber, than quinoa and millet!  I will definitely admit, I don't like this as a cooked grain though.  Only popped!  Popped amaranth seems really light and fluffy, but paired with the right toppings, it leaves me full all morning.
My idea for this bowl was similar to last week's, smoothie topped amaranth cereal.   However, this, was even better.
Lately, I've been photographing almost completely on our charcoal colored, concrete countertops.  I thought I'd change it up a bit, and add a pop of color.  Per usual, I was using the tripod, but had it positioned to high for me to see into the viewfinder.  Instead of grabbing the stepstool, I played trial + error, to see how many shots it took to get the bowl framed in the center.
1.
2.
3.
4.
5.  There we go! 
And then I wasn't sure I was digging the yellow, so I changed to a nice bright blue.  After editing the shots, I like the yellow, but something is more appealing to me about the blue.
Perfectly ripened organic strawberries and a huge bowl of popped amaranth.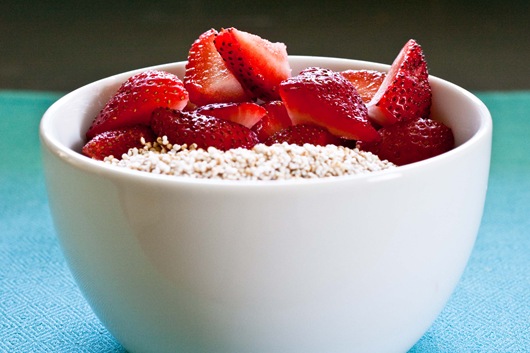 And now the bananas n' cream part!
I wasn't looking for smoothie consistency here, but wanted something thicker than plain milk.  Adding yogurt + banana did the trick!
Strawberry Banana Cream Cereal [serves 1]
1/3c raw amaranth, popped [instructions on popped amaranth]
1c strawberries, chopped
1c milk of choice
1/2c plain Greek yogurt
4" hunk of banana
1/4t vanilla
1-2t honey or maple syrup
Pop amaranth and set aside to cool for a few minutes.
Blend milk, yogurt, banana, vanilla + honey together until smooth.
Add strawberries to bowl + pour on the banana cream.
*Don't like banana?  Leave it out and add 1/2c more yogurt to thicken.
Prepare to be in breakfast bliss.
The texture of the amaranth gets me every time.  Love it!
Ashley