This weekend started off fabulously.  Seven of our friends came over from Denver and four from Ft. Collins.  It was a packed house!  We chowed on dinner and headed out to see Trampled By Turtles at Mishawaka Amphitheatre.  TBT is one of our favorite bands and they were amazing Friday night, yet again. 
The show was outside and luckily the rain + mosquitoes were nowhere to be found. 
Good times!
[Casey, Ali, me]
Saturday morning, Chris and I headed to the farmers market.   There are more + more veggies coming into season, but the fruit seems slower this year.  We're juuuust starting to see squash and peppers.  Hopefully the peaches will be around in the next week or two.  I am dying for one!! 
We picked up a few things, all very green.
A head of romaine, that was 2x the size of my head.  That's saying a lot, because I have quite the large cabeza!
The lettuce was so light and fluffy and I got it for only $2!
Something I've eaten, but never seen before, were banana peppers.  I've had pickled banana peppers, but have never eaten them raw.
Promptly after these photos, I made 2 huge salads, including the fresh lettuce + banana peppers as 2 of the ingredients.  We both absolutely loved the raw peppers.  Chris wanted to buy these to try and pickle, but he said he had no idea how delicious they would be raw.
Definitely will be getting more of these guys next time!  No spice at all, but a ton of flavor.
Obviously, a gigantic head of kale was purchased.  I always have kale in the house!
And a jar of local applesauce that we love.  It's a bit tart + a bit sweet, and at $4 a jar, we cherish it when we actually decide to buy it.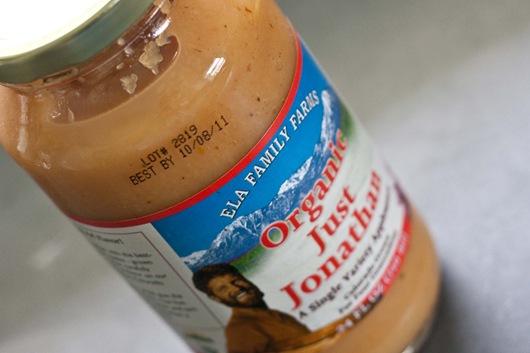 After the market, we headed out for a round of 9 holes with Eric + Peter. 
The rain clouds were looming the entire time, and we had a few showers throughout the game.
You can sort of see the rain coming down in the distance, in this photo.  Such a pretty view while playing.  I never get sick of the mountains!
I shot a 63.  Not bad for only my 2nd time playing in about 3 years!  I shot a 7 on 7/9 of the holes.  My short game was complete crap, but my drives + fairway shots were consistently straight!   
Walking 9 holes with clubs was my exercise for the day, along with walking to the market. 
We're hoping to get a good amount of things accomplished around the house today.
prime + paint window trim
a trip to Home Depot, I'm sure!
touch up kitchen paint
swap light + outlet switches + plates [the old ones are off-white and painted on]
replace smoke alarms
We'll see how much we can actually get done!
Ashley