My level of excitement for this latest kitchen creation is high.  Very high.  And it's not even finished yet.  Well, it's not perfected yet.  Believe me, every single last crumb was finished.
The idea started the day I made Mama Pea's Yukon Gold White Bean Basil Burgers.  I would have never thought to put beans + potatoes together in a veggie burger.  It actually sounded kind of odd to me.  However, I knew to trust MP and per usual, the recipe was a major success.  The texture was my favorite part and it was thanks to the potato.
While chowing down on her potato bean burger, my next thought was to combine sweet taters + black beans.  It's a combination that I love, but never would have thought to make a veggie burger from.
For spices, I used:  salt, pepper, cumin, coriander, oregano, chili powder + cayenne
The spice ratios will not be changing.  They were spot on!
The burger patties actually seemed to pack + hold together really well.  It was upon cooking, that I realized they were fairly fragile.  They didn't completely fall apart, but they didn't completely hold together.
I was trying to get away with not using any flour, but using cooked quinoa and the potato for binding.  It worked, but needs some improvement.  Flour will have to be added.  I'm thinking of using millet or oat flour and maybe even adding 1T ground flax.
A few things I'm digging about this burger:
texture: I left 1/2 of the beans whole, kept the skins on the potatoes, and added whole corn.  Between all of that and the quinoa, the texture was unbelievable.  It wasn't a pile of veggie burger mush mush.
No food processor involved!  Just chopping + mashing!
Extremely flavorful.
Pretty!!  I love the color from the sweet tater and the whole pieces of corn.  Even a veggie burger needs to look good!
The recipe made 8 patties and they were gobbled up in under 24 hours, with the help of Chris + Kelsey.
Dare I say this is my favorite veggie burger??
Ever!?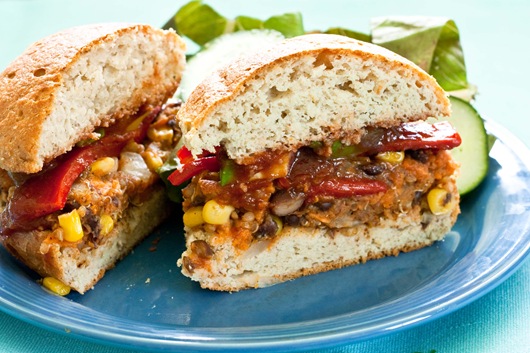 I think so!!  The burg was topped with ketchup, roasted red pepper, avocado and an Udi's whole grain GF bun.  I love Udi's GF products.  They're my favorite in taste, texture + nutrition.
Another trial run or 2 and hopefully this recipe will be good to go!  Sorry for the Monday recipe tease. ;)
Stay tuned…
Ashley