Hi there!  Coming at you a little late on this lovely summer morning.  This past week with my parents was extremely fun and last night I was 100% wiped out!  I haven't been sleeping too well and my allergies + sinuses [not typically a problem for me] have been really bad.  I woke up with one of those "must take advil + go back to sleep" headaches this morning.  Eeek!
There is so much to catch you all up on, so let's start with Friday. 
My parents + I headed to La Creperie, which is a local French bakery + restaurant. 
Another gorgeous morning!
I checked their menu the day before, and noticed they had a gluten free [buckwheat] batter option.  You just have to let them know a day in advance so they can prepare the batter.  Perfect! 
We started off by ordering 1 croissant to share.  Don't be fooled, this croissant is huge!  And yes, there is gluten in it, but about once a month I will bend the rules for something special like this.  Also, their dough goes through a 3-day fermentation process, that actually kills a lot of the gluten.  It's similar to sourdough bread + beer!  I've been able to drink beer with no problems, so I wanted to give this a try.
I've never been to France, but I would have to assume this is an extremely authentic croissant.
Buttery soft, layered with flakiness and so rich it melts in your mouth.  The best part was, 24hrs later, my stomach seemed to be doing just fine!  Although knowing I can eat these with no side effects could become a problem. ;)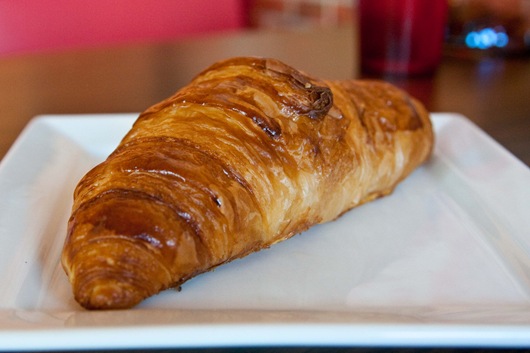 My dad ordered a crazy sandwich on a croissant.  It looked pretty amazing.
My mom and I split, per usual!  We ordered a sweet + savory crepe with the gluten free batter.  The crepe was nice + crispy and had a light buckwheat flavor.  For the sweet version, we ordered banana/blueberry/maple syrup.  We thought it was lacking on the filling a bit and for me, it was way too sweet from the syrup.  It was good, but I liked the savory crepe much more!
Savory: spinach + tomato + egg + brie
This was fabulous!  Full of spinach/egg filling with tomato + brie on top. 
Friday night, we headed out to show our parents a few of our favorite local spots.
First up?
My mom is not a beer fan, so Chris, my dad + I shared 3 sampler trays.  It looks like a lot of beer, but each tray is just over 1 normal beer.  I love getting the samplers!
mom + dad :)
Chris had a super long work week, so it was nice to go out + relax together.
Eric + Kelsey joined us as well!
I love taking my parents around, showing them all of our favorite spots!
All gone!
Always doing something goofy with this lady!
I declared this one "a framer!"
This one too!!
Then we headed to our very favorite brewery, Equinox.  Everyone had a beer and then we headed to dinner.
One of our favorite restaurants in Ft. Collins, is Crown Pub.  They only have 1 veggie + GF menu item, but it is one of my favorite meals ever!  It's actually a curry dish, which is strange, because the rest of their menu is very meat + potatoes.  The quality of their food is excellent and the service is always great. 
Highly recommend this restaurant/bar!
After dinner, we headed home to use our new + improved fire pit!!  We are loving it!
On to Saturday…
The boys went out for an early round of golf + my mom and I relaxed, walked, and went to the farmers market.
I picked up a loaf of fresh sourdough bread.  The woman that bakes this bread, makes only sourdough + rye breads.  I have been looking for legit sourdough bread, that goes through a long fermentation process, to see how my stomach reacts.  She actually had a sign on her stand, talking about gluten intolerances and that frequently people are able to eat sourdough because it's much lower in gluten.
Definitely the most authentic sourdough I've ever eaten.  Extremely hearty + rustic.  I enjoyed every single bite of these 2 slices of toast! 
I'm going to give it one more test run, to figure out if I can tolerate it or not.  This would be such a nice once in awhile treat!
Cucumber pickles have finally arrived!!!!  Can't wait to pickle these!
Early evening Saturday, we headed up for to Nederland, a small mountain town.  It's about 1.5hrs away, which includes a gorgeous drive up Boulder canyon.
We checked out the cute little local shops, including the food co-op.
HUGE bulk spice section!
Dad!
The shops stop at a restaurant + brew pub, called Wild Mountain Smokehouse.  We sat outside and enjoyed the mountain weather.  While it was 100* in Boulder, after driving up the canyon, Nederland was at 75*.  Perfect if you ask me!
Wild Mountain has an extremely large menu, even including smoked + grilled tofu!  They have 6 different house-made BBQ sauces that you can choose from.  They range from Texas style to Carolina to spicy Atomic. 
Everyone loved their meals, including my non-meat eating self!
Was that enough catch up for you??  Don't worry, there is a little more coming soon!! 
Before I go, there are 2 things to remind you about.
1. Summer in a Box giveaway ends tonight at midnight!!   
2. And much more importantly….I'm sure you've seen this on many other blogs, but The Great Fundraising Act blogger auction is currently underway!  This fundraiser is to help out the lovely Susan, from The Great Balancing Act.  Susan was recently diagnosed with Hodgkin's Lymphoma.  You can read more about her story here + on her blog.  She is staying positive + upbeat and has been extremely inspiring. 

The lovely Janeetha, called out to the blogging community asking for support + help, in raising money for Susan's every increasing medical bills.  This online blogger auction is the biggest I've seen!  For this auction, I donated a batch of my Peanut Butter Brown Rice Crisp Bars!  Extremely kid friendly, vegan + gluten free, these are a major crowd pleaser.  They also travel well!  The closing times are staggered, so make sure to check each item carefully!
You can find more information, instructions on bedding, a link for direct donations + all auction items here ---> LIVE AUCTION
Thanks in advance for your support!
Ashley