The other morning, while reading blogs, I came to Jessica's post on caprese baked eggs.  You've come to know I'm egg obsessed and just thinking about this delicious recipe had me more than excited to try it out.
I gathered the necessary ingredients, plus a few extras.
Farm fresh, local, organic eggs.
Nothing beats them. 
Instead of ramekins, I used mini soup crocks.  Either will work just fine.  There is definitely room for two eggs in the mini soup crocks, but I only used one.
Ingredients included:
spinach
grape tomatoes
sharp white cheddar [organic valley – my fav]
button mushrooms
basil
egg
s+p
I tried this recipe yesterday for lunch and again this morning for breakfast, because I wanted to test something out.
And well, it was just that good!
2 things I noticed. 
In comparison to Jessica's version, I used 3 "wet" ingredients. –> spinach, mushrooms, tomatoes – All three of those release a lot of liquid while cooking.  In the first version, I added the 1/2t cream [okay, I was out of cream, so I added almond milk], but the end result created too much liquid.  I'm sure if you're only adding 1 "wet" ingredient, like in Jessica's version, adding the 1/2t cream would be a great addition.  However, if you add 3 "wet" ingredients, you can leave the cream out. 
This morning, I left the cream/milk out and added 1t flour to the bottom of the dish.  I wanted to see if this would help soak up a little of the liquid and it definitely did!
So, if you decide to make this version, I recommend leaving out the 1/2t cream and adding 1t flour as an option.  If you're dipping crusty bread into the finished dish, the flour isn't necessary.  With the whole "no gluten" thing, I have no crusty bread around for dipping.  Sad!
Can you believe my basil plant is still thriving??  I'm shocked that it isn't dead.  The rosemary + thyme are doing excellent as well! 
After baking + broiling [great method!], the end result is what you see below.
A slightly runny egg, with perfectly cooked veggies, and gooey melted cheese.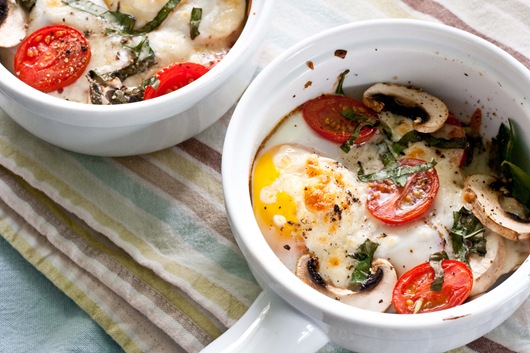 Veggie Baked Eggs [adapted from Jessica's Caprese Baked Egg Cups] serves 1
2 eggs
1/2c freshly grated cheddar cheese [loosely packed]
4-6 grape tomatoes, sliced
2 large mushrooms
3 fresh basil leaves, sliced
small handful of spinach ~1/2c
s+p
butter to grease
1t flour [opt]
Preheat your oven to 350*
Grease 2 mini soup crocks, or ramekin dishes. 
If using, sprinkle 1t flour [white, whole wheat, oat, buckwheat, quinoa…] in the bottom of the dish.  If you plan on dipping bread into the dish, you can skip this step.
Place 1/2 the spinach, 1/4 of the tomatoes, 1/4 of the mushrooms and 1/4 of the cheese in each dish.
Crack an egg overtop and add the remaining tomatoes + mushrooms. 
Top with remaining cheese + basil.
Bake for 8min, then turn your broiler on for another 3-6min, depending on how "done" you want your egg.  Watch closely while broiling.
Top with salt + pepper
*Feel free to cook 2 eggs in 1 cup as well.  They might need to bake and/or broil for 1-2min longer. 
Besides pleasing my taste buds, this recipe also pleased my patience.  You can throw it together in under 5 minutes, while your oven is pre-heating.  Then it's done cooking in 10-14min, which allows you a little morning time to check your email, throw on makeup, or sip your coffee. 
In need of crusty bread.
Seriously.
Topped with salt + pepper, this is a savory breakfast dream. 
When you start to dig in, don't get too over zealous. 
Or this may happen.
Tomato fail.
Happy Friday!!
Ashley