I have a new breakfast obsession.  Surprised?
I'm hooked after 1 bowl. 
Have you made the popped amaranth yet??  If not, you must!  You can find amaranth in the bulk aisle of your natural food store [hopefully!] or in a Bob's Red Mill package.  If you can't find it there, check online.  The same goes for the 2nd main ingredient, raw buckwheat groats.  Not kasha, or toasted buckwheat, just plain old raw groats.  They'll look a bit tan/yellowy/green in color.
I got the idea for adding soaked buckwheat to the puffed amaranth, after seeing Angela soak + blend buckwheat, to make breakfast porridge.
However, for this, I wanted to keep the buckwheat whole.  After soaking it, there is still a nice crunchy chew, that was begging to be added to a bowl of cereal.
Un-soaked groats are extremely crunchy and strangely, edible!  There aren't many grains you can chew through raw [without at least sprouting].  However, some people can be sensitive to uncooked and/or un-soaked grains.  The soaking + rinsing process helps aid in easier digestion. 
Soak your groats overnight + rinse them thoroughly the next morning.  It's easiest if you use a fine mesh strainer. <--- top 5 favorite kitchen tools!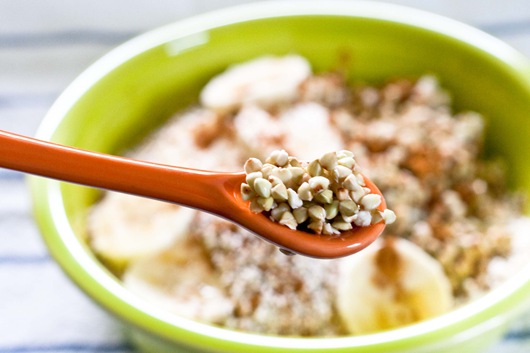 Both puffed amaranth + raw buckwheat are extremely mild in flavor.  They have a slight earthiness to them, but are not sweet at all.  Sweetener is definitely not needed, if you add some delicious fruit toppings, but 1/2-1T maple syrup is always welcome. 
Puffed Amaranth + Buckwheat Cereal
3T raw amaranth
1/3c soaked + rinsed raw buckwheat groats
Toppings
small banana
cherries
1T almond butter
cinnamon
1/2-1T maple syrup
1c unsweetened almond milk
Pop amaranth per instructions.
Let cool for a few minutes, then add 1/3 very well rinsed + soaked buckwheat groats to the bowl.
Add toppings.
*Soak raw buckwheat groats in a bowl, with water, covering the groats by a few inches.  Leave in the fridge overnight.  In the morning, drain the water and empty groats into a strainer.  Wash the groats thoroughly, as a slimy coating will be produced from the soaking.  You your hand to mix the groats around, while rinsing, to ensure they are slime-free.  1-2min
Breakfast is served!
This bowl was incredibly delicious.  The buckwheat groats added amazing texture to every bite.  It was hard not to go back for seconds.
Nutritional information for:
3T raw amaranth
1/3c raw buckwheat groats
Nutritional information for:
all ingredients, including all toppings in my bowl
*I forgot to add in the 1/2T maple syrup, which adds ~7g sugar + 25 calories.
I use caloriecount.com to enter in the nutritional information of the recipes I make.  It's not frequent that I enter in the information.  Typically, it's when I know a recipe is extremely healthy and turns out incredibly delicious.  I like to see just how delicious, I can make healthy.  All recipes and food items have a grade rating, A, A-, B+, etc. and this recipe received an A!  Probably an A- with the maple syrup though. ;)
Latest obsession.  Divulged. 
…
Speaking of delicious, tonight's dinner made up for last night's sub-par grilled meal.
Mama Pea's Yukon Gold White Bean Basil Burgers!  I've made these twice already, and this time made a double batch.  Veggie burgers are just so convenient.  You can eat them cold out of the fridge, thrown on a salad, wrapped in lettuce, or heated up on a bun.
Heck, this "dough" is even good raw.  I couldn't stop eating it before I turned them into patties.
I made a few changes for ingredients I had on hand. 
chickpeas, instead of white beans [slow cooked my beans today – delicious + cheap!]
red potatoes, instead of yukon gold taters
halved the basil
added 1/2T chopped fresh rosemary [1T if doubling the recipe]
added 1t chopped fresh thyme [2t if double the recipe]
1.5T oat flour, instead of 2T whole wheat flour [3T if doubling the recipe]
1T unsweetened almond milk – needed moisture because chickpeas are drier than white beans [2-3T if doubling]
Both the original + this version were completely delicious.  Making recipes adjustments, for what you have on hand, is easier than you think!  And if you have lovely fresh herbs growing in your backyard, by all means throw some in!
Too bad I'm out of pickles.
Can't say the same for ketchup though!
Off to bed, before I dig into the rest of the "dough" from these burgers. 
Ashley