After seeing
yesterday evening's post
, I'm sure you were curious what my plan was for the plethora of vegetables that are now in my kitchen.
Answer.  No idea!
Amidst all my errand running + phone calls, I had no plan of what to cook this week.
No.Plan.
What to do with a surplus of veggies?  Seriously, I could open up a little farmers market booth with the stock I currently have.
Also in the fridge? 
Nasoya
Sprouted Organic Tofu
– a new find!  My stomach only seems to like sprouted tofu, and up until now I've been buying the brand
Wildwood
.  I spotted the Nasoya tofu at Whole Foods the other day and also noticed there was a $1.25 coupon in the latest WF flyer.  It was $2.99 pre-coupon.  I can buy the Wildwood for $2.15, but while this coupon is around, I'll be using the Nasoya.  Gotta' get the deals while you can!
While I was thinking about what to make, I prepped the tofu + pressed it with
LOVE
. ;)
The head of napa cabbage must have weighed 4lbs.  No joke.  Definitely usable for more than one meal and it's actually an ingredient I've never cooked with before.  I headed to twitter and asked what I should make.  Everyone was pointing me in the direction of stir fry, lettuce wraps, Asian slaw, etc.
I decided on making tofu lettuce wraps with
tons
of veg.
Literally, tons.


broccoli stalk


carrots


napa cabbage


zucchini


green onion


I sliced my veggies
matchstick style
, but chop however you like! 
[In that video they cut the skins off of the zucchini, but I leave them on]
I'm not a big fan of large pieces of zucchini, because the center is always wet/mushy.  Cutting them matchstick style prevents this from happening.
Then I closed my eyes, threw a bunch of ingredients in a bowl, whisked them together + gave it a taste.
Better than expected.
In fact, quite delicious!


ginger


garlic


Bragg's aminos


coriander


apple cider vinegar


sunflower oil


black pepper


This meal could most definitely be eaten raw, but I wanted to give it a quick stir fry.
Check out my tutorial on
how to grill tofu
.  The key is greasing the grates!  No sticking + perfectly cooked tofu every time.
On the side, I had a pile of brown rice noodles, topped with chopped peanuts.  [Annie Chun's
Maifun Brown Rice Noodles
– SO very good]  The noodles were added the to my wraps, for some extra chewy fun.
I not only used the cabbage IN the veggie mix, I used them to wrap everything up as well!
Tofu + Veggie Lettuce Wraps
[serves 4] gluten free + vegan
Dressing:


1T + 1t Bragg's liquid aminos


2T sunflower oil


1/4c apple cider vinegar


1 1/4t zested/crushed ginger


3 cloves garlic, crushed ~2t


black pepper


Veggie Mix:


1 broccoli stalk


1 medium zucchini [~6-7" long]


4 large napa cabbage leaves





plus more for wrapping veggies





3 medium carrots


3T chopped green onion [the green part]


1/3-1/2c chopped peanuts


2t toasted sesame oil


Tofu + Noodles:


1 block extra firm tofu [sliced into 1/4-1/2" slabs + pressed for 30min]


1T sunflower oil


2t Bragg's


black pepper


1 package Maifun brown rice noodles [= 4 servings]




Prep + press tofu.


While tofu is pressing, chop broccoli, zucchini, cabbage, carrots + green onion in whatever style you like and place in a large bowl.  *I prefer matchstick.


In a bowl, combine all of the dressing ingredients + whisk together.  Taste + adjust if necessary.


Boil water in a pot for the rice noodles + cook rice noodles according to package directions, once the water is boiling.  ~3min.


Drain, rinse with cold water + set aside.


Toss veggies with dressing and mix in the peanuts.


Pre-heat your grill to med-high, 350-375*.


Place tofu slabs in a sealable container or bag, add oil, Bragg's + black pepper.  Gently shake/toss to coat and let sit 5min.


Grease the grill grate, liberally with high heat cooking oil [like sunflower].  Use a Misto can or a heat safe brush to apply.


Grill tofu on each side for 6-9min.  You want dark grill marks + it should release from the grates very easily to flip.


Prep the veggie wrapping leaves, by washing, blotting dry, and chopping off the thick white stem.


Heat a wok or large pot over med-high heat, and when hot add the veggie mix.


Cook 5min, stirring occasionally.


Turn heat off and drizzle on toasted sesame oil.


*If you want your rice noodles hot, add them back to the pot over med-low heat, with 1t oil so they don't stick.


Bring tofu inside, shop into cubes and stir into veggie mix.


Serve as lettuce wraps with noodles on the side + garnish with chopped peanuts.  You can also mix the noodles in with the veggies, if you want to eat this stir fry style.


*If you don't have Bragg's, you can sub soy sauce.
Okay, I know there are a lot of steps, but I assure you it's not a difficult recipe to make.  It just takes a bit of time.  ~1hr start to finish
Believe me, the results are worth it!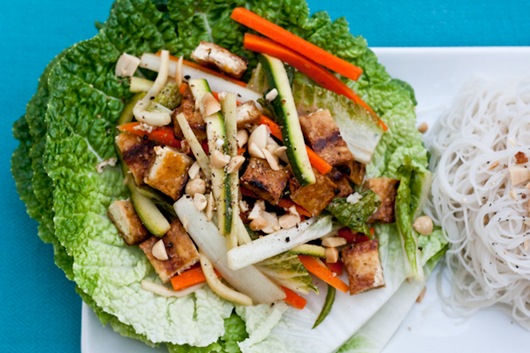 And my fridge is slightly emptier, although you can't really notice.  Barely made a dent!
Grilling tofu, is my cooking method of choice.  It's easy, quick and doesn't leave the tofu with a weird chewiness.  The veggies retained their crunch and the dressing was flavorful + light.  The napa cabbage was lovely!!  It was extremely sturdy and didn't break apart when I made the wraps.  Feel free to use another large leaf lettuce if you choose.
You can also feel free to add other veggies in the mix, like mushrooms + peppers.
Somehow my "no plan" plan, worked!  This was a great, light summery meal.  You won't feel weighed down after this one and it's a fabulous recipe to try if you're new to tofu.
The leftovers are calling my name for lunch!
And now my bed is calling my name for sleep.
Ashley