I was excited to read the positive response from my first day to day post.  You never really know how posts like that are going to go over.  I can really only tell from those who commented, but it seemed to be something you were interested in hearing more about.  Part II starts with our move to Colorado from Charrlote, NC.
I'm going to do this section in bullet-point form to avoid writing a novel. 
We moved in with Pat [Chris's brother] + his wife Natalie for about 4 months.
Edible Perspective started.
I decided to pick up Chris's "fancy" camera and start learning.  I previously wrote it off as too confusing and something I didn't have time for.  Boy how things change.
I made weeknight dinners as a token of our appreciation to Pat + Natalie, which led to the start of my now extensive recipe list.
Chris started grad school remotely through Colorado State University [located in Ft. Collins].  You can work on the degree [water resources engineering] from anywhere in the country.
Applied to jobs as much as possible.  There were no job openings.
Moved to Denver 4 months later.
We loved our location but felt very unsettled there with no "real" jobs.
Worked a variety of jobs not counting the blog: Whole Foods, babysitting, freelance food writing, etc.
Started applying at restaurants, bars, and coffee shops.  Everyone wanted experience, which I had none of.
Beyond architecture, I was also applying to jobs in interior + graphic design.  I believe I had ONE callback in an entire year of applying.
Major anxiety set in.  Something I had never experienced before, beyond day to day stress.  I could see what was happening but couldn't control how I felt.  Luckily, about 4-5 months later it started to pass.
I stopped eating meat + fish entirely.  My consumption had progressively slowed for 1.5yrs.
After 8 months in Denver Chris finally found a job in Ft. Collins. 
Ft. Collins is fairly small in comparison to Denver, so we always assumed he would find a job in Denver first.
We were thrilled about the job but sad to leave Denver + our friends.
Chris commuted [just over an hour] for the first month before we moved to Ft. Collins.
Crazy, scary, + completely unexpected 5 day hospital stay for Chris after his first week at the new job.
We moved to Ft. Collins and rented a cozy little house for 6 months.
Zero luck finding work for me.
Continued to find odd jobs and keep up with the blog which was growing at a decent pace.
6 months later we fell in love with a fixer-upper.
We bought our first home.
We moved from the rental.
Built in 1940 with 1015sqft, 3 bedrooms, 1 bath, and no basement or garage.  Great location but needed a lot of work both inside + out.
My uncle is a home builder and made it possible to complete almost all of the renovation [outside of plumbing and resurfacing the wood floors] on our own.
Closet build out in spare bedroom for the relocation of our washer + dryer. [previously in the kitchen]
I assembled at least 30 pieces of furniture from IKEA, including every single kitchen cabinet [which I LOVE].
I double primed + painted every single wall, ceiling, and piece of trim.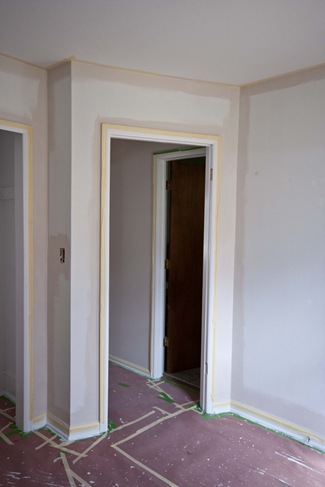 Renovations calmed down.
Kelsey + Eric followed us came to Colorado and moved 4 blocks away.
Felt direction.  Finally.
Determined to make a career out of what I was doing + loving.  Photography.
Photography business + blog were started.
Worked for Love Grown Foods helping to market their products at the Ft. Collins Whole Foods store.
Slowly but surely I'm going to make this work. 
I work harder, spend more time, and have more motivation than ever before.
Currently making about 1/4 of the salary I would make as an architectural intern [which is a typical job title for about 4 years after grad school].
Not easy but making things work. 
Most recently renovated our porch.  [what used to be a closed in storage area]
And here we are today.  Chris has a job.  I have a career in the making.  We have 2 crazy dogs.  We have a house that we love but sometimes drives us crazy.  We are in love with Ft. Collins.  Our friends are awesome.  We miss our families.  We are both in good health [knock on wood].  We are truly happy + so very lucky.
Next up?  What my day to day actually looks like.
Stay tuned!
Ashley
Don't forget to enter the giveaway!
Latest engagement session is up on the photography blog!